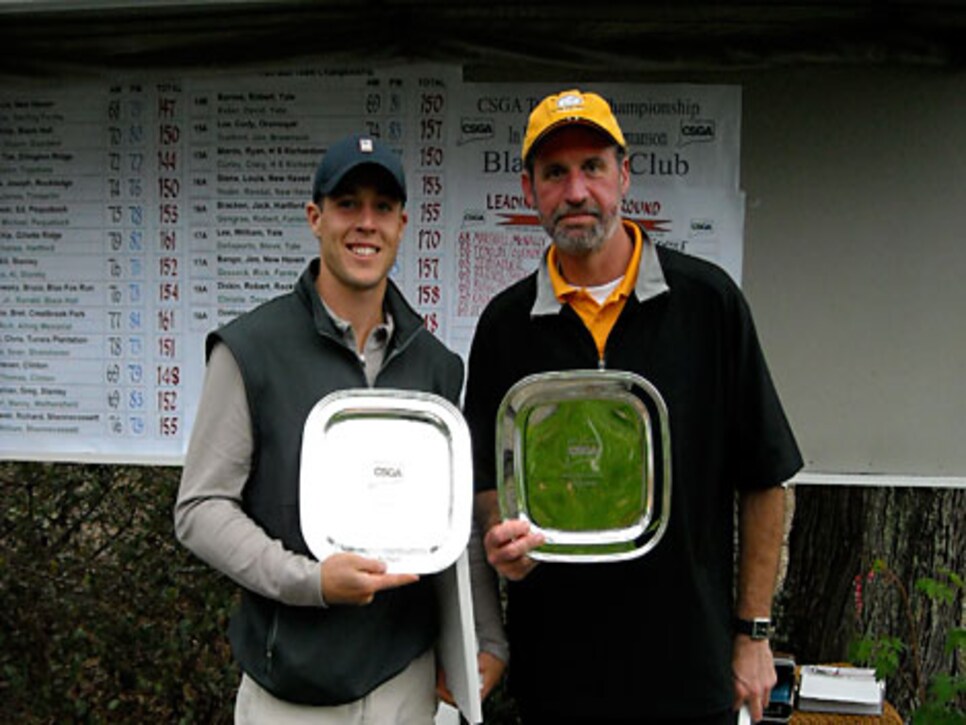 Max Adler and Dave Zeid took the morning Four-ball competition in the Connecticut Two-Man Invitational, but struggled in the afternoon.
*Editor's Note: Golf Digest's Max Adler, a former college golfer at Washington and Lee University, is among the thousands of dreamers who hope to qualify for this June's U.S Open at Bethpage Black. In his online diary, he'll take readers through the highs and lows as he gets ready. *
That's two consecutive Mondays out of the office for me. Preparing for the U.S. Open might be the best assignment of my journalistic career. However, yesterday at the Connecticut Two-Man Invitational, I encountered at least a hundred or so other guys in the state who've carved out equally flexible niches. The field was curiously identical to the crowd that competed in last week's Palmer Cup Qualifier. What do these tournament players have in common? To be truly competitive, they've all found a way to work around golf, or at least golf around work.
There will be no golfers who make it past Local Qualifying, this year or ever, who could be described as "weekend golfers." The game at this level mandates extra time. Whether it's getting up at dawn to hit range balls, discreetly composing emails on a BlackBerry between holes, or working late into the nights to make up for time missed, one has to find a way to touch golf clubs constantly. Even with the carte blanche (within reason) graciously granted me by my superiors, I'm finding it hard to squeeze in enough practice time to feel legitimately "prepared" for Open Qualifying. Golf is hard.
And as hard as it can sometimes be to allot four-plus hours for 18 holes, to make it to Bethpage I've got to be ready to go 36 at Sectionals, and go strong. See the shiny trophies partner David Zeid and I (above) are holding from yesterday? Those are for shooting the low round in the morning Four-Ball (68). We squandered this lead in the overall event by collapsing in the afternoon Foursomes and posting an -- ugh, I suppose it's my duty to publish -- 79. Staying mentally and physically focused on every shot in the latter round was an issue. That's something for me to work on.
One thing I don't have to work on, rather just bottle-up, is my iron-game from 100-150 yards. I'm happy to report that yesterday I was consistently putting these to 15-20 feet. You see, my partner Zeid (who's played in a U.S. Senior Open and has the course record at his former club) and I aren't the typical pairing you'd expect of one guy twice the age of the other. Our strategy was to take advantage of his monster driving length and rely on my short approach accuracy. Next to Zeid I'm the twenty-something, flat-belly, crafty short-knocker.
So although we fell flat, yesterday was another important day in my preparation. I remembered what it was like to be in the heat of a tournament again. The way it feels standing over a putt, chest thumping, knowing it could be the one that ultimately makes the difference. Hopefully when Local Qualifying comes, I'll feel that heat again, and do better.