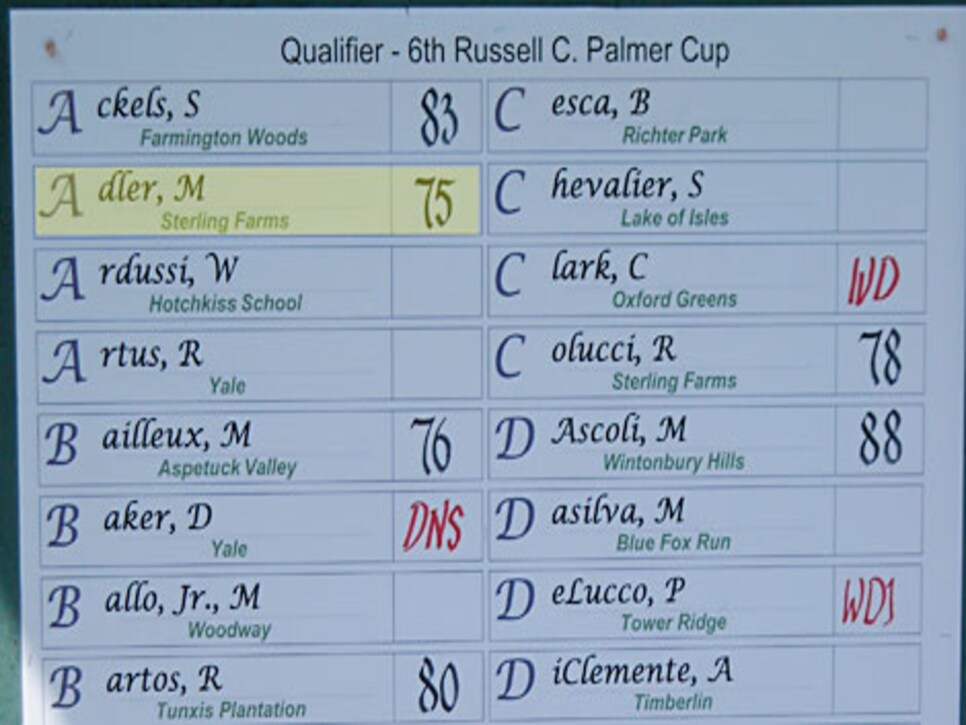 Max Adler's 75 in a recent tourament qualifier wasn't as heartening as a breakthrough regarding his mindset.
*Editor's Note: Golf Digest's Max Adler, a former college golfer at Washington and Lee University, is among the thousands of dreamers who hope to qualify for this June's U.S Open at Bethpage Black. In his online diary, he'll take readers through the highs and lows as he gets ready. *
Other than a shanked bunker shot, a three-putt from 2 ½ feet and a monster block 3-wood that flew out of bounds, I'm encouraged about my golf game. Despite these silly blunders, yesterday I shot 75 to qualify for the Palmer Cup (Russell C., not Arnold). It's the only early season individual stroke-play event run by the Connecticut State Golf Association, so I figured it was worth entering as a "tune-up" to flush my system of any competitive nerves. The dates of the Palmer Cup are May 18th and 19th, a perfect dress rehearsal for my U.S. Open Local Qualifier May 21st at Misquamicut Golf Club.
(Sidenote: I chose Misquamicut over geographically nearer Brooklawn Country Club because I played there once last summer with an old college teammate and shot 67. I am hoping lightning might strike twice.)
So how can I be encouraged about shooting a number that has no chance of making it past any stage of Open Qualifying, you ask? Well, I felt I turned a psychological corner. Yesterday I played carefully, tentatively, knowing that any round under 80 would likely squeak through the field in question (78 ultimately made it). I felt tension in my forearms as I lagged 20-footers and focused on "not chunking" chips.
This is obviously a horrible mindset, but it wasn't until I blocked the aforementioned 3-wood O.B. on the 11th tee and made "birdie" with the second ball to card a bogey that it hit home: nothing short of my best golf will qualify for the U.S. Open, so there's no reason to get nervous. I should just swing away fearlessly. Simply trying to not make mistakes, which has regrettably in the past been my default game-plan, won't be good enough.
For the remaining seven holes, I played under this freer mentality and hit a lot of good shots, making birdies on two difficult holes to shoot 35 (+1) on a back nine that began bogey-bogey.
Also encouraging is that this was my first competitive round employing the major grip change implemented two weeks ago at the suggestion of John Strevins, my newly adopted swing coach. The statistics suggest it's already paying off. According to shotbyshot.com, in yesterday's round my Long Game handicap was +3 and my Putting handicap was 8. So while I was hitting it well, I was putting like your average Joe in the third flight of any club championship. And I'm convinced those problems were in my head, not my stroke.
At least that's what I'm telling myself for now.