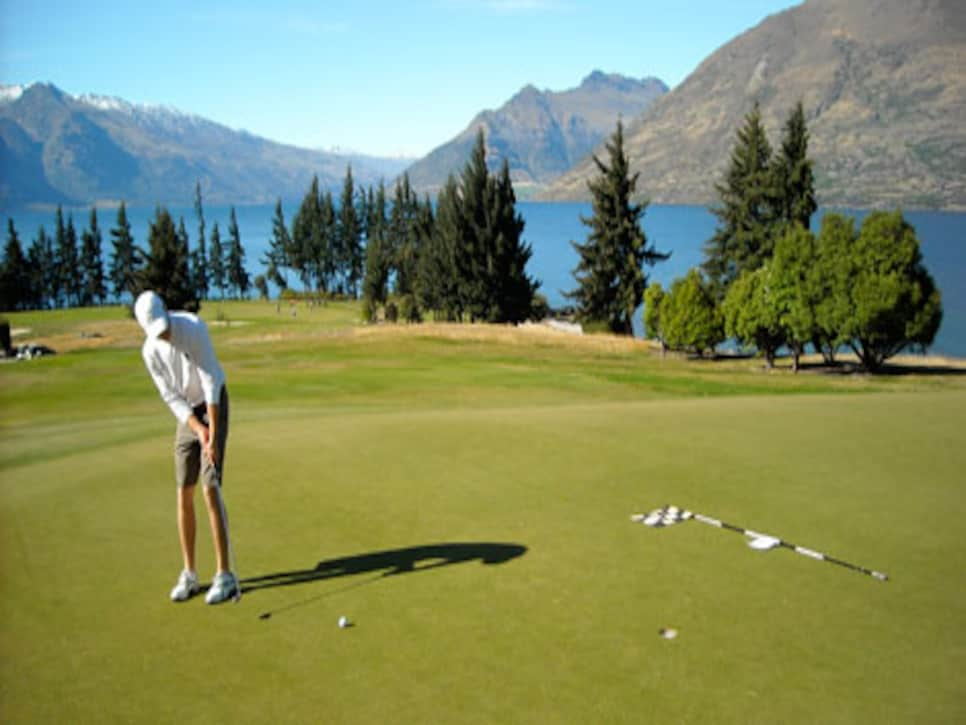 Poor guy: An assignment took Golf Digest's Max Adler to New Zealand, where he managed to mix in some golf.
The inaugural round of my 2009 Open qualifying campaign is in the books, having taken place on the other side of the world from Bethpage Black. On assignment to write a profile story on reigning U.S. Amateur champ Danny Lee, which will appear in the Masters Preview issue of Golf World, I found myself in Queenstown, New Zealand taking notes on the young superstar at the New Zealand Open.
Having faithfully adhered to the company adage, "Never get on a plane without your golf clubs," I was well prepared when Danny missed the cut, rendering my Saturday schedule wide open.
After the post-round Friday interview with Danny, whose emotions were more centered on having played his last round as an amateur in his home country than on any bogeys he made, I called right away to Jacks Point Golf Course, which opened in December 2008 and was much atwitter in the gallery that week. But alas, being an Open week, their tee sheet was booked solid. However, I managed to walk on Kelvin Heights, the real local's course, at 9:30 a.m. Like Jack Points, it's also situated on Lake Wakatipu and I'd be shocked if its views were any less spectacular.
I hit the ball better than expected, though there's definitely a lot of rust that still needs to be shaken from my game. On the 6,103-meter (6,674 yards) course I had a double bogey, four bogeys, and two birdies to shoot 76.
After shaking the hands of the retired couple that was kind enough to let me join them, I threw my clubs in their travel case and raced to the Queenstown airport to catch a flight up to Rotorua on the north island, hometown of Danny Lee. As I checked my bag, little did I know my U.S. Open dreams were about to suffer a major stutter step.
My golf clubs did not arrive in Rotorua.
On Tuesday, Danny's home club, Springfield Golf Course, was throwing him a farewell tournament before he left for America, likely for good, to prepare for the Masters and a season on the PGA Tour. The tournament organizers put me in a group of people who knew Danny well so that I might gain more perspective for the profile. The format was fairly casual: one net best-ball of the foursome and individual net Stableford.
With a set of borrowed clubs that had no fairway woods or hybrids, I had to make a lot of four-footers to shoot 75 (+5) and card +31 Stableford points.
I got a few interesting quotes for the profile, but as I left the course, I felt sick to my stomach. The prospect of having to acquire and get used to a new set just two months before local qualifying was disheartening. Plus, my putter. Did some klepto in some strange part of the world now have it? My old trusty 8802-style blade is a one-of-a-kind model that could be imitated, but never truly replaced.
I made my usual stop-in at the hotel concierge. Despite all the paperwork and phone calls, there was still no word from Air New Zealand. Like the other three nights since their disappearance, I slept fitfully.
But, today, Thursday the 19th, my Open dreams are back on track. Without fanfare, my travel case was miraculously delivered! And I've got a tee-time tomorrow morning at Cape Kidnappers, ranked by Golf Digest as the 10th best course in the world outside the U.S. Life is good! Report back here for photos and to see what I shot.