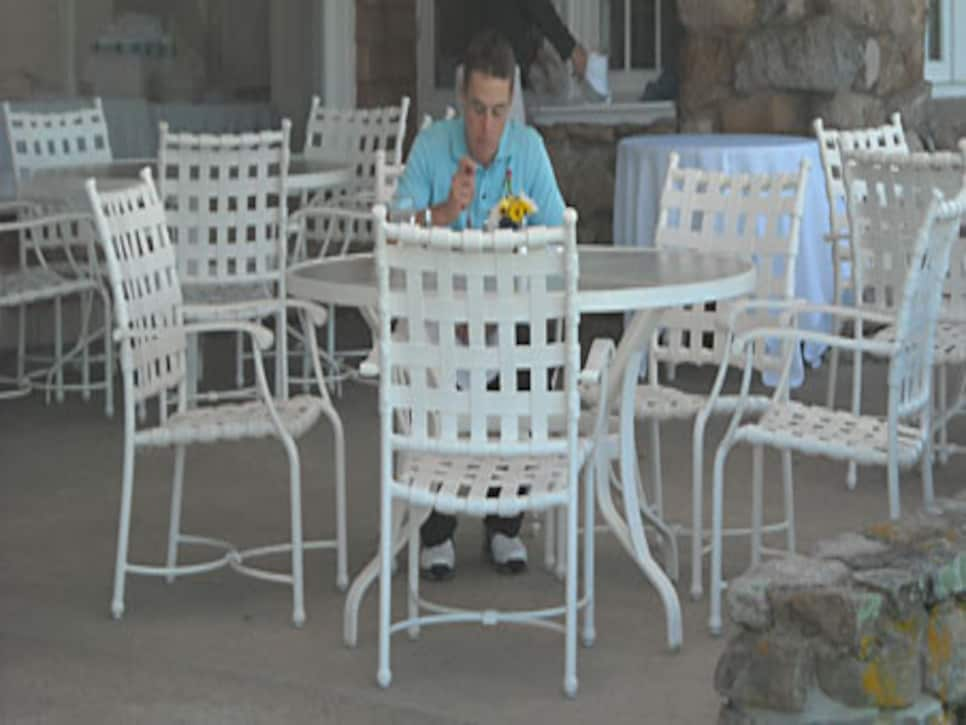 As Max Adler waited after his round in U.S. Open Local Qualifying, he tried -- unsuccessfully -- to distract himself with food.
*Editor's Note: Golf Digest's Max Adler, a former college golfer at Washington and Lee University, is among the thousands of dreamers who hope to qualify for this June's U.S Open at Bethpage Black. On May 21, he finally got his shot in Local Qualifying. *
Still in it ... but only in a strictly theoretical sense. By shooting 70 (+1) and winning a three-man playoff for second alternate out of the Misquamicut (R.I.) Local Qualifier, my U.S. Open chances cannot be officially pronounced dead until June 8th, the day of the Sectional Qualifier at Purchase, NY. I need two of the five men who finished ahead of me to not show up. In other words: fat chance.
[Ljava.lang.String;@6c4b781d
All four spots available from the 57-man field were snatched up by professionals. I can hang my hat on the fact that besides beating a number of guys who play for money, I finished ahead of every amateur in the field except one, Brad Valois, who shot 69 to claim the first alternate position. I'm happy that I played respectably, especially given my parade of self-indulgent and self-administered media attention, but also because it was cool to feel in contention all day. With the wind blowing about 15 mph -- nowhere near as bad as it can get at that seaside layout, but still tricky -- during the closing holes I definitely thought I was in the mix.
Even after my round my fate was not yet clear. As the final groups putted out on 18 and lolled over to the scorer's table, I picked through the lunch buffet with uncharacteristic, sparrow-like abstemiousness, not wanting to get too full lest there be some sort of playoff (which there proved to be). And in the playoff, it was also a cool feeling to march down a par-4 lined with six USGA officials and perhaps 15 or so spectators. There was even an electronic scoreboard at the clubhouse. First time my name's ever graced the pixels of one of those.
But how do I really feel? While it's nice to return to my computer and open up emails entitled "Congratulations" for a "good effort" -- I'm afraid that if I let just one expletive pass my lips it would unleash a torrent that has been welling in my chest ever since I unlaced my golf shoes in the parking lot last night. Just missing is a conflicted feeling. Shooting 70 is a great competitive round for me (it beat the office over-under bet, I hear), but it hurts to come up just short. I made every putt inside six feet, so I can't look back at any of those regretfully, but I didn't hole a single long one. I had a slew of 14 to 25 foot birdie putts that grazed the cup. Sure would've been nice if just two had dropped.
To me the greens were lightning fast and the tournament hole locations tricky. As much as I feel I played aggressively, looking back I know there were moments when I was tentative, careful. I suppose those moments could've been the difference between a 67 and a 76. My end tally was 17 pars and a wet bogey when I dunked a three-wood in the water hazard at the par-5 17th. Overall, I hit a lot of fairways and greens, so there weren't many stressful moments. And I can successfully look back and say I was there mentally over every single shot, the goal Dr. Bob Rotella had advised for me.
So as much as the quest feels over, my U.S. Open dreams are still on life support. I'm not unlike the kid who's just been given a lottery ticket for his birthday. Hey, you never know.