News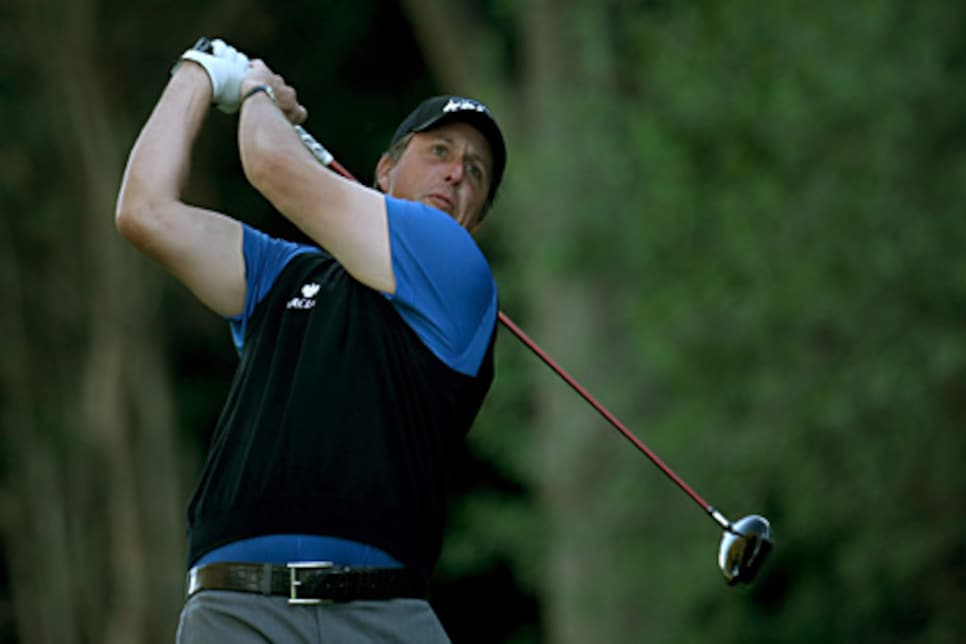 Phil's flatstick was working today and he needed it after coming up T-39 for greens in regulation.
LOS ANGELES (AP) -- With a flop shot that was amazing even by his standards, Phil Mickelson took a step toward shaking off his West Coast doldrums Thursday with his best round ever at Riviera.
From 40 yards behind the 10th green, his ball buried in the rough and his landing area no bigger than a hub cap, Mickelson's barely cleared the bunker and settled 6 feet from the hole to start his day with a birdie.
It sent him to an 8-under 63 and a one-shot lead at the Northern Trust Open, a round Mickelson desperately needed after one of the worst starts to his career.
"It was one of the better shots I've hit this year," Mickelson said.
That's not saying much considering this was the first time he has broken 70 on the Left Coast, where Lefty has compiled 16 of his 34 victories on the PGA Tour.
The rest of his game also was sharp. The misses weren't nearly as wild, the putts dropped far more frequently and Mickelson picked up confidence with each of his eight birdies on a gorgeous morning off Sunset Boulevard.
"There's three more rounds to go," he said. "But I feel like I'm back on track."
Scott McCarron, so intimidated by Riviera when he played at UCLA that he wondered if he could ever break 70, birdied his last hole for a 64 to give himself another chance at a tournament where he has twice played in the final group without winning.
The group at 66 included Pebble Beach winner Dustin Johnson, Jim Furyk, K.J. Choi and Luke Donald.
Mickelson is the defending champion at the Northern Trust Open and wildly popular in these parts, and he had a sizable gallery.
The photographers, though, belonged to 17-year-old Ryo Ishikawa.
The Japanese sensation made his PGA Tour debut before about 100 members of the Japanese media, along with a dozen or so other media curious about the "Shy Prince" who made history at age 15 by winning on the Japan Golf Tour.
He opened with two-putt birdie on the par-5 first hole before running into problems with his putter, and he wound up with a 73. Ishikawa missed one par putt from 4 feet, and three-putted from 5 feet for a double bogey on the seventh.
"I had been nervous for 18 holes," he said. "I feel like my body has been stiff all day."
Stuart Appleby was on the putting green, looking down on the 18th at Ishikawa saving par from the side of the hill and a circle of cameras around him.
"This is like the 'Truman Show,'" he said.
The other PGA Tour debut belonged to Vincent Johnson, playing on the Charlie Sifford Exemption that is awarded to a player who represents the advancement of diversity in golf.
He birdied his first hole with a wedge to tap-in range on the tricky 10th hole and calmed his nerves while shooting 70.
"That set the tone for the day," Johnson said. "I said to myself, 'I can do this.'"
He also was one of the few players to ever drive onto the 12th green, although Johnson was teeing off on No. 11. His ball caught a tree and landed on the adjacent green.
"It was a little embarrassing," he said. "But then I hit a 4-iron into the trees, punched out short and got my par. I knew if I had anything around par, I would be playing decent."
Mickelson hasn't been too far away from par in his first three starts on the West Coast, where he has had at least one top 10 every year since his first full season in 1993. He missed the cut in Phoenix, tied for 42nd at Torrey Pines at 2-over 290, and had to birdie the last hole at Pebble Beach to make the cut at 2-under par.
He went through five buckets of balls on the range at Pebble Beach in the rain Sunday, had three good days of practice, went back to the old shafts in his irons and eliminated the mistakes that had been dragging him down.
"When you don't play well, you're not going to rest until you get back on track," Mickelson said. "Today's score, it was obviously a good round, but I didn't feel that I played immaculate. I still feel a thought it's coming. The reason why the score was so low is I ended up making some putts, and I holed a chip, and I got up-and-down on every green that I missed, which is helpful."
He chipped in for birdie on the par-5 17th after his wedge spun off the front of the green. The most pure shot was a 4-iron on the 244-yard fourth hole that stopped a foot away.
Even so, nothing topped his opening hole.
With a hole location back and to the right on one of the best short par 4s in golf, Mickelson wanted to go in the front bunker to give himself a chance to blast it close on the 302-yard hole. Instead, it sailed over the green, over the back bunker and into rough near the sandy cart path lining the 11th tee box.
His flop shot with a full swing came out perfectly, landing on the collar and stopping 6 feet away. Even his caddie, Jim Mackay, who has seen plenty of spectacular shots, was shaking his head.
"Obviously, the way to play this hole is go 40 yards long into a bad lie," he said.
Mickelson wasn't as forthcoming.
"I've played that hole very effectively the last couple of years, and have played it under par and bettered the field average," he said, pausing to smile. "And I'd rather not say what I'm trying to do there."