News
The New Tiger May Be A Little Buggy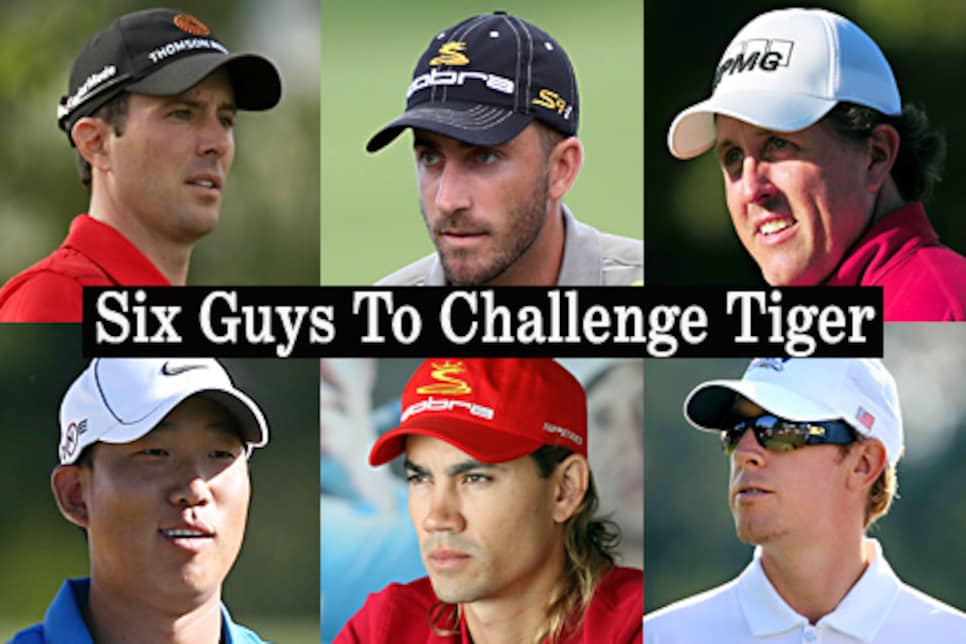 Mike Weir, Geoff Ogilvy, Phil Mickelson, Anthony Kim, Camilo Villegas and Hunter Mahan are the players best positioned to take advantage of any rust on the Woods machine.
If all goes according to plan, Tiger Woods will arrive in Tucson on Tuesday morning, and then hold a media conference at Dove Mountain in the afternoon. When that happens, professional golf as we once knew it will be back.
Probably not a moment too soon, either, hopefully before Allen Stanford grabs another headline.
But with the return of Tiger, everyone knows what it means. Woods will say something about itching to get back on the course and take on the other guys since he sorely missed the competition. He will say there's some rust in his game, understandable since he hasn't played in about eight months, long enough for complete corrosion. Overall, though, he will be the picture of confidence.
Meanwhile, the locker room and driving range and putting green will be full of players trying to figure out what Woods' being back out there means for them. Here's a hint: Trouble. Here's another: Less prize money to split up. It calls to mind what Vijay Singh said in December after the Chevron World Challenge when Woods handed him the winner's trophy. Singh told Woods not to come back to soon from his left knee ligament replacement.
"In fact," Singh said, "why don't you take the year off?"
Everyone knew Woods would come back as soon as he could. With Woods on the sideline, no one really dominated in his absence, a much-discussed topic. But that's probably not so unusual since nobody has really challenged Woods much since he's been around, at least not in recent years.
That doesn't mean no one will. In fact, if someone is going to step up, right about now wouldn't be a bad time to do it, because as slick and as confident as Woods usually is, he has to be carrying a slight feeling of unease, which will probably last at least few tournaments.
So who are the players best suited to take on Tiger at this time, and what do they have to do? Here's the short list, the top five (give or take).
You may not find all these names on everyone else's list, but that's why it's not guaranteed.
Geoff Ogilvy: He turns 32 in June, which means he's two years younger than Tiger, but in Tiger Years, Ogilvy is getting better with age. He's already won this year, at Kapalua, so he's playing all right. Even more important, he has shown an ability to compete in majors.
In fact, Ogilvy won one in which Tiger played, a couple of rounds anyway, the 2006 U.S Open at Winged Foot, where Woods came back too soon after his father's death and missed the cut. Ogilvy has an impossible-to-overstate ability to grind (he chipped in for par at 17 on the last day at Winged Foot and got up and down to par the 18th). That automatically sets him apart.
Ogilvy needs to putt better -- he ranked 104th last year -- but who doesn't?
Mike Weir: He got himself prepared for another year by a lot of snow skiing in the off-season. He's Canadian, after all, and lives in Utah, which means ice isn't just something in his soda, it's his native tongue. Weir is also a Masters winner, even if it was six years ago, and that indicates he can handle the weight of big-time golf as well as putt under pressure. Oh, and beat Tiger, too. Sure, Trevor Immelman and Zach Johnson can say the same thing, but Weir turns 39 in May and the clock is ticking for him to prove that he's up to something special this year.
Weir ranks fifth in actual scoring average and 16th in putting. His work on the greens is a nice change of pace because Weir was slipping in the wrong direction for a while. And for what it's worth, don't forget that when Weir won at Augusta, he didn't have a bogey on Sunday.
Camilo Villegas/Anthony Kim: For discussion purposes only, these two get lumped together. They're sort of the same Gen Y batch anyway, or maybe golf's 2.0 team. Their positives are indeed strong, meaning they're brash in a good way, they crush the ball, they are powerful enough to chop it out of the rough, and they have been known to make putts.
Next, they need to contend in majors, look Woods in the eye and beat him. So far, Villegas and Kim together have played in a total of 17 majors. Woods has won 14, so there's some catching up to do. But time is on their side. Villegas is 27 and Kim is 23.
Phil Mickelson: There seems to be some sort of growing urge in many circles to throw in the towel on Lefty, but that's not sound thinking. Sure, Mickelson does have to pull his game together this season, his 17th as a pro, but he's not going anywhere soon. Check that, maybe to a birthday party: He turns 39 in June. Anyway, Mickelson can't wind up second in scoring one year and then disappear the next. And, no, he didn't win a major last year, but he had top 10s in two of them and played on the winning Ryder Cup team. Plus, he's one of the few of Woods' challengers from days gone by who may not be lugging around any negative Tiger baggage.
Hunter Mahan: He's added to the list because he's got, well, it. That would mean Mahan can flat-out play; he has the temperament to be totally conversant in ice like Mike Weir; he hits greens like they are a punching bag; he's just 26; he's already won; and he was unbeaten on the Ryder Cup team.
That's the list. To be sure, it's a short one, and there are bound to be some omissions. But as anyone who tries to beat Tiger knows, you've got to start somewhere. Write it down.