News
This Week On The Pro Tours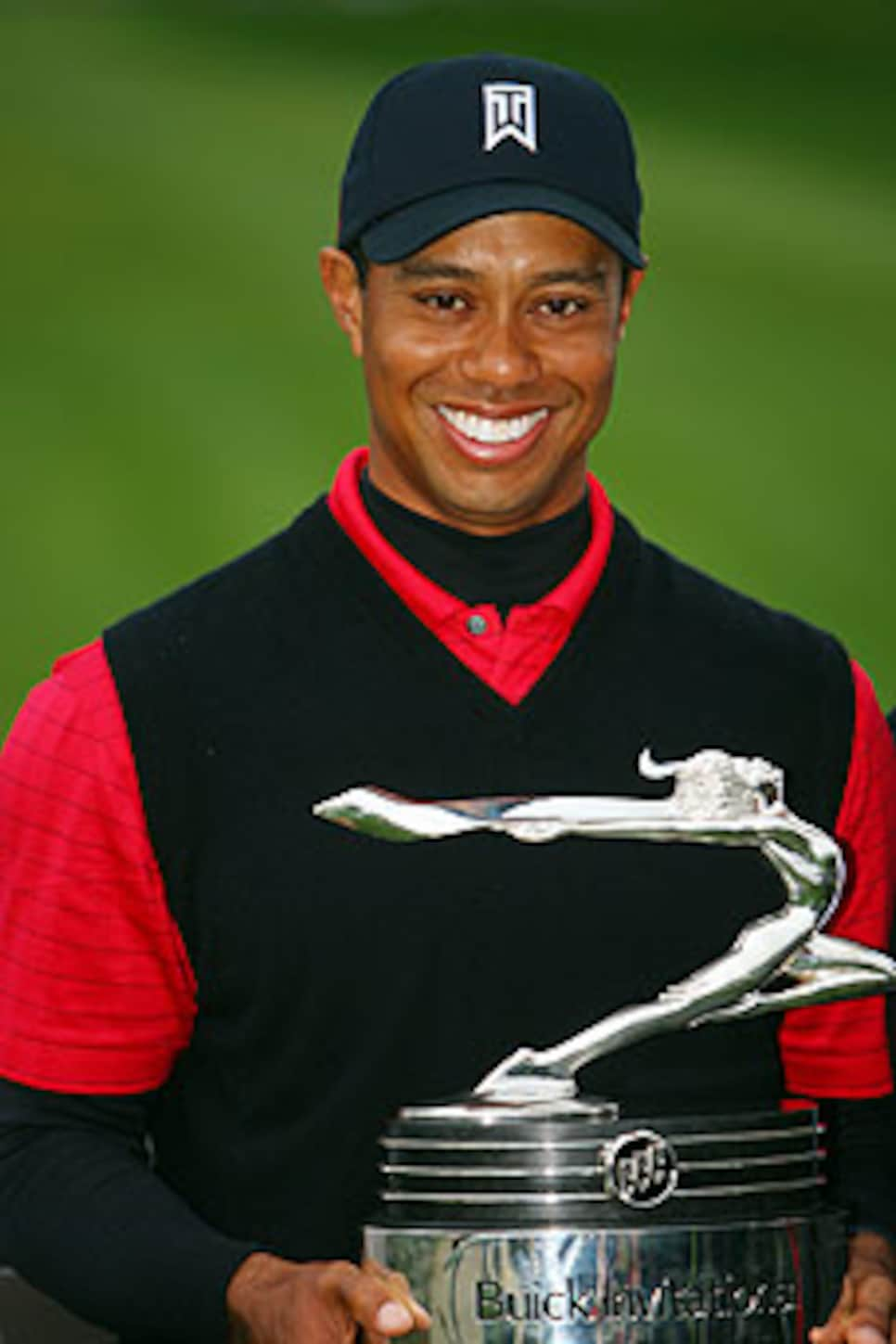 Schedule: Thursday-Sunday.
Courses: Torrey Pines, South Course (7,568 yards, par 72) and North Course (6,915 yards, par 72).
Purse: $5.3 million. Winner's share: $954,000.
Television: Golf Channel (Thursday, 3-6 p.m., 8:30-11:30 p.m.; Friday, 12:30-3:30 a.m., 3-6 p.m., 8:30-11:30 p.m.; Saturday, midnight-3 a.m., 1-2:30 p.m., 9:30-11:30 p.m.; Sunday, 1-2:30 p.m., 9:30-11:30 p.m.) and CBS (Saturday, 3-6 p.m.; Sunday, 3-6:30 p.m.).
Last year: Tiger Woods won the tournament for the fourth straight year and sixth time overall, opening his season with an eight-stroke victory. Woods won again at Torrey Pines in June, beating Rocco Mediate in a playoff at the U.S. Open. He had knee surgery a week later and will not play the Buick Invitational this year as he continues to recover.
Last week: Kenny Perry won the FBR Open in Scottsdale, Ariz., beating Charley Hoffman with a 22-foot birdie putt on the third hole of a playoff. The 48-year-old Perry has 13 PGA Tour victories.
Notes: Woods is missing the Buick Invitational for the first time since 1997. ... British Open and PGA winner Padraig Harrington is making his first PGA Tour start of the season. ... Phil Mickelson, the winner of his hometown event in 1993, 2000 and 2001, also is in the field along with Retief Goosen and Camilo Villegas. ... Mickelson missed the cut last week in Scottsdale, shooting 76 and 72 in his season debut. ... Goosen won the Sunshine Tour's Africa Open on Jan. 18. ... The final two rounds will be played on the South Course. ... The AT&T Pebble Beach National Pro-Am is next week, followed by the Northern Trust Open at Riviera.
Schedule: Thursday-Sunday.
Course: Panama Golf Club (7,102 yards, par 70).
Purse: $600,000. Winner's share: $108,000.
Last year: Scott Dunlap won the season-opening tournament, closing with a 1-over 71 for a one-stroke victory over Arjun Atwal and Jeff Klauk.
Notes: The tournament opens the tour's 20th season. ... The top 25 players on the money list at the end of the season will earn 2010 PGA Tour cards. Three-time winners during the season will receive immediate promotions to the PGA Tour. ... Dunlap is in the field along with fellow Panama winners Miguel Carballo (2007), Tripp Isenhour (2006) and Vance Veazey (2005). ... The course was statistically the toughest on the tour last year, playing to a 72.959 average. The final-round mark of 73.677 also was the highest on tour last season. ... The tour is off the next two weeks. The Moonah Classic is Feb. 26-March 1 in Australia, followed by the New Zealand PGA and New Zealand Open. The first U.S. event is the Louisiana Open on March 26-29.
AUSTRALIAN LADIES PROFESSIONAL GOLF/LADIES EUROPEAN TOUR
Site: Gold Coast, Australia.
Schedule: Thursday-Sunday.
Course: RACV Royal Pines Resort (6,443 yards, par 72).
Purse: $380,000. Winner's share: $68,300.
Last year: England's Lisa Hall won when South Korea's Shin Hyun-ju missed a 3-foot par putt on the final hole. Hall closed with a 6-under 66 for a 13-under 203 total in the rain-shortened tournament.
Last week: France's Gwladys Nocera won the New Zealand Women's Open, finishing with a 3-under 69 in windy conditions for a six-stroke victory.
Notes: Six-time winner Karrie Webb and fellow Australians Katherine Hull and Rachel Hetherington top the field along with Hall, Nocera, LPGA Championship winner Yani Tseng, Women's British Open champion Ji-Yai Shin, Japan's Ai Miyazato, England's Laura Davies and Canada's Lorie Kane. U.S. Women's Open champion In-Bee Park withdrew, citing personal reasons. ... Webb swept the 1998-01 titles, also won in 2005 and 2007 and has four second-place finishes. ... Amy Yang won in 2006 as a 16-year-old amateur. ... The Women's Australian Open is next week at Metropolitan in Melbourne.
Next event: SBS Open, Feb. 12-14, Turtle Bay Resort, Palmer Course, Kahuku, Hawaii.
Last event: Catriona Matthew, the 39-year-old Scot expecting her second child in May, won the 15-player, 36-hole LPGA Brazil Cup exhibition event Jan. 25. Matthew shot two 3-under 69s for a five-stroke victory over Kristy McPherson.
Next event: Allianz Championship, Feb. 13-15, The Old Course at Broken Sound, Boca Raton, Fla.
Last week: Bernhard Langer won the Champions Tour's season-opening Mitsubishi Electric Championship in Hawaii on Jan. 25, beating Andy Bean by a stroke. The German star has five victories in 26 starts on the 50-and-over tour.
Next event: Malaysian Open, Feb. 12-15, Saujana Golf and Country Club, Kuala Lumpur, Malaysia.
Last week: Northern Ireland's Rory McIlroy won the Dubai Desest Classic for his first European tour victory, beating England's Justin Rose by a stroke. The 19-year-old McIlroy is the seventh youngest winner in European tour history.
ASIAN TOUR: Asian Tour International, Thursday-Sunday, Suwan Golf and Country Club, Bangkok.
PGA TOUR OF AUSTRALASIA : Victorian PGA Championship, Thursday-Sunday, Sanctuary Lakes Resort, Melbourne, Australia.