News
Three Weeks And What Do We Know?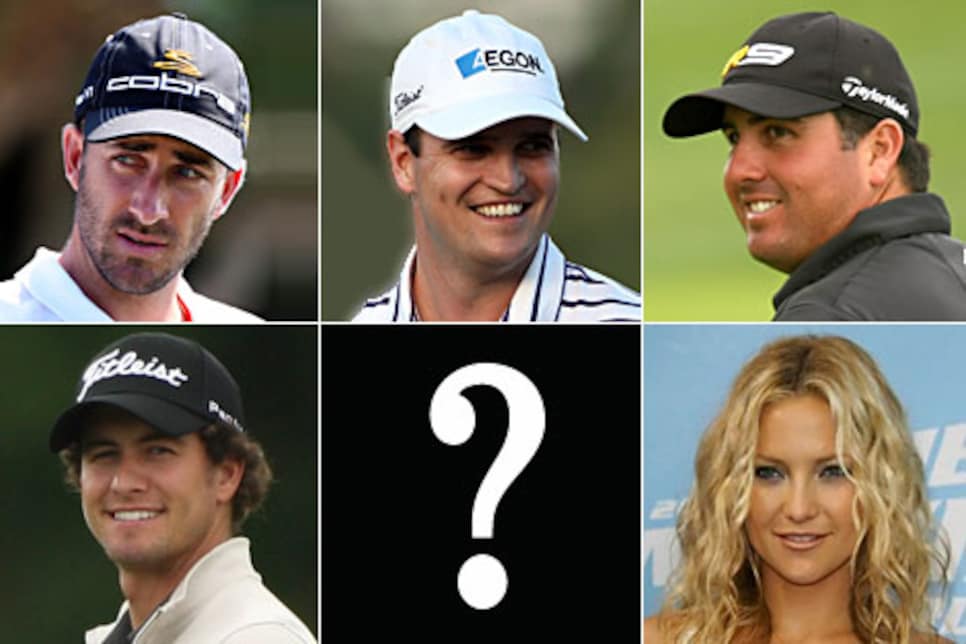 Sure, it's early, but there's no time like the present to feel the pulse of this brand new edition of the PGA Tour, and figure out just what we've learned so far from tournament play.
The answer? Well, nothing, really. At least nothing that we all couldn't have seen coming. It rained cats and dogs at Kapalua? Let's hope it also rained some nice baked opakapaka. The wind blew on Oahu? Hard enough to knock those little umbrellas out of the drinks? The scores were low at the Bob Hope? What was the cut, 15-under? Oh, sorry, it was.
The overriding impact of such news . . . does anyone need to be revived yet? Next you're going to say that Adam Scott had a date with actress Kate Hudson.
You mean he did? Well, more on that later.
By almost any standard, the early-season surprise level has dipped sort of low, and while that's usually the way things go at this time of the year, it's also true that you can still put together a short list of the unexpected, noteworthy and pieces of news possibly bordering on quirky.
At Kapalua, they proved you can actually put on a season-opening tournament that kicks off the entire year and play without Tiger Woods, Sergio Garcia, Phil Mickelson and Padraig Harrington – the top four in the world – and still manage to play 72 holes and come up with a champion. What a concept.
If the Plantation course on Maui was busy, so was the beach, where Scott, 28, and Hudson, 29, hooked up. They were all over the place, sprawled on their towels, walking in the sand and chatting amiably, most likely discussing the very best product for curly hair. And photos of the two are all over the place on the Internet. Scott tied for 18th at Kapalua, tied for second at the Sony and then tied for 21st at the Qatar Masters, so he may want to consider keeping Kate in his myFaves on his cell phone.
There is also enough early material for a couple of short stories. At Kapalua, winner Zach Johnson told reporters he is 5-10, but he looks shorter. And at the Sony, 18-year-old Tadd Fujikawa is 5-1 and also looks shorter, which can't even be possible, unless he's actually moonlighting as a jockey. After shooting a third-round 63, Fujikawa stood taller, for sure.
And how about Chad Campbell? His memory was so bad, he couldn't remember writing his name.
As it turns out, he didn't, at least he didn't sign up to play in Honolulu, which wouldn't have made much difference except that Campbell didn't realize his oversight until he was sitting in the airplane and winging his way to Hawaii. Didn't seem to bother him all that much, possibly because he's keeping a strict accounting of all the Frequent Flier Miles he's collecting, or that he simply decided to move on to the Bob Hope, where he closed with 65-64, shot 26 under and tied for 9th.
The Hope conducted its annual assault on par and the results were the total carnage you've come to expect. Why? Simple. The courses aren't long, the putting surfaces are like green felt and the weather is characteristically perfect. Par is actually about 67 instead of 72. And to think they don't even use Indian Wells Country Club in the rotation anymore, a cozy course where Desi Arnaz was one of the original investors and where Fred and Ethel Mertz could break par.
Few had trouble doing that at the Hope. There were 36 scores of 63 or better. Until the wind began gusting in the final round, a winning score of 40-under was not out of the question. The scoring was so low that Jesper Parvevik shot an 11-under 61 in the fourth round and missed the cut. James Nitties had a 10-under 62 in the fourth round and he missed the cut, too.
Numbers made the news at the Hope, unless you consider Mike Weir pulling his 3-iron out of his bag and replacing it with another rescue club as a major event.
Once again, the pros proved that the only thing that bothers them is the wind. Steve Stricker is your major case in point. Playing with the Hope lead in the last round, Stricker had one of those days that are remarkable for their catastrophic qualities. He seemed like he was on his way toward bogeying for the cycle. He tripled the seventh, but the worst was yet to come. Facing a cutting, gusting wind at the 10th, Stricker hit his first tee shot out of bounds to the right, then reloaded at the tee and sent his third shot way left into the lake, and then reloaded again and sent his fifth shot left into a bunker. Now, if you are standing in a fairway bunker and you are pulling a club for your sixth shot, you know you are hurting.
Stricker made a quadruple bogey, but rallied and tied for third, despite his 77. So don't tell Stricker anything about bad bounces. And don't tell that to John Merrick, either. Merrick hit a ball so far awry it bounced off the concrete wall of a canal, took a quick turn, flew over the rough and bounded back onto the fairway. Merrick wound up second to Pat Perez, who closed solidly, even though the last time he had a chance to do that, he failed and spent most of that occasion attempting to dig a grave for his clubs in the fairway at Pebble Beach.
Nothing's happened so far on the PGA Tour? You've got to be kidding.