News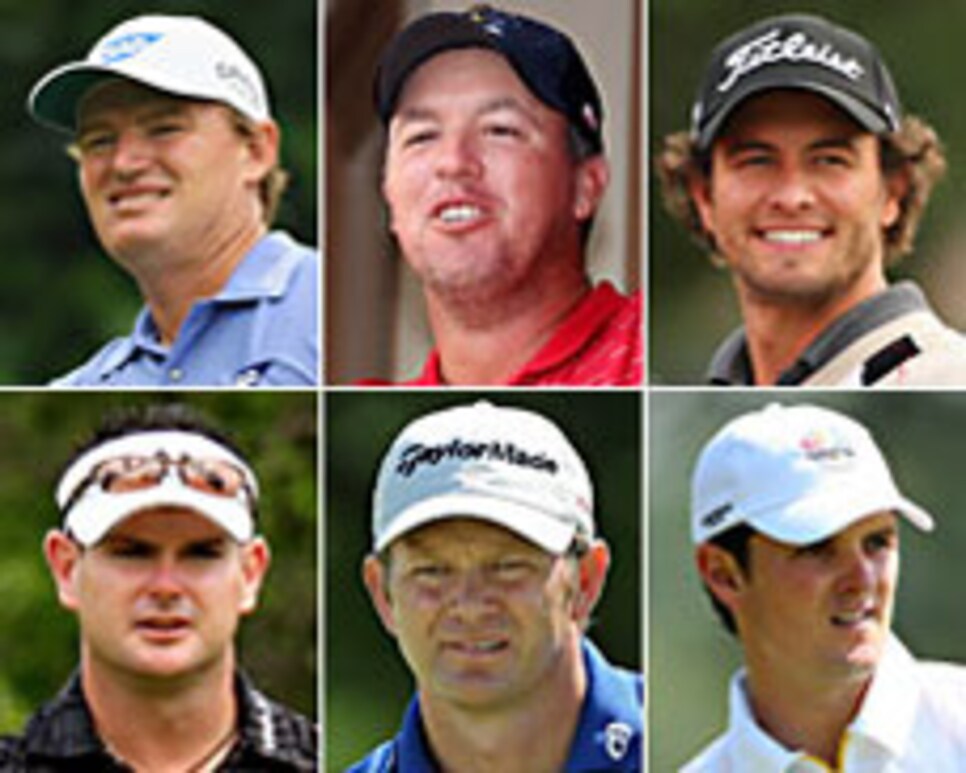 Ernie Els, Boo Weekley, Adam Scott, Rory Sabbatini, Retief Goosen, Justin Rose, Paul Casey and Sean O'Hair all have something to prove in 2009.
For every Anthony Kim, who realized his immense potential with a breakout season in 2008, there are a dozen PGA Tour pros whose careers hang in a state of competitive balance. Some are veterans, multiple major-championship winners searching for the mix of ingredients that once carried them to the game's highest level. Others are young underachievers trying to validate expectations, be they from the public, the media, those among their inner circles or themselves.
Here are nine players on the spot in 2009, all in need of some positive mojo in a business where the difference between good and bad can amount to a couple of 10-footers for par. Five or six of the nine, it's fair to say, are coming off subpar years. The others could use a little success reaffirmation, at which point I'll leave them alone. For a while, anyway.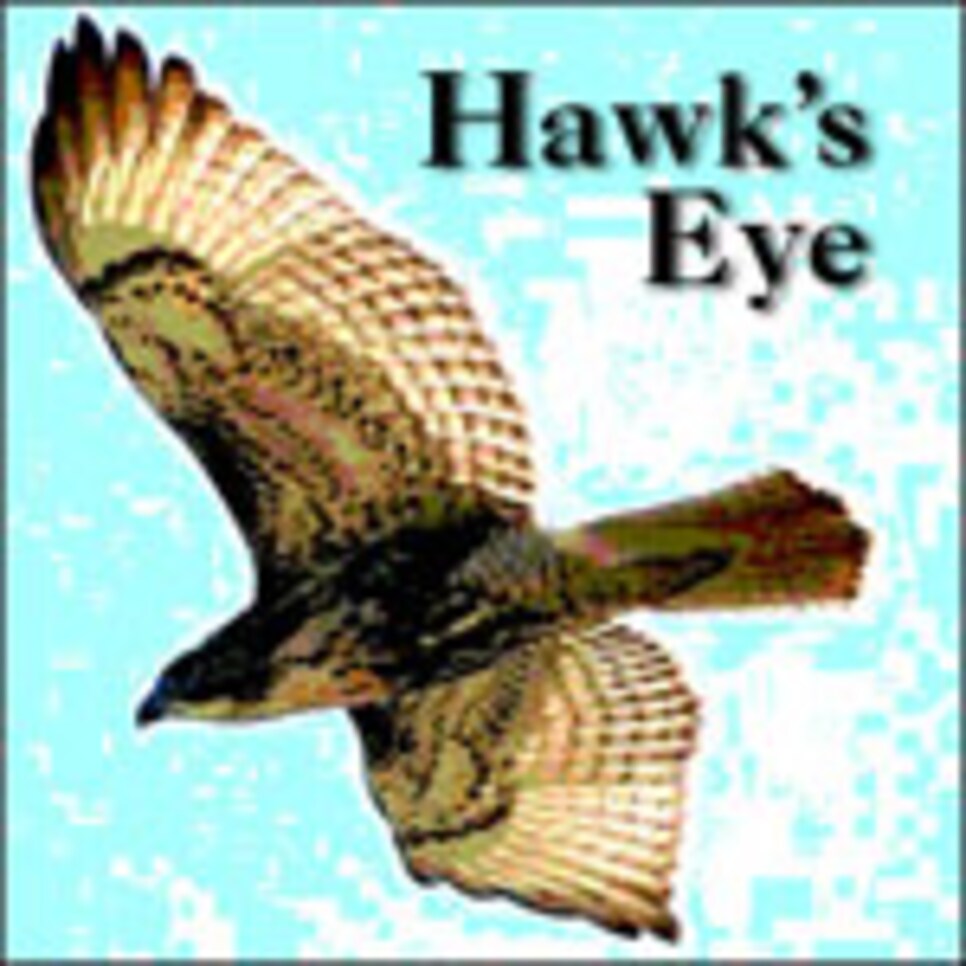 Adam Scott: Ranked third in the world last June, Scott arrived at the U.S. Open having already won on both sides of the Atlantic in 2008. More than ever, the young Aussie appeared ready for superstardom, but his season had already begun to unravel. Scott's last top-10 finish was in early May. A perennial underachiever at the majors, he made no progress in that area, and by year's end, he had fallen to 17th in the World Ranking, the lowest since his rookie year.
A broken bone in his hand and a split with his longtime girlfriend had something to do with Scott's lost summer, but at age 28, one figured he'd be further along by now. The emergence of young stars Anthony Kim and Camilo Villegas won't make the burden any lighter, and with Sergio Garcia coming off a stretch when he seemed to be on every important leader board, Scott no longer holds status as the game's best under-30 player. In 2009, he needs to prove he still belongs in the top three.
Ernie Els: Once among the game's steadiest performers, the only thing steady about the Big Easy in recent times has been a continuum of change. Swing coaches, equipment companies, caddies, management firms ... Els even switched sports psychologists a couple of years ago. Literally and competitively, things haven't been the same since he underwent knee surgery in 2005. Perhaps Els has tried too hard to regain the form that made him a top-tier player for more than a decade.
There are other factors that could explain his slow return to prominence. Els' off-course business portfolio has expanded considerably since the injury, and on a personal level, he revealed last April that his son, Ben, now six years old, is autistic. Do all these issues affect Els on a shot-to-shot basis? Probably not, but on weeks when he hits the ball well, his putter is cold, and when he is making putts, his ballstriking is off.
He's still plenty talented enough to win tournaments like the '08 Honda Classic, but major titles have long been the measure for Els, and the fact is, he has claimed just one (2002 British Open) in the past 11 1/2 years. Is there another major left in the Big Easy? Some of the best storylines are the ones that never get written.
Rory Sabbatini: His sassy demeanor gets all the attention, but Sabbatini is an excellent player whose best golf usually happens early in the season. Sabbs got off to another fast start in 2008, finishing solo second in Honolulu and a T-3 at Torrey Pines. Coming off a huge '07, when he rose to eighth in the World Ranking and claimed fourth place in the final FedEx Cup standings, there was reason to believe the brash South African was ready to succeed at the highest level.
It didn't happen. Sabbatini played very poorly from late January until the end of the regular season: no top 20s in 16 starts, not a single round below par at the majors. He padded his bank account with a couple of decent performances in the Fall Finish but still earned $3 million less than in '07. Sabbatini's GIR percentage actually rose from 61.6 to 66.1. After ranking ninth in putts per round, however, he tumbled to 145th. A tumble that severe will hurt anybody's cash flow.
Luke Donald: Wrist surgery ended his season in August, although the torn tendon forced Donald to pull out of the U.S. Open after three rounds and miss the British Open altogether. He was having another modestly successful year, making lots of money without winning, his best chance coming when he finished a stroke behind Els at the Honda. Donald has two victories in 157 starts on the tour, one of them at the 2002 Southern Farm Bureau Classic.
To say the Englishman has underachieved after a stellar college career would be inaccurate. Donald actually maximizes his ability in a league where he gives up 30 yards off the tee and has fallen from 74th to 145th to 194th in greens hit in regulation. The best short hitters tend to pile up lots of high finishes but few trophies -- a major title and 10 victories would make Donald's pro career a rousing success. In 2009, he would do well to pick up a third win.
Retief Goosen: Fatherhood hasn't been good, at least inside the ropes, for the two-time U.S. Open champ. Goosen has plummeted to 44th in the World Ranking since the birth of his second child in late 2004, five months after that marvelous putting display vaulted him past Phil Mickelson at Shinnecock. He turns 40 in a couple of months, and though he played well in several big tournaments in 2008, you get the feeling the Goose would rather hang out with his kids than subject himself to the competitive grind. More power to the man.
Paul Casey: We keep waiting for the big breakout season from this prodigiously talented Englishman, who continues to divide his time between the U.S. and European tours. It's hard to believe Casey still hasn't won in America, but in fact, his best finish here was a T-4 back in August 2006. He had four top 10s in 2008, all against premium fields, but his putting was utterly dreadful by tour-pro standards: 196th in total putts per round, 193rd in strokes per GIR. Until he improves or they make the hole bigger, Casey is likely to remain winless.
Justin Rose: Another winless young Brit, although Rose has made twice as many PGA Tour starts (127) as Casey and given himself a half-dozen or so chances to end his U.S. drought. On that note, you have to look long and hard to find a player who has botched more Sundays in the hunt. The latest occurred last June at the Memorial, where Rose shot two over par during the final 11 holes to finish two behind Kenny Perry. A talented all-around player who can't get the horse in the barn, Rose isn't alone in that respect, but he is the best player never to win in America. The longer he goes, the harder it will get.
Boo Weekley: Not everyone on this list stands with a career at the crossroads. People laughed at Weekley when he first made it to the big leagues, but the giggles turned to oohs and ahhs when they saw (and heard) the man strike a golf ball. Not only is Boo's swing effective, it is economical and easy to replicate. Now that he's a Ryder Cup hero, the stakes get a little higher, the demands a little more intense. It will be interesting to see if Weekley can maintain his lovable character, fulfill the requirements of stardom and still rake in $2.4 million per year, as was the case in '08. Golf needs Boo, and hopefully, Boo needs golf enough to stay focused on what got him on that Ryder Cup team to begin with.
Sean O'Hair: You watch this guy play a few holes or hit a dozen balls on the range, then wonder why he's not winning two or three tournaments every year. O'Hair did pick up his second career victory in Tampa last March and followed it up with a T-3 at Bay Hill, then did very little until another T-3 at the Canadian Open in late July. To manage just three top 10s in 25 starts is almost inexplicable for a player of his ability.
O'Hair's par-3 birdie rate (8.5 percent) was among the worst on the tour, his overall birdie-conversion percentage (25.5) frighteningly low for someone who hits it so far. You can't win if you don't make putts, and though O'Hair is only 26, still a kid with his best golf very likely ahead of him, the last thing he wants to do is wake up 20 years from now and realize he has become the Tom Purtzer of his generation.
Hawk's Eye will appear weekly in 2009.