News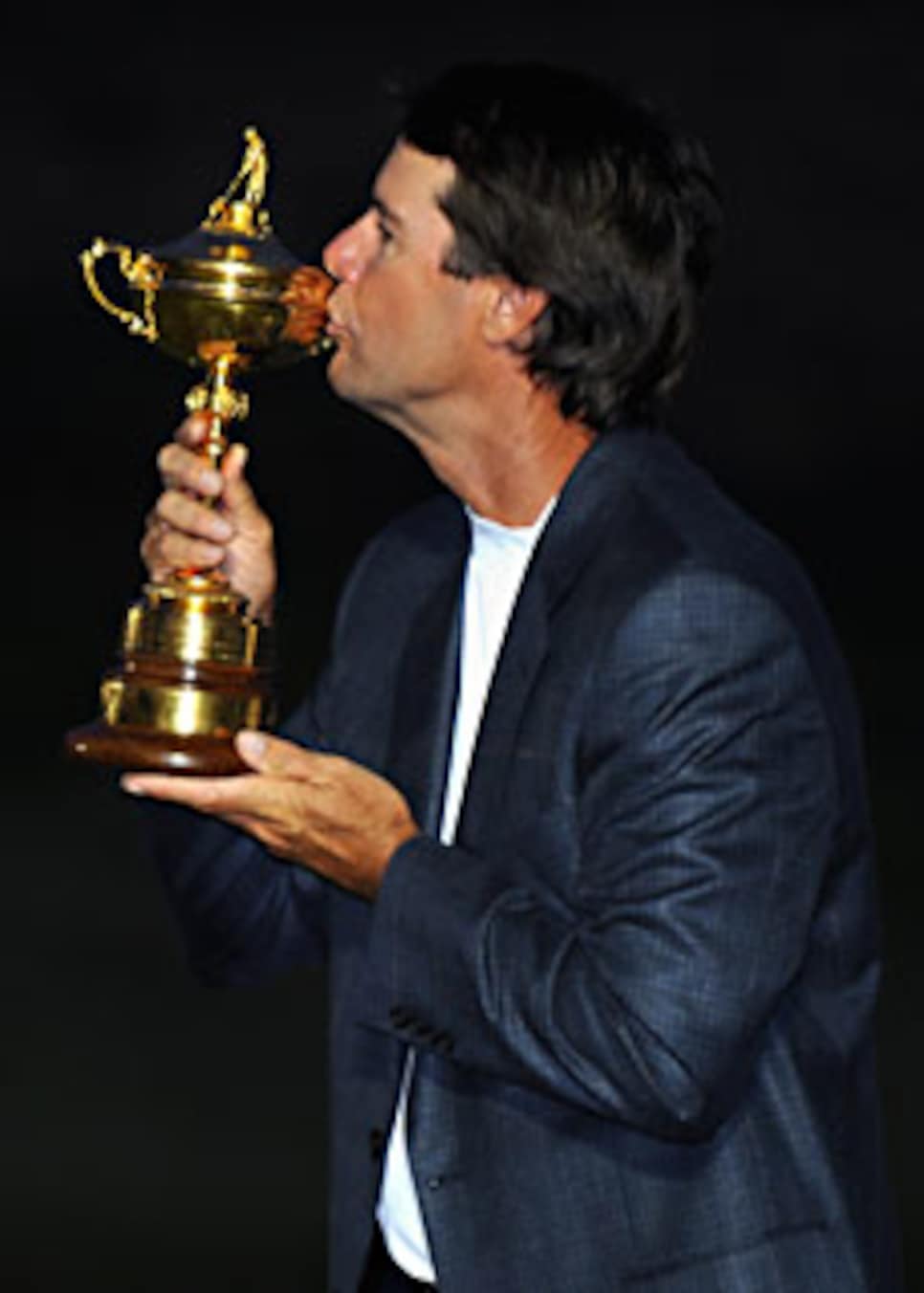 Had he been asked to return as Ryder Cup captain Azinger said he would have.
NAPLES, Fla. -- It was during a rain delay when players gathered in front of the TV in the clubhouse of the Tiburon Golf Club. The second round of the pro-am at the Merrill Lynch Shark Shootout was on hold, but the next U.S. Ryder Cup captain for 2010 in Wales was going to be announced live on the Golf Channel. Boo Weekley, Kenny Perry, Scott Verplank, Woody Austin, Scott Hoch and J.B. Holmes were there, along with a collection of caddies, some golf course staff and some security. Chris DiMarco and his instructor, Rick Smith, walked in just as the press conference was getting under way from the famed Tavern on the Green in Manhattan.
In Naples and amongst the assembled group watching TV at Tiburon, no one seemed surprised Corey Pavin is the next captain. In fact, not much was said. There were side conversations going on about cars when the guy with one of the best cars on tour, Paul Azinger, walked in. It was at about the third question during Corey Pavin's press conference when Azinger commented: "Alright, I have to hear this."
Someone in the room told Azinger they just said on TV that he had turned it down.
"Who said that?" Azinger asked the group. The group laughed. "Who said that?" He asked again, as if he was shocked someone could report something so wrong. Zach Johnson seemed to indicate to Azinger that they were joking. "That's what I thought. I would've done it," he said, and then he sat down in a chair in the back of the room and the talk went back to Azinger's new car, a Ford GT, twin turbo. Kenny Perry is anxious for a ride and Azinger told him that could be arranged.
When asked for comment on the announcement of Pavin as the next captain, Azinger said, "Corey is a logical choice. If it was offered to me I would've done it, but it wasn't, so it's time to move on and try to keep the Cup. We'll have a huge disadvantage going over there -- the weather, the course, the time change and the crowd. We'll be underdogs with or without Tiger."
Azinger said the idea of him returning as captain was discussed when he went with the rest of the team to the White House, but he was never led to believe he was going to get a chance to defend. He said he called a few people at the PGA of America and let them know he was interested, but he also understands there's protocol to the selection of the next captain and he respects it.
"It would've been a great opportunity to try and win it again but it wasn't offered to me," Azinger said. "That's all I can say."
When Azinger was asked if he would call Pavin and offer any advice, he was quick to say, "No. It's like coming up to a guy on the range and offering advice on his swing. You don't do that unless you're asked. If Corey calls me and wants my advice, I'd be happy to give it to him."
Azinger insists he's not bitter and that he looked at the situation as a win-win. If he was asked to be the captain again, he would've loved that opportunity. The fact that he's no longer the captain, he feels good about leaving the process in better shape than before he started.
"My hand prints will be on the Cup for a long time. We had the best players there this year and if we didn't change the selection process we wouldn't have won," Azinger said. "Because of the process we have now, one thing's for sure, Corey will have chance to have the best players on his team.
"I think we had the top 12 of the 13 players on the money list, and if Tiger was there, we would've had the top 12. I think that's right. I'm happy we won it and hopefully we can keep it going."