News
Wie opens Q school quest in impressive fashion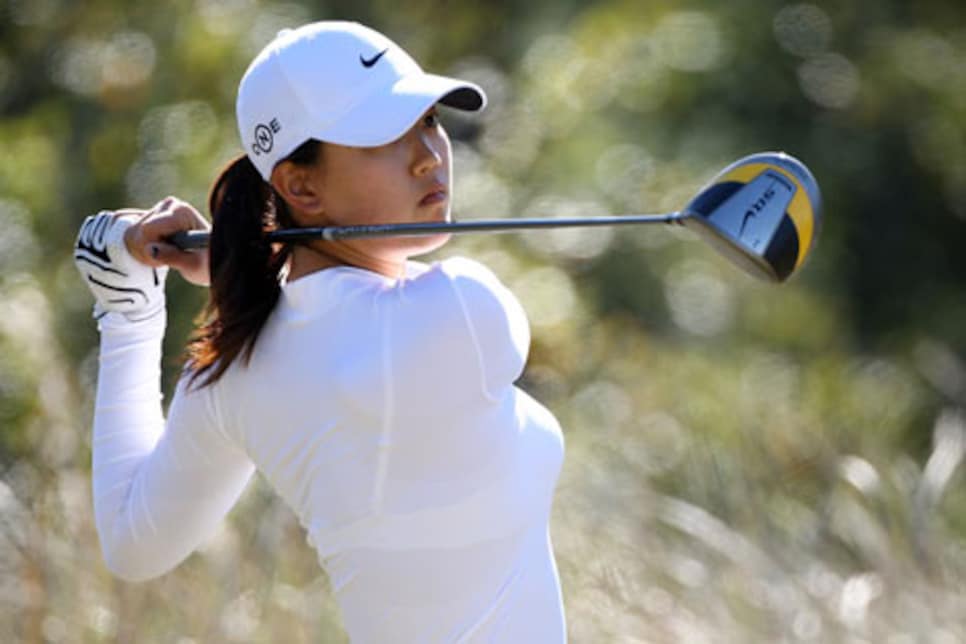 The Michelle Wie Show was back in town.
"She still has the 'wow!' factor," said David Leadbetter, the superstar instructor who oversees this remarkable 19-year-old talent. "It was a very comfortable round of golf," he said after Wie laid down a near-flawless 69, a three-under-par round that could have been lower but for a few putts that avoided the hole from inside 10 feet. Also in at 69 was the other American hope for 2009, Stacey Lewis, who captured hearts with her game effort at this year's U.S. Women's Open.
Indeed, although Wie's gallery peaked at only about 100 during the first round of the LPGA Qualifying Tournament finals, the mere fact that it was Wie's first tournament appearance since the CN Canadian Women's Open in August and her first attempt at qualifying for an LPGA Tour card ever brought added energy to an often-overlooked event.
On a day that began with a 75-minute frost delay that was ultimately thawed by a welcoming, warm sun, no wind and torrid scoring, Wie did what she had to do. This 90-hole marathon is an endurance test both mentally and physically as much as it is an examination of skill. She passed on all counts.
Although Wie was five strokes behind the leading 64 posted by Shiho Oyama, she was among the top 10 and perfectly positioned. The top 70 and ties after four rounds advance to Sunday's finals where the top 20 will get fully exempt cards for 2009. Those finishing No. 21 through 40 will get partially exempt cards.
Wie, who has spent the past two years trying to change the storyline of her once wondrous career from injury and controversy to accomplishment, looked much closer to the phenom of 2006, when she finished in the top five in three of the LPGA majors, than she did to the player who missed five cuts, withdrew twice and was disqualified once in '07 and '08.
Her swing was once again fluid and, although not as rhythmic as it was when she was known as The Big Wiesy, it was far smoother than the lurching action she had through much of the 2007 season. Using driver only four times, she missed only two fairways and three greens. Perhaps most importantly, her confidence seems to have returned.
"There were no dramatics today," said Leadbetter. "She was under control, smiling, talking. There was no grinding. It's been a long time since she's played a round of golf this under control."
Wie was not only swinging better, she appeared to be more fit as well. Last year, her long, tall frame bore clear evidence of the "freshman 15" she clearly put on during her first year at Stanford University. But this Wie, clad in white shoes, black pants, a form-fitting white shirt and hat, was carrying no excess baggage.
"She's fit and she is healthy,' Leadbetter said, referring to the left wrist she injured early in 2007. He said she was even able to joke about the wrist, saying Tuesday night she felt a tweak in it, then adding: "I'm not nervous but my wrist must be."
All in all, it was an odd reunion, the Wies -- Michelle, father B.J. and mother Bo -- often at odds with the LPGA over various rules and her non-member status, are now trying to gain membership to that tour. The tour, once annoyed with the Wie camp, now seems ready to embrace it.
She was looking forward to playing," Leadbetter said about her return to competition. He seemed to be also summing up the attitude of the fans, media and the tour. The needle-mover is back. Stay tuned for four more days of The Drama from Daytona.