News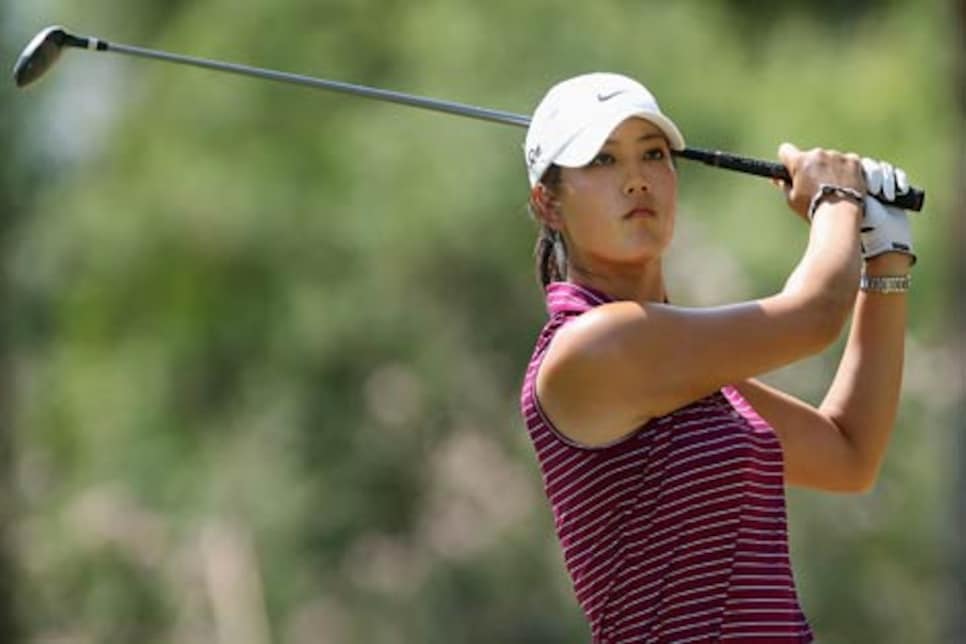 Wie will tee it up Wednesday at LPGA International with 139 other hopefuls vying for the 20 fully exempt playing cards up for grabs.
DAYTONA BEACH, Fla. -- Can it really be almost seven year's since that lanky lass laden with talent and dangling earrings first played her way into an LPGA tournament? Who back then, when 12-year-old Michelle Wie qualified on Feb. 26, 2002 for the LPGA Takefuji Classic then shot 72-74 to miss the cut by three strokes, thought this many year's later she'd still be on the outside looking in?
Asked then, most would have predicted that by the time her 19th birthday was fading in the rearview mirror, as it is now, Wie would have won on the women's tour, and many would have bet she'd have made a cut on the PGA Tour. Instead, Wie tees it up Wednesday at LPGA International with 139 other hopefuls vying for the 20 fully exempt playing cards up for grabs in the LPGA Final Qualifying Tournament.
The five-day, 90-hole ordeal is played on both the Legends and Champions courses with a cut after 72 holes to the low 70-players and ties. Those players will then square off Sunday for the 20 cards, with a playoff used to determine the 20th position if necessary. Players finishing 21 through 40 will have non-exempt status for 2009, which Na Yeon Choi used this year to finish second in the Rookie of the Year race.
Wie, who is in her third quarter at Stanford University, returning to school in September after skipping the spring quarter, quite simply needs a place to play next year. After failing in eight tries to make a cut on the PGA Tour, and following a rugged two year's against the women in which she was plagued by injury, hounded by controversy and cursed by errant tee shots Lewis and Clark would have had trouble tracking down, Wie was no longer the hot commodity who could pick and choose her sponsor exemptions.
If it were possible to pinpoint the moment when this fairytale turned from Cinderella to something out of the Brothers Grimm it was in the last round of the 2006 Evian Masters in France. Wie was at the top of her game, having made the cut in 26 of her last 27 LPGA events with six top-five finishes in major championships.
Possessing a two-stroke lead over Karrie Webb with seven holes to play at Evian, it appeared as if Wie was on the verge of winning for the first time on the LPGA. Then Webb reeled off three birdies in the next six holes and a stunned Wie, woefully lacking close-it-out experience because she shunned junior golf to play the Wie Tour, was unable to respond.
It was a year -- at Evian in 2007 -- before she was able to post a round under par again. That 2007 season began with a wrist injured while jogging and included two withdrawals, three missed cuts and, in the three LPGA events where she managed to make the cut, Wie played 216 holes a woeful 45 strokes over par.
There was also 88-Gate when many players thought Wie used her wrist as an excuse to drop out of the Ginn Tribute with two holes to play rather than risk shooting an 88 or higher which, as a non-tour member, would have disqualified her for the rest of the season. She added insult to the injury excuse two days later when she showed up to practice at Bulle Rock, site of the McDonald's LPGA Championship the next week.
This year should some signs of hope. Wie finished sixth in a Ladies European Tour event, but she also missed the cut twice on the LPGA, including the U.S. Women's Open where she took nine strokes on one hole, making a series of mental blunders that screamed of a lack of concentration. She contended in the State Farm Classic but was disqualified after the third round for failing to sign her scorecard following the second round -- another mental blunder.
Those are the puzzling things about Wie. No one doubts her talent, and even those among the LPGA players annoyed by the sense of entitlement and condescending attitude they perceive in the way the Wie family behaves toward the LPGA -- remember, Michelle's goal is to play the Masters, not beat the women -- say her ball-striking ability is breathtaking.
But controversy seems to be her constant companion. There was a disqualification for a bad drop at the 2005 Samsung World Championship, her first tournament as a pro. There was a two-stroke penalty at the 2006 Weetabix Women's British Open for inadvertently moving a loose impediment in a bunker. And then there was the DQ and the 9 this year. Sometimes the mind and the body appear not to be on the same page.
But when they are she is a wonder to watch. Even Wie's harshest critics admit there is simply too much talent there for it not to rush to the surface eventually. Perhaps now that she has decided she wants to play with the women Wie will get the tournament experience and competitive rhythm needed to unleash that talent.
First, she has to earn an LPGA tour card. That starts Wednesday. And suddenly, for the young woman for whom the sky seemed to be the limit, a 20th-place finish come Sunday would feel very much like a victory. There was the phenom and then there was the frustration. How quickly, at still only age 19, we find ourselves in Act III of the Michelle Wie story. Who would have thought seven years ago this is where we'd be today? Who can deny finding out how this story ends is one compelling drama.