News
Tour Insider: When You're Hot...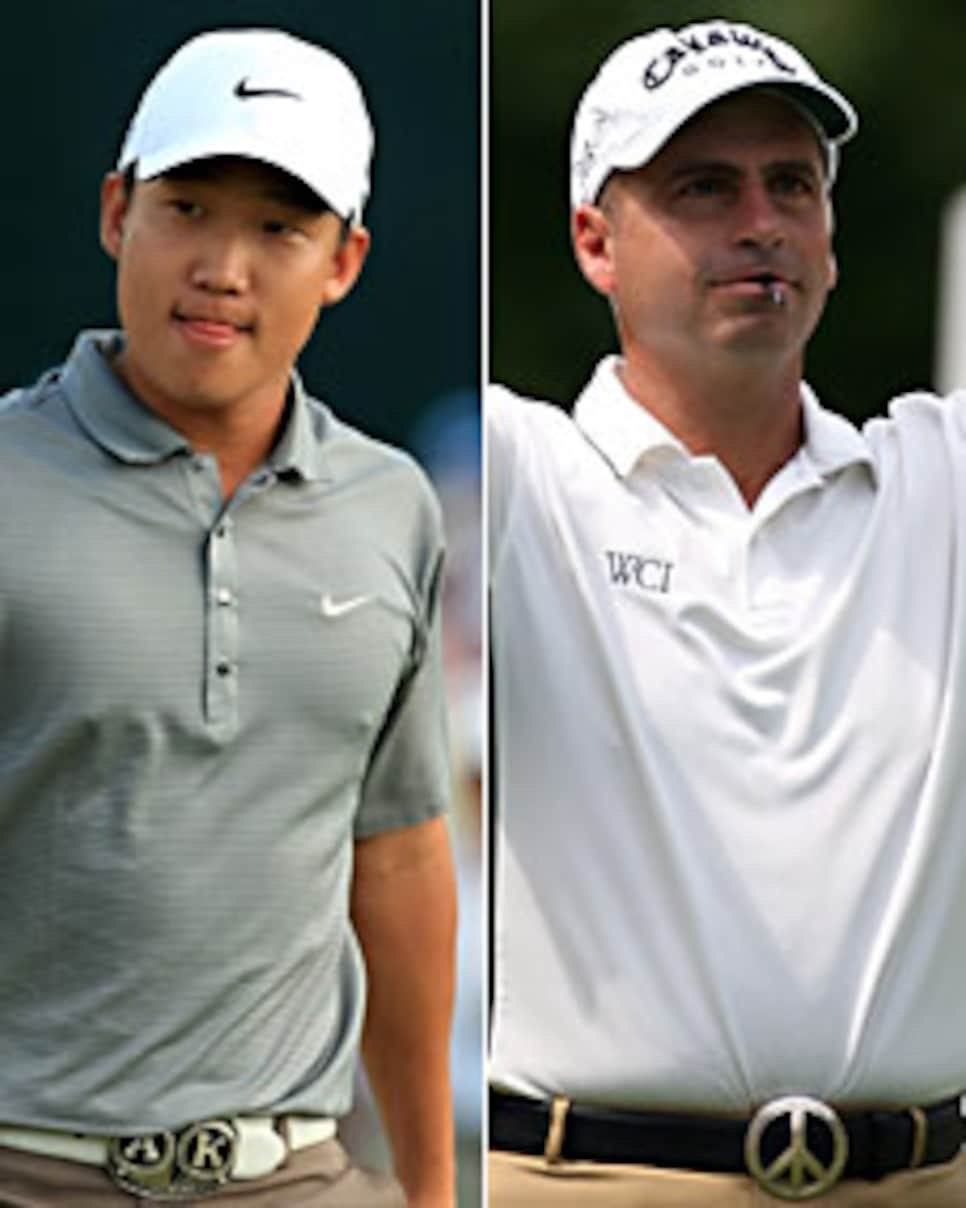 Anthony Kim isn't the only one with some style around his waist. Just ask Rocco.
Paul Azinger was playing the World Series of Poker in Las Vegas Sunday but was keeping his eye on more than just his two cards: Anthony Kim and Rocco Mediate, two of the hottest hands in American golf.
Kim won the AT&T National Sunday to lock up a spot on Azinger's Ryder Cup team. Mediate finished with a flurry of birdies, nearly matching Kim's closing 65 with a 66 of his own, to qualify for the British Open. But since Azinger was in Las Vegas, the land of gaudy belt buckles with initials and sparkling jewels -- like the kind Kim is famous for wearing -- it got me to wondering about Azinger.
Would he mind if A.K. broke out his bling belt at Valhalla in September? Suppose it didn't exactly match the team unis? Suppose some of the old guard didn't get it? So I called the captain and asked him.
Relax, A.K., it sounds like you'll be good to go.
"I don't want anybody to be uncomfortable," Azinger said. "Why should I care? Maybe the PGA of America cares, but I don't care what he wears."
Kim was contacted Monday just after doing a photo shoot for a company that custom made the belt he wore at Congressional and inquired about the possibility of making red, white and blue belts for the entire team. "I don't know if Kenny Perry or some of the other guys on the team would wear it," Kim said via cell phone. "But if we had a bunch of 18-year-old kids, they'd all want to wear it. It's a cool idea. But I probably would wear something more team-oriented than something about me. Maybe in the singles I'd wear it."
No doubt a guy like Mediate would be up for an Uncle Sam-inspired belt buckle, -- he already wears a peace sign buckle -- but he has to make the team first. Contacted Monday in Los Angeles, Mediate knew where he was on the updated points list after picking up more points at Congressional, adding that it will take more than a runner-up finish in the U.S. Open to become a captain's pick.
"I know exactly where I am, I'm 14th," Mediate said. "That's my whole business the rest of the year. I told [Azinger] in Tampa last year, 'Paul, I want to be on your team.' I didn't look like anything at the beginning of this year, I was doing nothing right. But even the last two weeks helped me a little big. I wasn't going to make it unless I kept playing good. The U.S. Open is in June. The Ryder Cup is in September. I haven't won, but I've played good."
Azinger told Golf World he was actually considering Mediate for assistant captain earlier this year, but is glad he pulled back on the offer. "Rocco knows how much confidence I have in him," Azinger said. "When I'm around him, he hits it great."
And he wasn't talking about the cards being dealt from a deck. Mediate has competed in the World Series of Poker and cashed. Azinger, who has competed and not cashed, was still alive after the first day. He was one of 6,800 who started the competition and one of 3,000 contestants remaining at the time of the interview. The elimination ends Sunday at the Bellagio, with the finalists brought back for the final table in November.
"I played from noon until 1 in the morning," Azinger said Monday afternoon. "I fell asleep at 2:30 and got up at 5:30 to play golf. What an idiot."
No, Paul, you're not an idiot. You're a competitor. Some things in life just can't be helped.