News
As The Weather Turns... In The Wrong Direction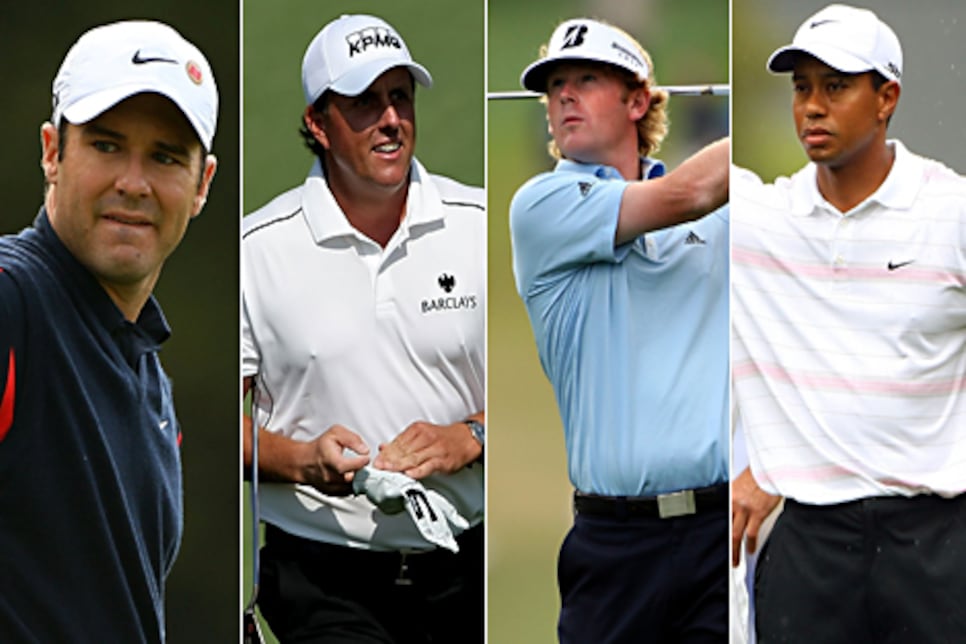 Tiger's on the course with the leaders ready to go after weather delays.
AUGUSTA, Ga. (AP) -- After two days of warm, sunny weather, the Masters turned wet Saturday and the third round was briefly halted because of heavy rain that left giant puddles on several greens.
Umbrellas popped up all over the course as play began in a light drizzle. With the leaders still waiting to tee off, the horns sounded and play was halted at 1 p.m. when a line of heavy storms moved over the course.
Play resumed after a 45-minute delay, the puddles on the 12th and 18th greens having been pushed aside with squeegees. Trevor Immelman was set to play in the final group and held a one-stroke lead, while Tiger Woods looked to make up a seven-shot deficit that jeopardized his Grand Slam hopes in the year's very first major.
The forecast called for a chance of isolated thunderstorms through mid-afternoon, which would soften Augusta National's treacherous greens. But the players couldn't be too excited about the prospect of gusts up to 20 mph, especially down in Amen Corner.
The first two rounds were played in nearly perfect conditions, the temperature rising into the mid-80s. That was a striking contrast to a year ago, when frigid temperatures and bitter wind allowed Zach Johnson to capture the green jacket at 1 over, tied for the highest winning score in Masters history.
After the rains move out, cooler temperatures are expected for Sunday's final round, though nothing comparable to 2007. The high is expected to be in the 60s.
Immelman, who was in a hospital bed just four months ago, shot his second straight 68 on Friday for an 8-under 136 total. That he's even playing at all is a wonder.
The South African came down with a stomach parasite during last year's Masters, lost 20 pounds, and needed a month to recover. But the real scare came in December, when Immelman felt a severe pain around his ribcage and struggled to breathe. Doctors removed a golf ball-sized tumor that turned out to be benign.
"It definitely made me realize that golf wasn't my whole life," said Immelman, who had a one-stroke lead over Brandt Snedeker.
The question now is how he'll hold up over the final two rounds when he's never finished higher than fifth in a major.
"You definitely feel pressure," Immelman said, "but I feel pressure playing for a hundred bucks against a mate. That's the beauty of the game. The thing is, you've just got to go out there and play as well as you can play. And the other thing you've got to realize is the best players in the world get nervous and feel pressure."
Talk about pressure: Woods, who had proclaimed the Grand Slam "easily within reason," will need the second-greatest 36-hole rally in Masters history to keep his quest going beyond the opening major. He was at 1-under 143.
Even Augusta patrons, who usually tag along with Woods by the thousands, started to drift away by the time he got to the 17th hole Friday. The bleachers were scattered with open seats as he sank a birdie putt that kept his fading hopes alive.
Woods, of course, was undeterred by his predicament.
"I'm in good shape," said Woods, who will need a comeback eclipsed only by Jackie Burke's rally from an eight-shot deficit in 1956, and that was aided by Ken Venturi's collapse on the weekend. "Stay patient. This golf course, you can make up shots here quickly. I've just got to hang in there."
Phil Mickelson doesn't have nearly so large a gap to close.
Trying to win his third green jacket in five years, Lefty shot a 68 that left him just three strokes behind Immelman going into Saturday.
"I'm always looking to see what the leaders are doing," Mickelson said. "You want to stay close. You don't want to make any big mistakes and get way out."