News
Immelman Delivers A Masters Encore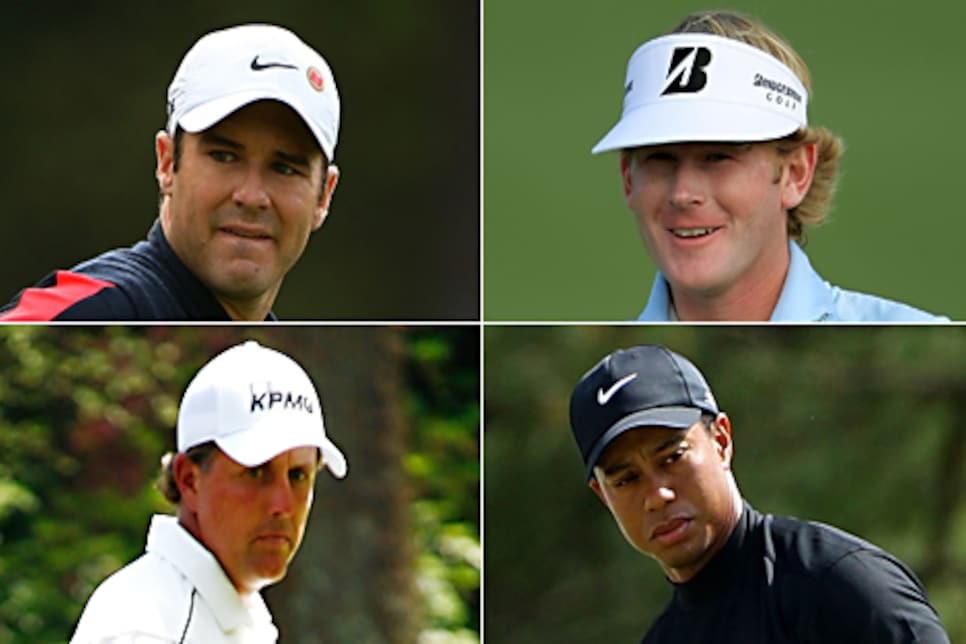 Immelman, Snedeker and Mickelson all shot four-under 68 Friday while Tiger settled for a one-under 71.
AUGUSTA, Ga. (AP) -- Anyone who thought this Masters might be the start of something grand must have struggled to stay awake Friday while watching another performance from Tiger Woods that hardly matched the hype.
And even after he scrambled from the opposite fairway for one last par, expectations shifted.
The Grand Slam that Woods said was "easily within reason" will have to start with the second-best comeback at Augusta National.
The 36-hole leader was Trevor Immelman, who only four months ago was in a hospital in South African to begin a speedy recovery from a benign tumor that doctors removed from his diaphragm. He put together his best start of the year, adding another 4-under 68 to build a one-shot lead over Brandt Snedeker.
"This year is special," said Immelman, who was at 8-under 136. "To shoot two 68s in the first two days is probably beyond my expectations, so I'm pretty thrilled right now."
Only when the wind died late in the afternoon did Woods come to life. He stuffed his approach into 2 feet for a birdie on the 17th, then escaped with par on the final hole when he drove into the trees. Woods hit a low hook off the pine straw around tree trunks and into the 10th fairway, then hit a sand wedge that might have spun back closer to the hole if not for hitting Stuart Appleby's ball.
No matter. Woods made the 8-footer for par and a 71.
Even so, he was at 1-under 143 and seven shots out of the lead. The largest 36-hole comeback in Masters history was Jack Burke Jr. in 1956, and that required a weekend collapse by Ken Venturi, who played that year as an amateur.
"I'm in good shape," Woods said, perhaps knowing something the 40,000 fans at Augusta didn't. "I'm obviously seven back. I need to play well. We've got tougher conditions coming in. You've got to stay patient. On this golf course, you can make up shots quickly. I've just got to hang in there."
Woods rallied to win from six shots behind over the final two rounds in 2005, but he was tied for third. This time, he had a dozen players ahead of him, and they were no amateurs.
Phil Mickelson, who has won the green jacket two of the last four years, got enough out of his second round to post a bogey-free 68 and was three shots behind at 139 along with Ian Poulter of England and Steve Flesch, whose 67 was the best score of the week.
"You want to stay close," said Mickelson, who is emerging as the favorite. "You don't want to make any big mistakes and get way out."
Immelman set an early target.
Playing in the fourth group of the morning, before the wind began to rustle the pines, he made the turn in 35 and navigated the dangerous 11th hole with a 7-iron that stopped 5 feet away for birdie. And while the 28-year-old South African failed to birdie the par 5s on the back nine, he atoned for that by closing with two birdies.
Immelman has never taken the lead into a weekend at any major. Returning from his Dec. 18 surgery, he has not finished among the top 40 in seven stroke-play events this year.
But he received strong advice from a couple of Masters champions this week, South African icon Gary Player and Ben Crenshaw, who have told him his polished swing is more than adequate.
"The best players in the world get nervous and they feel pressure," Immelman said. "I guess it's just who can disguise it the best and who can handle it the best. I'm thrilled with my play thus far, but there's a very long way to go. I can't sit back and put my feet up. I've got to go out there and just try and play as well as I can the next couple of days."
Snedeker, the PGA Tour rookie of the year in 2007, turned in the craziest birdie of the round when he used his wedge to chip from the upper tier of the par-3 sixth green, a perfect play that rattled into the cup.
"I was more nervous over that shot than I was all day," Snedeker said. "Because I knew if I messed it up, people were going to have a field day with me on that one. I had to pull it off."
He wound up with a 68, and will play in the final group Saturday in his first Masters as a pro.
"If I had told you at the beginning of the week that I thought I was going to be in second place, you probably would have thought I was crazy," Snedeker said. "And I probably would have thought you were right."
And the odds that Woods would be seven shots behind?
They were even-money he would win the Masters, outrageous odds for golf, and one Las Vegas bookie had 9-to-2 odds against him winning the Grand Slam -- all four majors in the same year.
Woods might have disguised his nerves, but not his frustration.
After a birdie from the trees, he again played the par-5 second hole conservatively by laying up, then dumped a wedge into the bunker and wound up with bogey. He was nine shots behind when he made the turn, then promptly three-putted for bogey from 55 feet on the 10th hole, misreading the break on his first putt by 6 feet.
He stood over a slippery 10-footer for par on the 11th, but knocked that in to keep from falling farther behind. He saved his day over the final two holes, particularly the 18th.
Still, he needs some help.
The forecast calls for thunderstorms on Saturday, with a cold front behind it.
"You have to play well. I don't care who you are in this tournament," Woods said. "You have to play well under tough conditions here, and that's kind of how it's going to end up being. You've just got to stay so patient around this golf course."
The cut was at 3-over 147, leaving a short field of 45 players for the weekend.
Fred Couples won't be among them for the first time in his career. The '92 Masters champion missed a 15-foot birdie putt on the final hole and shot 72 to miss the cut by one shot, leaving him tied with Player at a record 23 consecutive cuts at Augusta.
Even so, Saturday was loaded with possibilities.
Woods has never won any of his 13 majors when trailing after 54 holes, and knew he had to make up ground on the 12 players ahead of him, not to mention major champions Jim Furyk and Vijay Singh who joined him at 1 under.
The group at 4-under 140 included Stephen Ames (70) and Paul Casey (69), with former Masters champion Mike Weir (68) among those another shot back.
"It's too difficult a golf course to chase anybody," Casey said, worried more about who was ahead of him than behind him.
Poulter, however, wasn't ruling out the world's No. 1 player.
"Who knows with Tiger?" Poulter said. "He can go out there and put two 65s on the board, I know that. We've all seen it before. But Augusta National is a difficult golf course."