News
The Real Start Of The Season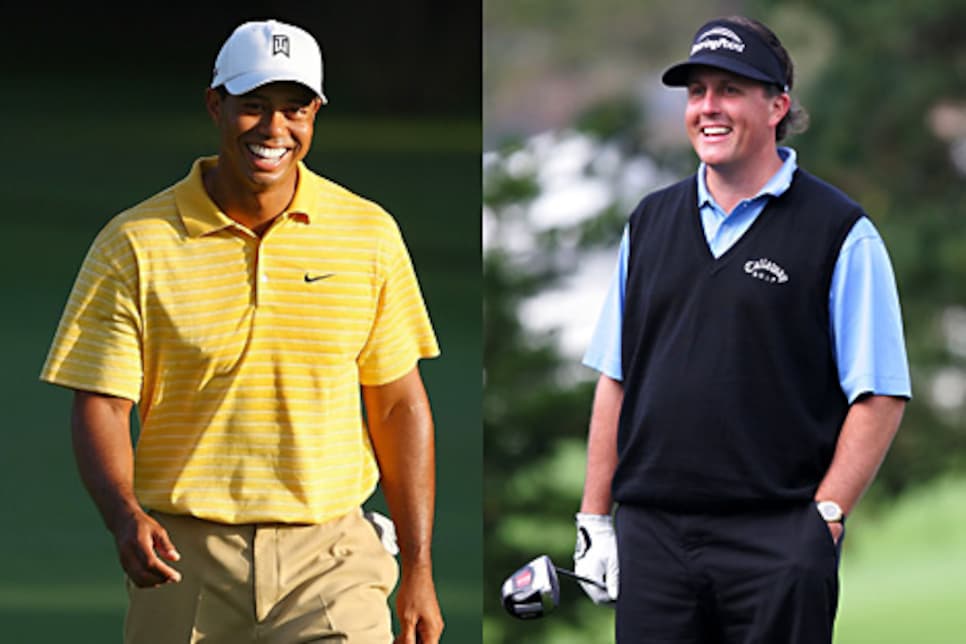 A one-on-one Sunday duel won by Phil would make Tiger's shadow a bit smaller.
OK, the junior varsity game is over. Lets get Tiger and Lefty on the court. Daniel Chopra, K.J. Choi and D.J. Trahan Sunday at the Bob Hope Chrysler Classic have qualified for next year's Mercedes-Benz Championship, but now the real deal begins. And what better week could there be for the return of Woods and Mickelson? Added to the mix is the extra spice that this week's Buick Invitational at Torrey Pines gives us a preview of the venue for the U.S. Open later this year. This is perfect. Bring it on.
Everyone needs a break from two weeks of endless Super Bowl hype. Roger Clemens is still tossing in the bullpen before taking his mind-numbing Lidocaine-laced explanations before Congress. And Super Tuesday, when we should know whom the two major parties will run for president, is still a couple weeks away. The Buick gives us a delightful diversion to fill the gap. Really, what better entertainment is there than Woods versus Mickelson?
They are golf's version of Yankees-Red Sox, Lakers--Celtics or Ohio State-Michigan. While the first three events of the PGA Tour season have been fun to watch, having these two in the same tournament is something else altogether, even though it has tended to be a one-sided match-up. But then again, Tiger against anyone is a one-sided match-up.
Over the last four seasons -- going back to 2004, when Lefty won his first major championship -- Woods and Mickelson have gone head-to-head 48 times with Woods holding a 31-16-1 advantage. They have combined to win 23 of those 48 events (Woods leading 18-5) and, remarkably, have combined to win eight of the last 16 majors (advantage Woods, 5-3). One of those two has been first or second in 13 of the last 16 majors.
That this particular venue is the site of their 2008 debut against each other is especially exciting. Both being raised in Southern California they are especially familiar with Torrey Pines, and both have had a lot of success there. In fact, they have combined to win seven of the last nine Buick Invitationals (five by Woods, including the last three). It was at Torrey Pines in 2000 that Mickelson won to end Woods' consecutive-event winning streak at six. And that pretty much sums up the dilemma of Mickelson's career. Even his wins are overshadowed by Tiger's losses.
But for the fact Woods was born in December 1975, we would be hailing Mickelson as one of the greatest ever to play the game. And, in fact, he is. It's just that his accomplishments have been lost in an extremely large Tiger-shaped shadow. Look at the numbers: Mickelson has won 32 PGA Tour events, including three major championships, and has had 11 multiple-win seasons. He is tied for 13th place with Horton Smith on the career victory list and is only seven wins away from catching Tom Watson and Gene Sarazen for 10th all-time.
Lefty's problem is that he happened to be playing in the same era with Woods, who has 61 PGA Tour wins, 13 majors and eight times has won five or more times in a season. Tiger is fifth on the all-time victory list, one behind Arnold Palmer, three behind Ben Hogan and a dozen in back of Jack Nicklaus with 21 more wins need to catch Sam Snead.
If you want a sobering number, try this one. The distance between No. 1 Woods (18.83) and No. 2 Mickelson (8.39) in the Official World Ranking is 10.44 points. That's more than two points greater than the distance between Mickelson and No. 999 Paulo Pinto (0.05). In fact, if you divided Woods' points in half he would be No. 1 and No. 2 in the World Ranking. If you made him three golfers he would be Nos. 6 through 8, and if Tiger Woods was his own foursome he be ranked Nos. 12-15.
The other guy lost in the wonderful world of Woods is Vijay Singh, who will also be a Torrey Pines. He comes into 2008 with 31 career PGA Tour victories, including three majors. Most remarkably, he has won 19 times after his 40th birthday, shattering the record of 16 held by Snead. Woods, Mickelson and Singh make a pretty good version of this generation's Big Three.
There have been four Big Threes in the history of men's golf. The first consisted of Harry Vardon, James Braid and J.H. Taylor and, being British, they had the much more classy handle of "The Great Triumvirate". From 1894 through 1914 -- when World, War I got in the way -- they combined to win 16 of 21 British Opens.
Next came Ben Hogan, Sam Snead and Byron Nelson, who were born within six months of each other in 1912 and combined to win a phenomenal 198 tour events, including 21 majors.
Nicklaus, Palmer and Player combined to win 159 PGA Tour events and a startling 34 majors -- 18 by Jack.
While Woods, Mickelson and Singh have a very comparable 124 tour victories, especially considering that at the ages of 32 and 37 Woods and Mickelson are likely to add many more, and even Singh, who turns 45 Feb, 22, will likely pick up a couple more. This current Big Three has combined to win 19 majors -- Woods having 13 with Mickelson and Singh each with three. That's 15 short of the Nicklaus-Palmer-Player total.
Here's what Mickelson needs to do to get his due despite eating Tiger's dust for the last decade plus: Win a major in a head-to-head duel with Woods. Only five times in the 44 majors played since Woods turned pro have he and Mickelson both finished in the top three. Yet to occur is a stirring one-on-one confrontation in the final group on Sunday. Maybe this week's Buick Invitational will be a prelude to what will happen at Torrey Pines in the U.S. Open. Tiger and lefty are back. Let's get ready to rumble.