News
Tour Insider: I'd Rather Be In Abu Dhabi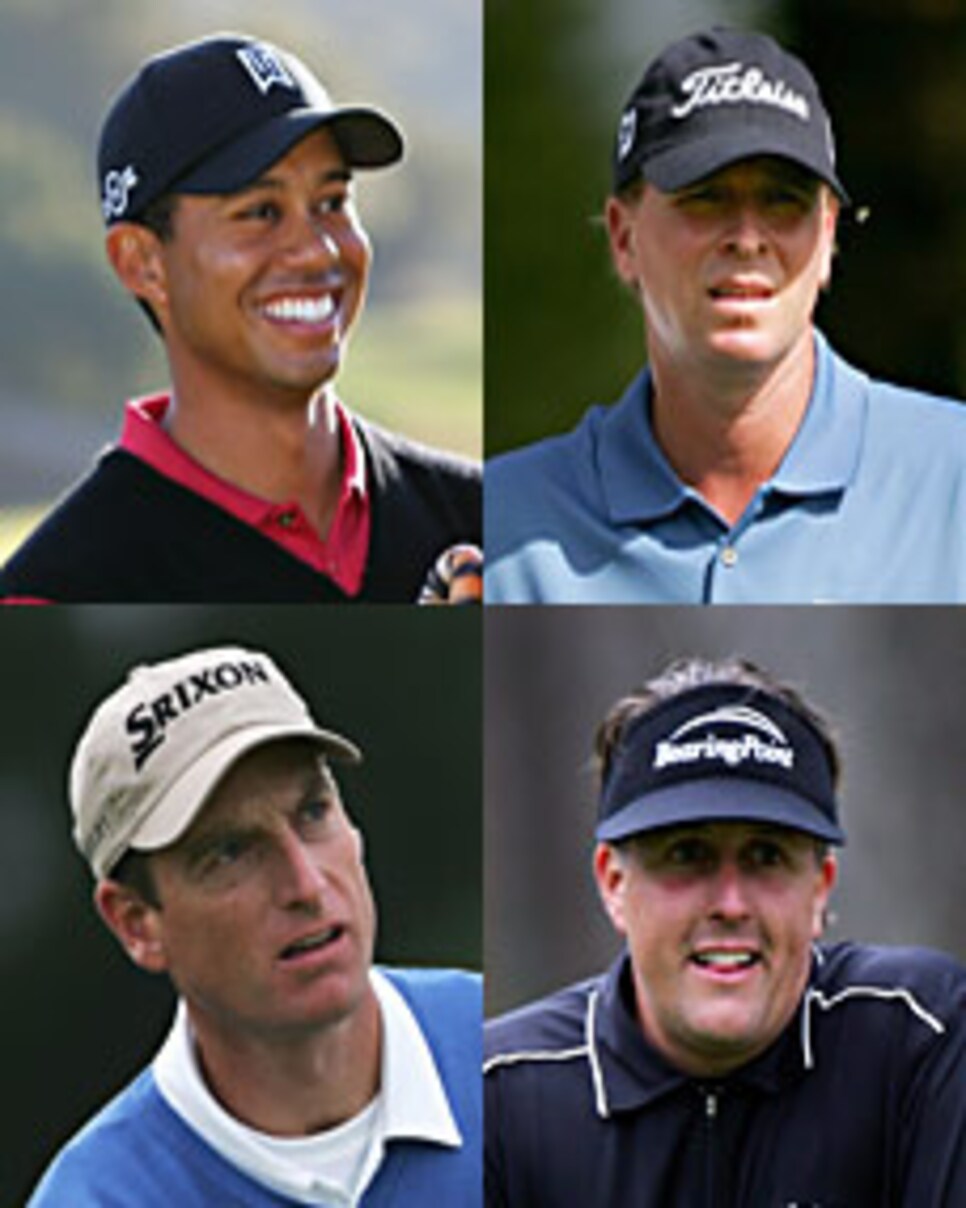 Missing persons: Do you know Where they are?
This is one of those rare weeks on the world golf calendar when the European Tour has a better event than what's going on here in America. It's not so much who is playing in Abu Dhabi--where Padraig Harrington, Henrik Stenson, Niclas Fasth, Ian Poulter, Lee Westwood and defending champion Paul Casey begin a three-tournament Desert Swing culminating with Tiger Woods playing the Dubai Desert Classic--as who is not playing the Bob Hope Chrysler Classic.
Phil Mickelson once used this week as a way to roll into the new season, a soft opening if you like, on courses where you could make birdies, go low and get the confidence going for the bigger events down the line. He won in 2002 and 2004, and in a "Tigerless" tournament, provided the event with some big-name cachet.
But something bad happened last year, and the good folks in the California desert may have lost Mickelson forever. If one scene said it all, it was Mickelson walking out of the Classic Club clubhouse after a 78 in the final round last year, and approaching Larry Bohannan, the long-time golf writer of the Desert Sun.
"Are they playing this golf course next year," Mickelson asked Bohannan.
"Yes, they own it," Bohannan said.
"Who owns it?" said Mickelson.
"The tournament," said Bohannan.
According to Bohannan, Mickelson nodded, turned and went to sign autographs.
Now you can read what you want to read into this, but all it takes is a look at the World Golf Ranking to see the impact a course can have on a tournament. At No. 24 in the world, Stewart Cink is the highest-ranked player in the field at the Hope. All the Europeans listed in the first paragraph are ranked higher.
This is what Policy Board member Joe Ogilvie meant when I was interviewing him at Kapalua about the government of the PGA Tour. "What's somewhat frustrating is that the player directors have almost zero power over venue," Ogilvie said. "No matter how much we say we feel like we're making a mistake going to these golf courses, it kind of falls on deaf ears."
What tournament host George Lopez is hearing loud and clear is that stars like Mickelson don't like his host course. Business may be business as it relates to paying the bills and divvying up money to charity, but the comedian's got a problem if he ever wants to get A-List players to match his A-List celebrities. Sure, he's competing against appearance fees in the Middle East, but what about top-10 players Steve Stricker, Jim Furyk, Justin Rose, K.J. Choi or Rory Sabbatini? Even No. 11 Vijay Singh takes this one off, and he plays virtually every week. This tournament would gladly take major winners Zach Johnson and Angel Cabrera, but guys are resting up for next week's Buick Invitational and the rest of the West Coast swing.
On the Golf Channel this week you'll see names that you may have never heard of before, kids out of Q School and the Nationwide Tour, while Mickelson returns from a family vacation and starts gearing up for next week's Buick Invitational in sessions with Butch Harmon.
At Westchester CC, they had these same strength-of-field problems before their club was turned into a FedEx Cup site. While its past champions include Harrington, Singh, Seve Ballesteros, Sergio Garcia and Ernie Els, the Westchester Classic had become a second- or third-stage event, going well down the money list to fill its fields. The problem was it wasn't Tiger Woods' type of park. So, much like Mickelson this year at The Hope, Woods just stopped showing up.
Not even the FedEx Cup could get him up off the couch, or off the driving range at Isleworth. But if you ask Steve Stricker, who won at Westchester, and if you ask Harrington, Singh, Ballesteros, Garcia and Els, they'll tell you Westchester was one of the classic courses on tour, a throwback to what they play on the south side of London in Surrey.
Now, Westchester CC is losing its spot as a tour venue, with the Barclays moving this year to Ridgewood CC in Paramus, N.J. Although a Tillinghast course, versus the work of Walter Travis, Ridgewood shares many of the same characteristics. Tiger can win anywhere, but there's just something about tree-lined golf courses and the New York Metropolitan area where he just hasn't connected with the market. In fact, it started at Bethpage, where Tiger won his second U.S. Open but Phil became the People's Choice. When he won the PGA at Baltusrol in 2005, you would have thought Left-Coast Phil was a native of Paramus. Remember, that was the year Tiger split on his jet before the official finish.
Last year he was the talk of Mike and the Mad Dog for skipping the Barclays, so it'll be interesting to see how this plays out, and whether Tiger drops in for the opening event of this year's FedEx Cup campaign, or whether he'll start off as he did last year, in Boston, at the Deutsche Bank Championship, and run the tables from there.
If this is all about Tiger (and poor attendance was reason No. 2 the tour is playing hardball with Westchester CC), there are no guarantees. Ty Votaw, Executive Vice President for the PGA Tour, told me Monday, "Sitting here today, I have no idea where [Tiger] will or won't play, no matter where the golf course is. We never do."
Mark Steinberg, Tiger's manager and the head of IMG's golf division, was looped in to the plans for moving from Westchester by Barclays executives. He characterized it more "as an FYI" than a temperature taking.
Back to Phil, Lopez needs to have a summit with Lefty and the Classic Club, then somehow get the final round back on the Palmer Course at PGA West or back to Ogilvie's point, back to a suitable venue. One of Phil's problems with Hope management was that he didn't want to play in the celebrity part of the draw. He was there to play golf, not be part of a circus. Laid out that way, it sounds fair enough. Give him that, but also give him a say.
The guy has won 32 tournaments, three majors and gets the annual award for "Most Autographs Signed by a Superstar;" he deserves a piece of his own tournament. In this deal, the Hope could provide a sounding board that doesn't just listen, nod and then go a different direction--which is Phil's constant gripe about the tour. At one point, there was a chance that BearingPoint would sponsor the L.A. Open, making Phil the unofficial ambassador or, like Tiger with the AT&T, a potential host of the event, with tie-ins to Phil's charities.
That deal has gone sour, opening the door to more than just Phil and George appearing in Crowne Plaza commercials. If the tour can change courses to get Tiger, they could do the same for Phil. It would save The Hope.