News
Mickelsons Evacuate California Home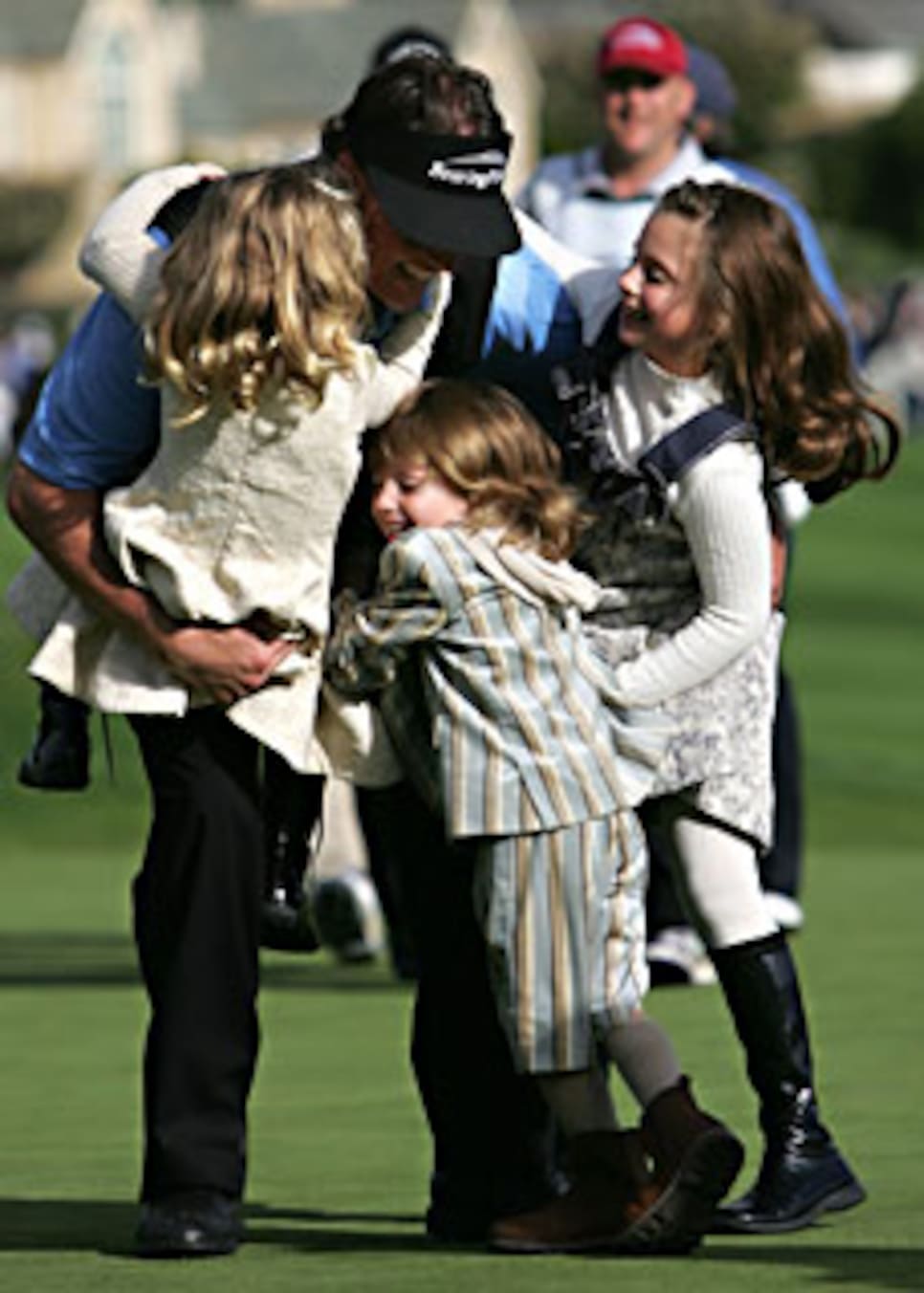 Phil Mickelson with his children Sophia (left), Evan (middle) and Amanda (right) after winning the AT&T Pebble Beach National Pro-Am.
"We're safe, the family is together," Mickelson told Golf World on Tuesday afternoon.
Mickelson's wife, Amy, and the family's three children evacuated from their Rancho Santa Fe home on Monday while Mickelson was playing in a corporate outing at Baltusrol Golf Club in Springfield, N.J. Mickelson flew home immediately afterward to join his family in their San Diego beach house.
According to news reports Tuesday afternoon, more than 40 homes in Rancho Santa Fe have burned to the ground, and some of those homes were very close to where the Mickelsons live. Mickelson confirmed that their home could be in danger. Their hillside spread is in the rural community of Rancho Santa Fe, about 30 miles north of downtown San Diego and 15 miles northeast of La Jolla. Rancho Santa Fe was ranked by Forbes magazine last year as the second-most expensive postal code in the nation based on median sales price.
Mickelson is supposed to leave Sunday for Singapore and China, but said his travel plans depend on what happens with the fire.
Tom Pernice Jr., who lives in Temecula, told Golf World that his home was not in danger, but he confirmed that Mickelson's house was.
"The wind is supposed to die in an hour," Pernice said. "Maybe he'll get a break."
John Cook returned Monday to his home in Corona Del Mar, Calif., after winning the Champions Tour event in San Antonio, Texas. "Between the smoke from the fires and the dust storms, it was wild looking," Cook said. He was most concerned about a close friend from the San Diego area who was evacuated to Corondo. He said tour players Scott Simpson and Dennis Paulson live nearby.
Cook's home is near the beach, and safe from the fires. "If we go, Southern California is pretty much gone," he said. "It's going to be Arizona by the Sea."