News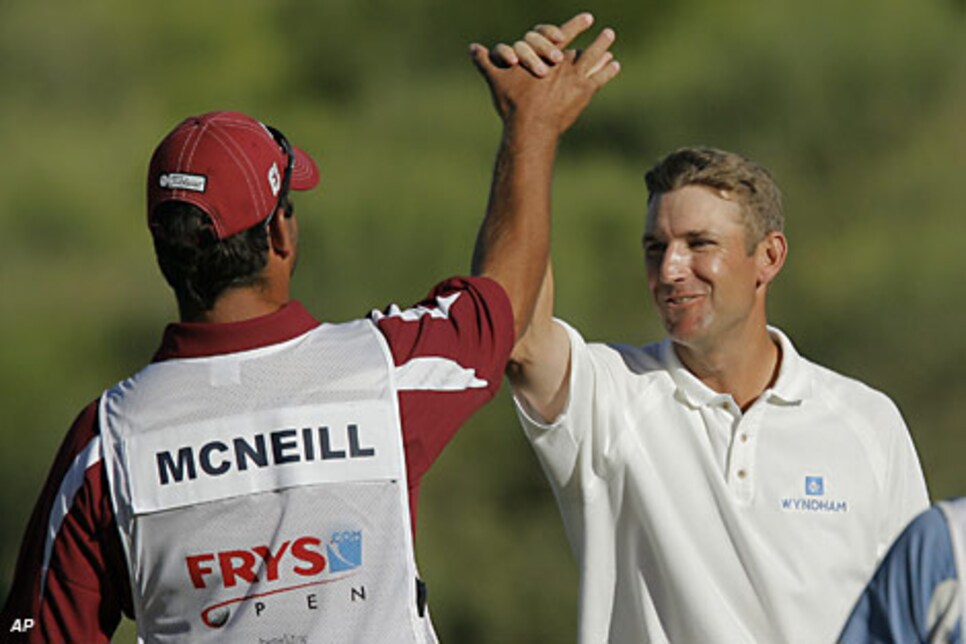 Tiger Woods also won his first PGA Tour Title at this tournament.
LAS VEGAS, Nevada (AP) -- Not until the 18th tee did George McNeill finally show just how special a day he'd had, smiling and waving to the camera.
Minus fanfare or frills, the 32-year-old rookie won his first career PGA Tour title in commanding fashion Sunday, shooting a 5-under 67 for a 23-under 264 total and a four-stroke victory over D.J. Trahan in the Frys.com Open.
Now McNeill has something in common with Tiger Woods. In 1996, Woods also earned his first PGA Tour victory at this tournament.
"Any time you can be mentioned in the same sentence as him it's a good thing," McNeill said.
McNeill did it with his only bogey coming when he three-putted on the 18th green at TPC Summerlin with the crowd cheering and four scantily clad Las Vegas showgirls ready to offer their personal congratulations.
His trophy arrived from 5,000 feet above, carried by one of two hangliders who took part in the awards ceremony.
"That whole saying about what (happens in Vegas) stays in Vegas, I hope my game travels," McNeill said, smiling. "I felt like I didn't do anything that special. It's nice to kind of buzz around and win by four and not feel like you're doing anything all that great."
McNeill did it with small galleries following him, save for a big group of his Florida buddies who showed up to play on their own starting Monday. He did it by maintaining that same calm demeanor from the start, an even keel personality more resembling a veteran than a first-time winner.
McNeill earned the winning share of $720,000 on a beautiful, clear day in the desert after strong wind played a big factor in Saturday in a tournament that featured not one top-20 player in the field.
McNeill, who last December won Q-school by five strokes, was coming off rounds of 66, 64 and 67. He began his final round at 18 under and five strokes ahead, matching the largest lead on the tour this year heading into a final round.
He secured his tour card for the next two years. All that after a discouraging stretch earlier this year when he missed six cuts and withdrew from one event in an eight-tournament span.
"I was trying not to think about all that stuff when I was out there playing," McNeill said. "I don't get too emotional. I'm having fun with this. It hasn't sunk in. ... In a sense, I know I have a job for the next two years and it takes the pressure off."
After Trahan -- who shot a 66 -- birdied the first four holes and then No. 9 to pull within three strokes, McNeill made a 15-footer for birdie on No. 11 and also birdied 13 and 14. He sunk a 27-foot putt on the 156-yard 14th.
Robert Garrigus shot a 70 to tie for third with Cameron Beckman (68) at 15 under after Garrigus started the day in the top group and tied with Trahan for second.
Las Vegan Bob May, who led after the first day, tied for fifth with a 69 to finish at 14 under -- a nice showing for May considering he has dealt with back injuries for years now and is still on the comeback trail.
The 39-year-old May returned to the PGA Tour last year for the first time since 2003. He played 2006 on a major medical extension after not swinging a club for two-plus years because of his back.
After McNeill pulled his tee shot on No. 6 left and about a foot into a rocky and sandy desert area, he consulted a rules official about his options regarding the moveable obstruction.
He picked up a small rock just behind his ball, moved away a couple of others as well as a pine cone, then chipped onto the green for a chance at birdie -- and had to be happy just to save par.
Trahan, meanwhile, bogeyed after missing his par putt from 5 feet.
McNeill, who spent last year working in a golf shop before rediscovering his desire to compete, made only two birdies on the front nine but played his best golf over the final nine holes. He birdied four of his final eight holes.
Tournament chairman Gary Davis announced that Shriners Hospitals for Children is the new title sponsor, signing a five-year commitment to keep the tournament in Las Vegas through 2013. Its name: the Shriners Hospitals for Children Open. The format will change starting next year from a Pro-Am to an all-pro event for the four days of competition, with a celebrity Pro-Am to take place Wednesday. All rounds will be played on the Summerlin course after groups split between it and nearby TPC The Canyons for the first two days.
The Shriners -- who also hope this will bring their hospitals more recognition -- are pledging $6 million to run the event each year, while also seeking other sponsors to help.
"The PGA Tour is her in Las Vegas to stay," said Davis, determined to find a way to bring in more big names. "Everybody agreed it needs to stay in Las Vegas. That's the first step toward major sports in Southern Nevada."
The tournament will remain in October for now, but organizers hope to eventually move to the spring. Davis said the purse would stay at $4 million.