News
Gore And May Tied At Fry.Com Open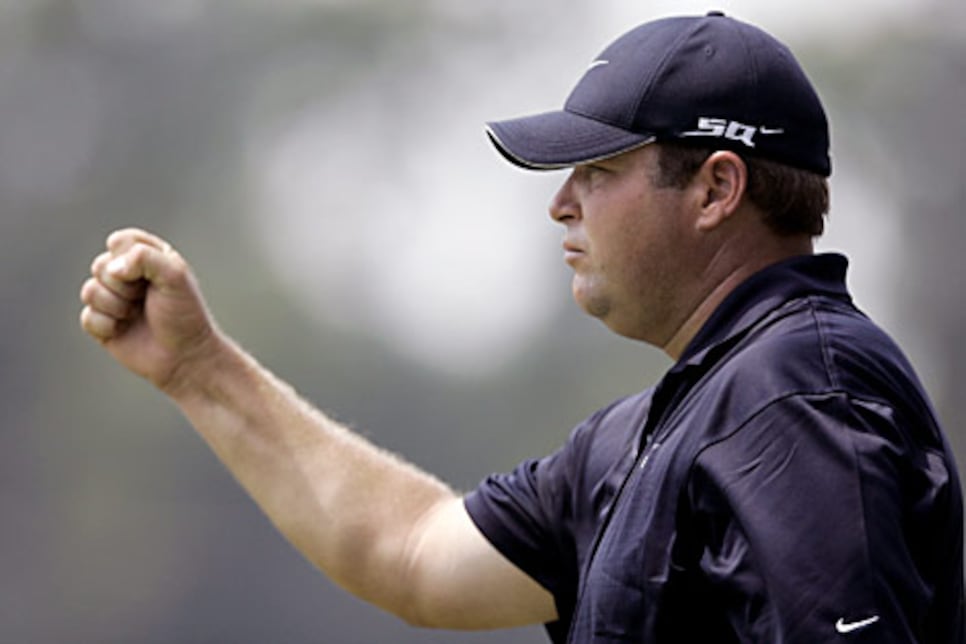 Gore arrived early to get Vegas fun out of his system and focus on golf.
LAS VEGAS (AP) -- Bob May's back screams at him from time to time when he leans over to pick up a ball. Those spasms might knock him out for weeks, or even months.
It rarely happens anymore, and he's thrilled finally to be healthy and on the comeback trail after years of injury issues.
Practically playing in his backyard on a picture-perfect day in the desert, May shot a 9-under 63 at TPC Summerlin on Thursday to top the leaderboard in the Frys.com Open. Jason Gore finished with an 8-under 63 on the nearby par-71 TPC The Canyons.
May, who lives in Las Vegas, is using a belly putter for the second straight week after spending a couple of months practicing with it. He was finally persuaded by family and friends to try it out in competition, calling it a "radical change."
"I have been hitting the ball well but haven't been scoring," said May, noting that his improved putting is making a difference. "It's nice to finally get a good round under my belt. Who knows what could happen this week."
Gore will play the Summerlin course Friday and May at Canyons, then everyone will tee off at Summerlin for the final two rounds this weekend.
Jeff Overton, D.J. Trahan, Cameron Beckman and Rich Beem were two strokes back, all but Beem (64 at Canyons) sitting at 65 after playing their rounds at Summerlin. The Pro-Am event is missing the star power of other more high-profile tournaments, with many players here balancing the temptation of fun and nightlife in Sin City with the need to be focused on moving up the money list late in the year. This is the fourth of seven Fall Series tournaments.
"We're in Vegas," Gore said, chuckling. "If you can't have fun here ... this is the place. This is not a high-stress week for me. I got here on Saturday and got Vegas out of my system."
With the dry air and playing at just below 3,000 feet in elevation, the conditions were ideal for long drives.
Last month, May withdrew from the Viking Classic in Madison, Miss., after his back flared up again. He injured his hip and back warming up on the stationary bike in February, forcing him out of action for 12 weeks -- and he hasn't been back on the bike since.
May, who has finished no higher than 41st in 12 previous events this year, eagled No. 3 and also the 341-yard, par-4 15th on Thursday after starting the day with a bogey. Just playing well again is a big boost to his confidence, considering the 39-year-old May returned to the PGA Tour last year for the first time since 2003. He played 2006 on a Major Medical Extension after not swinging a club for two-plus years because of his back.
"The way I played all year, I still feel like I'm trying to fight my way back in," May said. "I've actually struck the ball very well this year, I just haven't got anything good out of it. Hopefully I'm going to start getting something out of it."
Gore made 10 birdies, using former Canyons pro Mike Messner as his caddie. Not a bad advantage to have. Messner now works at Gore's club, TPC Valencia in Southern California.
"I'd just basically stand over to the side of the green and scratch my head and wait for him to tell me where to hit it," Gore said.
Overton, too, arrived in Las Vegas ready to enjoy himself -- and he thinks that approach might just help him play his best golf.
"Viva, Las Vegas, right?" Overton said with a grin. "I hit so many good shots and drove it really well. It's fun when the ball is going out there like that."
He even brought in his buddy, local professional poker player Pat Cruise, to be his caddie this week.
Steve Lowery and John Huston, paired together, shot 66s. John Daly was dead last on the leaderboard through 12, and finishing at 3-over 74. Scott Verplank, the highest ranked player in the field at No. 24, shot a 70 on The Canyons course.
Mike Weir (69 at Canyons) and Chad Campbell (75, Canyons) also both came in expected to contend.
For Trahan, posting strong finishes in the cuts he's made has been tough this year. He hopes three more great days of golf will help keep him on track heading into the end of the season and then on to 2008.
"I've only had two top-10s, and it's just been a tough, long year from the fence," he said. "Ultimately, I know I need to work on my putting and make more putts. It's a frustrating position to be in but I am fortunate to have won last year and not be on that bubble like a lot of guys are, with some heavy stresses with only a few weeks left."
Tadd Fujikawa, a 16-year-old from Hawaii who stands at all of 5-feet-1, finished the day with a 2-over 74.
"I made a few bad swings that cost me a few strokes and made too many bogeys. But other than that, I played pretty well today," said Fujikawa, playing his fifth tournament since turning pro in July. "I'm really learning a lot out here. It's definitely improving."
Pitcher Greg Maddux, the San Diego Padres' 347-game winner, was paired with Cameron Beckman.
"Not well, but I'm having fun," said Maddux, who lives five miles away during the offseason. "It's nice to be outside."