News
Better To Give Than Receive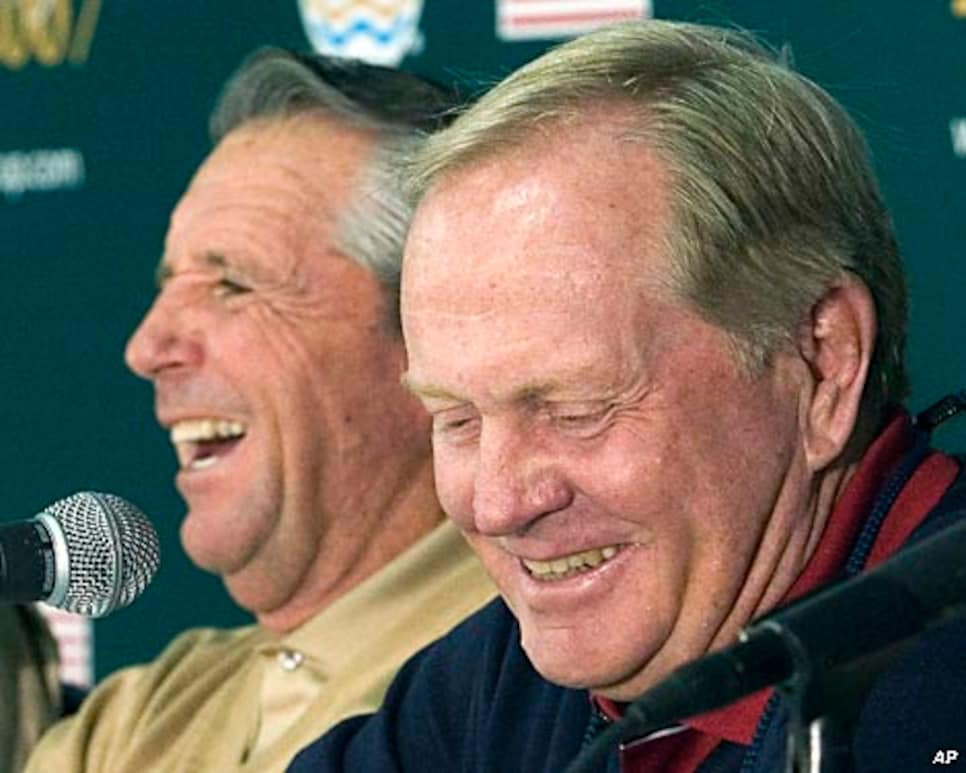 Jack Nicklaus and Gary Player epitomize the best there is in golf and life.
Email to the PGA of America: Make Jack and Gary captains for life
Joey: I know you've got Zinger lined up for Valhalla next September, and that's great. If they're half as good in Louisville as they are in the ABC booth, Zinger and Faldo will be quite a show. But what I'd like to see is you instituting Jack Nicklaus and Gary Player as Ryder Cup captains for life, starting in 2010.
I know. Player is South African and Nicklaus was never that great as a Ryder Cup Captain. What was he, 1-1 or something like that? A mere formality, my man: Gary's the original global golfer who won his share of British Opens and Piccadilly Match Plays. And Jack is Jack. Maybe it's because they're grandpas now, but these guys have figured out how to make international match play fun. It's not cut throat in these Presidents Cups. There's no agro. It's never gotten ugly. Even Rory Sabbatini plays the role of good guy. It's like everybody's Ian Baker-Finch. You gotta like that.
How about those three gimmes on Thursday? Woody Austin and Phil Mickelson gave Vijay Singh a 4-footer for Player's only half point, and based on some of the reaction, you would have thought it wasn't the right thing to do. Weir certainly didn't. "I'm a little old-fashioned myself," the Canadian said. "It's a gentlemanly game and it was the right thing to do."
Maybe it's a good thing Mickelson did say "Vijay, pick that up," because the way Singh's karma has been going this year, it might 6-love this morning. Baker-Finch noted the give of a 4-footer by Jim Furyk and David Toms after Ernie Els had one go off in his hands -- even though they were outside the putt Angel Cabrera would have faced. There was also a concession on the 18th green by Stewart Cink and Zach Johnson with Sabbatini and Trevor Immelman. I don't think Seve would have given Zinger any of those putts, which is where all the bad blood in the Ryder Cup started, almost 20 years ago.
"I think Gary and I both have stressed that throughout the matches that we want the guys to walk away from here feeling like, you know, we didn't get everything we could get," Nicklaus said afterward. "But we gave everything we could give, and meaning from themselves and golf and spirit of the game and sportsmanship."
I know the greatest concession came by Jack in the 1969 Ryder Cup, and old Sam Snead, God rest his bones, didn't like it. There's always going to be a second guess when a putt is given, but like Jack said, in this game, it's better to give than receive.