News
Jack Likes Woods vs. Weir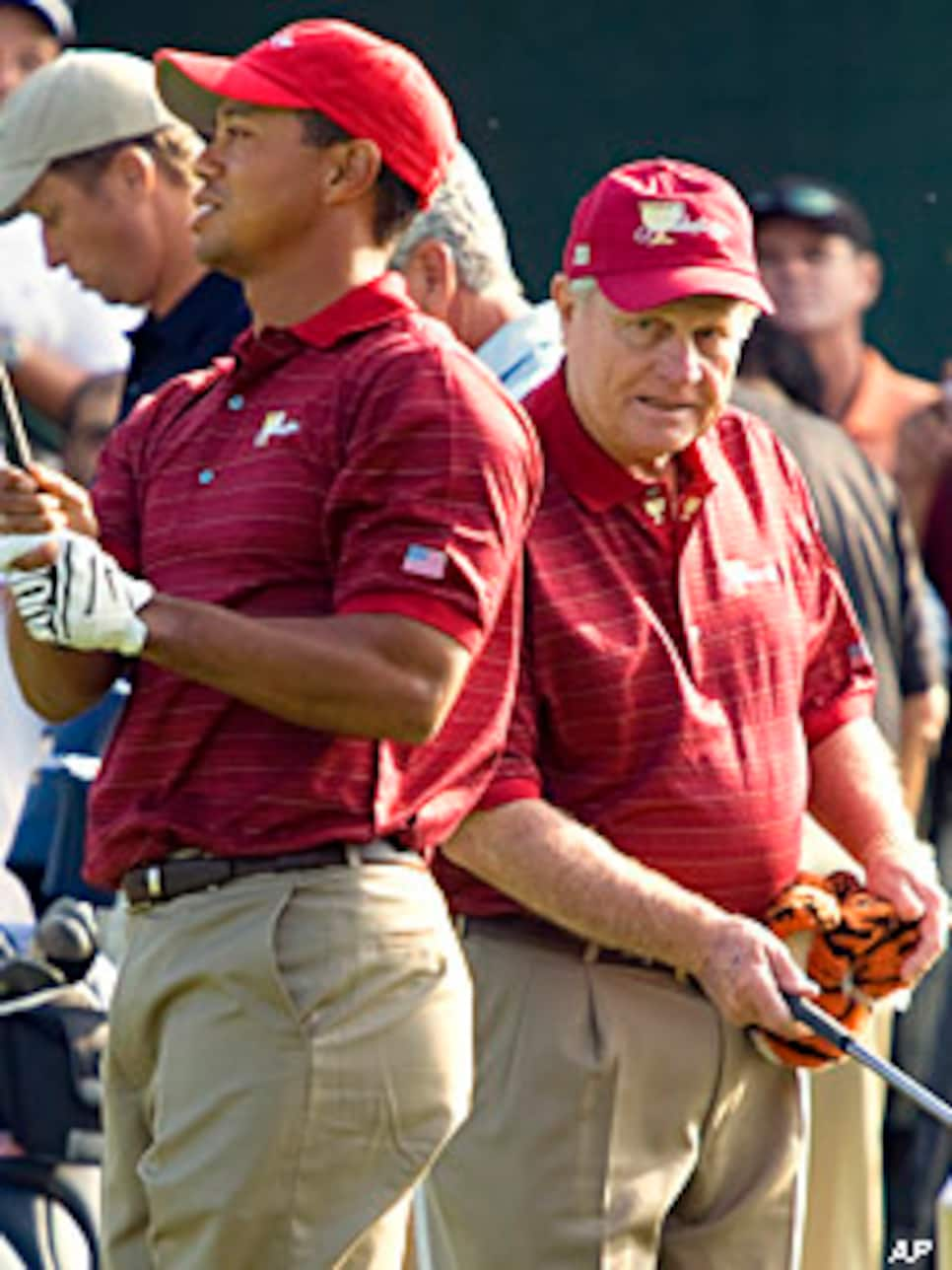 Jack has his hands on a Tiger and he's going to make good use of him.
MONTRÉAL, Canada (AP) -- U.S. captain Jack Nicklaus is all for it. International captain Gary Player wasn't quite as forthcoming, but the top-ranked Woods likely will find himself opposite the Canadian star on the first tee Sunday in the Presidents Cup.
"I think it will be great if Mike Weir played Tiger," Nicklaus said Tuesday. "I think that would be a great match. I think it's the logical thing to try to do. But Mike might not want to play him. I have no idea if Gary wants to do that or not and I have no idea if Tiger wants to do that. But that's my thought to say to you today."
Player didn't mention Weir by name, perhaps to leave a little suspense for the Saturday night singles selections.
"If I said to the guys, `Would you like to play Tiger?' I'm sure a lot of guys will stand up and I'm quite confident of that," Player said. "We realize Tiger is an incredible golfer and we have a monumental task. And I think this is a golf course that will really suit Tiger, extremely so. So they have got a big task on their hands.
"I must say if I was a young guy, I'd be volunteering to play him."
Unlike in the Ryder Cup where each captain submits the entire lineup each day, the Presidents Cup matches are determined one at a time. Nicklaus will pick a player and Player will choose an opponent, then Player will select a player and Nicklaus will pick an opponent until all the matches are set.
"Whatever happens there, happens there," Woods said. "But as far as playing Mike, I've played with Mike quite a bit over the years. I know he's gone through a pretty significant swing change and he's starting to put it together and starting to putt a little better now. ... Mike has been a world-class player for years."
Weir, whose 2003 Masters victory and lobbying effort played a big role in Canada getting the event, was added to the International lineup as a captain's pick after finishing 20th in the points race for the 10 automatic spots.
"Sunday is a long ways away," said Weir, 2-1 in Presidents Cup singles play.
Woods won his last two tournaments to take the FedEx Cup title, has four victories in five starts and seven overall this year.
"We obviously know what he can do. I definitely look forward to the challenge if that comes to be true," Weir said. "Gary wants to make sure that we do the right thing, not just for myself to put me against Tiger, but for everybody. We're trying to win this.
"I don't even want to think about that now, and if it does happen, I'll deal with it Saturday night when it comes."
The other big topic was Nicklaus' choice of playing partners for Woods the first three days. The competition will begin Thursday with six alternate-shot matches, followed Friday by six best-ball matches. On Saturday, they will play five morning alternate-shot matches and five afternoon best-ball matches.
"I couldn't care less as long as we get a point," Woods said. "I've played with a bunch of different partners over the years, and the goal is still the same, to go out there and beat your opponent and put up a point on your side."
Jim Furyk was a likely choice after teaming with Woods to go 2-0-1 in the 2005 Presidents Cup and 2-2 in the 2006 Ryder Cup. Furyk also has had recent success in Canada, winning the Canadian Open the last two years.
"I think Jim Furyk is just such a steady player," Nicklaus said. "None of the players are intimidated to play with him. They all enjoy playing with him because they know they can always count on him. He's always right there."
Furyk joked when asked about successful pairings.
"Obviously, it isn't charisma," he said.
"There you go," Woods said. "This is our team chemistry over here. No, we've tried all different things throughout the years from personalities to like distances off the tees to same golf balls. Tried all different things. Basically, what it boils down to is two guys playing well. That's ultimately what it boils down to."
With all the talk about Woods' partners and Sunday opponent, Australian Stuart Appleby finally had enough when someone attempted to ask a silly question about who would win if the players squared off in a hockey-style brawl.
"Don't mention Tiger Woods, please," Appleby pleaded.
Divots: The United States leads the series 4-1-1, winning in 1994, 1996, 2000 and 2005 at the Robert Trent Golf Club in Virginia and losing in 1998 at Royal Melbourne. The 2003 matches in South Africa ended in a tie when darkness interrupted a playoff between Woods and Ernie Els. ... Founded in 1873, Royal Montreal is the oldest golf club in North America. The club moved to its present location on Ile Bizard in 1959.