News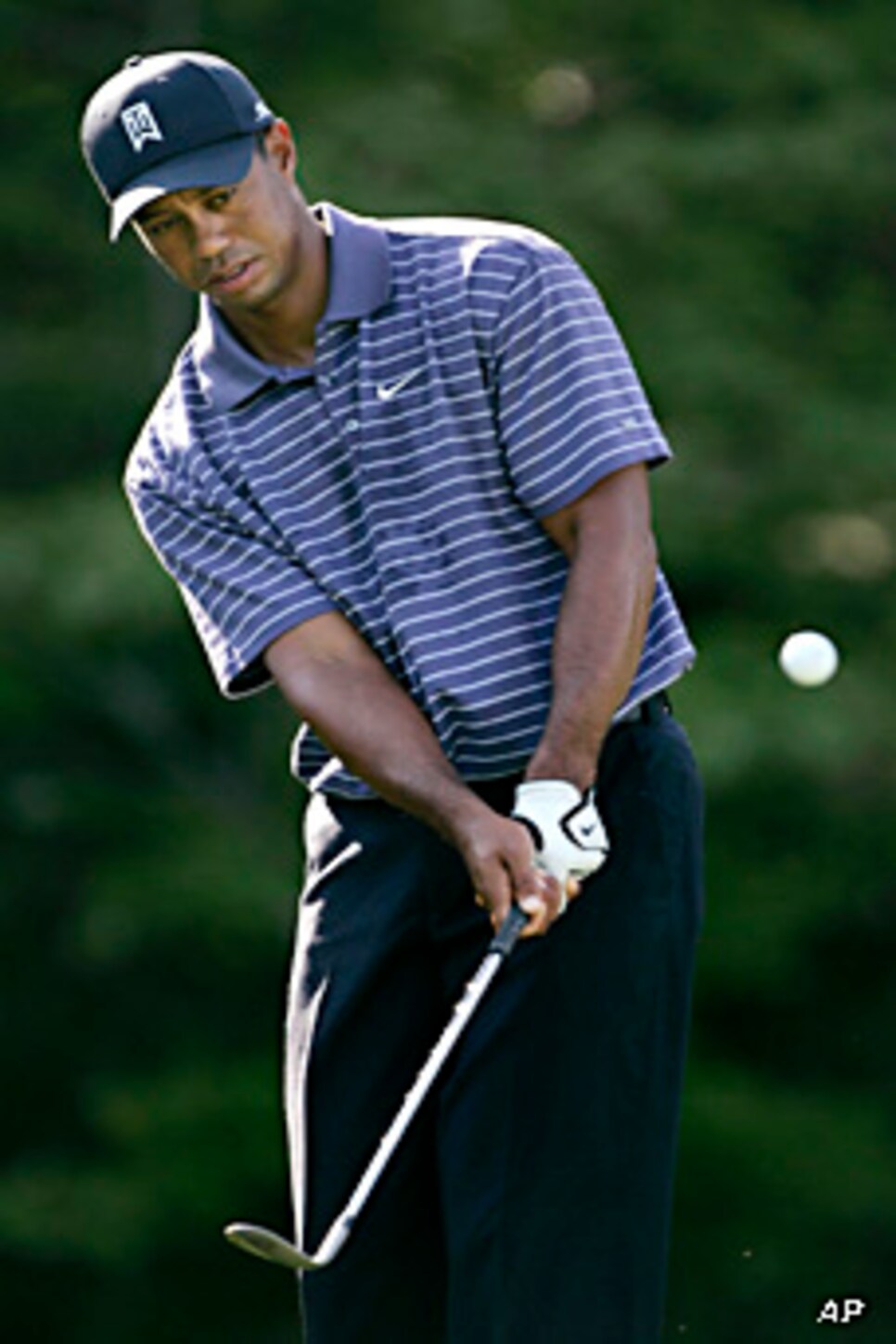 After 10 days without a club in his hands, Tiger is primed and ready.
NORTON, Mass. (AP) -- The crowd following Tiger Woods around the TPC Boston grew steadily throughout the morning sunshine until it lined the length of the 18th fairway as he finished his pro-am Thursday at the Deutsche Bank Championship.
It was about the same size of the gallery following the leaders in the final round last week at The Barclays.
Maybe that's why some people believe the playoffs don't start until Woods shows up.
"Let's be honest about it," Rich Beem said. "There's only one person that really matters in this playoff system, and that's Tiger Woods. If Tiger is not playing, you're not going to have a whole lot of validity. If he's not playing, then how serious can we be about this?"
Woods skipped the first round of the PGA Tour Playoffs last week at Westchester, saying his body and mind needed a brief vacation after back-to-back victories in stifling heat, the second title coming at the PGA Championship.
He looked plenty refreshed on the refurbished TPC Boston during the pro-am round, playing without a bogey and without much effort on his way to a 63. That's the same score he had the last time he was on this course, when he turned a three-shot deficit into a two-shot victory over Vijay Singh in the final round last year.
Woods went 10 days without picking up a club, but doesn't appear to have lost momentum anywhere but the playoff standings.
By skipping The Barclays, which Steve Stricker won with a birdie-birdie-birdie finish, Woods fell from No. 1 to No. 4, nearly 5,000 points behind Stricker with three tournaments remaining.
He didn't break much of a sweat when he heard that.
"I know I've slipped in the standings, but there's plenty of points out there, and I'm just going to go out there and get some Ws," Woods said. "It makes things pretty exciting coming down to the last few weeks."
Woods has his own ideas how he would change the system, such as starting with fewer players. But even though he skipped the first playoff event -- and some proclaimed this new model a failure with his absence alone -- he seems to have embraced the concept.
He said he would play the next three events, even if he were to clinch the FedEx Cup before arriving at East Lake. It is mathematically possible for Woods to be the runner-up the next three weeks and win the FedEx Cup.
"I'd rather take the Ws instead of three 2s," Woods said. "Just me."
He said going winless over the next three weeks but still capturing the FedEx Cup would be similar to winning the Arnold Palmer or Byron Nelson awards, given each year for the player who earned the most money or had the lowest scoring average on the PGA Tour.
"It's a year-long award," Woods said. "But would you much rather have Ws throughout the year than win that award at the end of the year? Ask any guy out here, they'd much rather win tournaments."
It's still too early to handicap the rest of these inaugural playoffs, and fickle as golf is, there's no guarantee that Woods will even finish second, let alone, win at the Deutsche Bank or anywhere else.
But it helps to have history, and he has plenty of that over the next two weeks.
The front nine in the final round last year at TPC Boston remains one of the sharpest stretches of golf in his career. He played the first seven holes in 6 under par, including two eagles, and coasted home to a 63.
Woods also is a three-time winner at Cog Hill outside Chicago, site of the BMW Championship next week, and he twice has finished second at East Lake in the Tour Championship.
To get to the finish line, Woods figured he needed to be at full strength. He has not played four straight tournaments since early in the 2000 season, and had no regrets spending time on his boat instead of at The Barclays last week.
Jack Nicklaus, in town for a Presidents Cup meeting, understood completely.
"It was really important when I played my last event that I was just as fresh as I was for my first event of the year," Nicklaus said.
Woods doubts that will happen.
Asked if he was just as recharged as when he won the Buick Invitational in late January, he smiled and said, "No."
"It is a long season, and that the whole idea of not playing a lot throughout the year, so that when you do play, you're fresh," he said. "You're able to go in with the same energy level each and every time."
The energy level figures to be raised Friday when the Deutsche Bank Championship, and not just because it's the second round of these playoffs. Because the tour groups players based on their playoff standing, Woods will play the first two days with Phil Mickelson and Singh, the first time ever for those three in the same group.
That's the marquee group, but not the top group by seeding. Stricker moved atop the standings and will be joined in his group with K.J. Choi and Rory Sabbatini.
For the second straight week, the playoffs didn't get all the top players.
Ernie Els withdrew so he could spend a week at home in London as his kids go back to school, and Scott Verplank took this week off to recharge and give himself his best shot of winning at East Lake, one of his favorite courses. Tom Lehman also withdrew.
There's a good chance at least one other top player won't be in Chicago.
"You've always got a guy that doesn't feel like he's ready to go, gets to the tournament week and pulls back," commissioner Tim Finchem said. "Candidly, I thought we might have a little bit more of it than we did."
But he's got Woods this week. Some might say that's all that matters.