News
Steady Sergio leads by three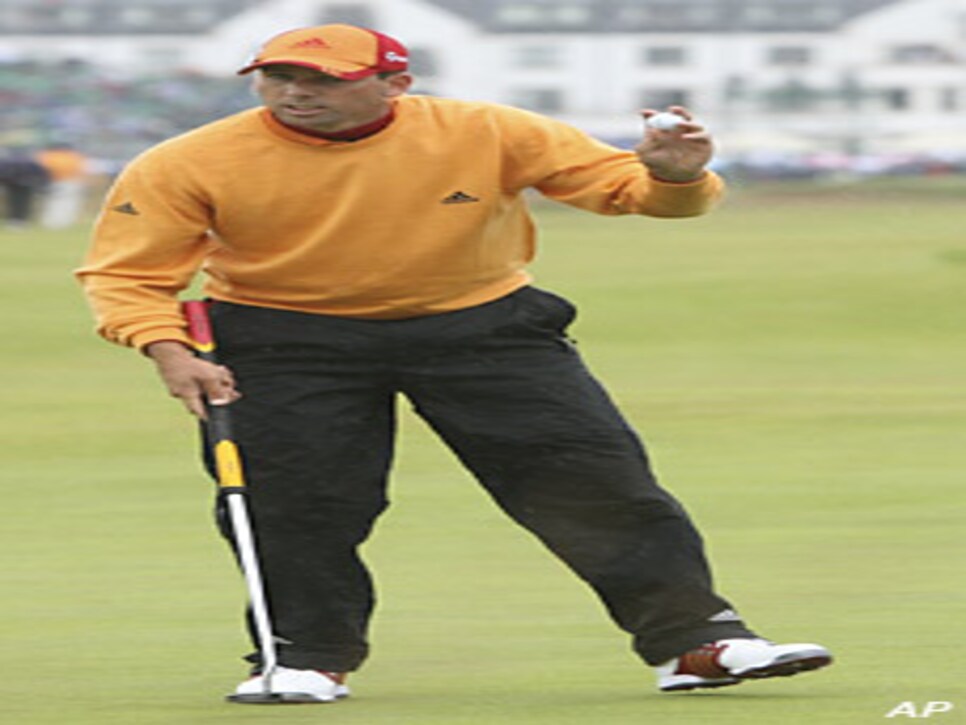 Sergio's new putter may be what's making the difference.
CARNOUSTIE, Scotland (AP) - On a gloomy Scottish day, Sergio Garcia sent his ball soaring over the Barry Burn, a bounce in his step as he followed the trajectory against the ashen sky.
It was. The ball hopped a couple of times on the fringe, spun onto the green and came to a stop about 12 feet left of the cup.
Garcia didn't make the putt, but he tapped in for par to cap a bogey-free, 3-under-par 68 Saturday that left him firmly in control of the British Open, his best chance yet to finally win that elusive first major championship.
The demonstrative Spaniard will go to the final round with a three-stroke lead while Tiger Woods was barely clinging to a spot on the leaderboard.
Garcia put on a brilliant display in a pressure-packed environment: the final group of a major on the weekend. There were a couple of bad swings, most notably when he beaned a photographer sitting near the scoreboard at the 17th green, but even that one worked out OK.
The ball ricocheted off the back of a spectator's neck and ended up in some wispy, trampled-down rough -- a a much better lie than Garcia could have expected. He pitched up next to the flag and tapped in for par.
"When you see the person lying down, it's never a good feeling," he said. "I shook his hand and he told me he was doing OK. He was a little shaken up, but he'll be fine and I was able to save a good 4."
He felt even better when he walked across Barry Burn, the famous stream that gobbled up Jean Van de Velde's chances the last time the Open was played at Carnoustie in 1999. Everyone stood to cheer on the leader, some of them waving the orange-and-yellow Spanish flag that matched Garcia's outfit.
"It was amazing," he said. "When I came to 18, I got goose bumps at how they were standing up and cheering. I wanted to make (the putt) so bad for them."
If all goes according to plan, Garcia will make the same walk Sunday to an even larger ovation, then hoist the claret jug on the 18th green -- no longer the best player without a major title.
Of course, he should heed the lessons of '99.
Van de Velde started that Sunday with an even bigger lead of five strokes, and was still up by three when he stepped to the 72nd hole. The dashing Frenchman threw it all away with a triple bogey, then lost in a playoff to Paul Lawrie, who capped the greatest final-round comeback in major championship history from 10 strokes down.
"Obviously, Sergio is going for his first major," said Ernie Els, who has three such titles on his resume. "He's got a lot of things to think about tonight. I've been in that position many times. It's not an easy sleep. He's playing great. I wish him the best. But I'd like to give him a good go tomorrow."
The expected storms off the North Sea never turned up, and it was a wonderful day for golf, with only a slight breeze wafting across the course.
Plenty of players took advantage, led by Steve Stricker with a 7-under 64 that set a course record for an Open and was just one stroke off the tournament mark at any venue.
"It was just one of those rounds where everything kind of went right," said Stricker, who lost his tour card after a dismal 2005 season. "I made quite a few putts, something I haven't been doing as of late. Today, they all seemed to go in."
But Garcia maintained a relatively comfortable edge on his would-be challengers with a 9-under 204 total. Stricker is the closest pursuer at 207. No one else was within six strokes of the lead, a group at 210 that includes Chris DiMarco, last year's runner-up to Woods.
And what about Woods, trying to become the first player in more than a half-century to win three straight Open titles?
Posting a 69, he was among 17 players who cracked 70 but was still eight shots back at 212.
"I've got to play a little better than I have been, that's for sure," Woods said. "But at least I give myself a chance."
Like everyone else, he still remembers the last Open at Carnoustie.
"Paul came from 10 back in '99," Woods said. "Certainly you can do it around this golf course."
Garcia wasn't the only player who hit someone with his ball. Woods hit a shot that plunked a female fan in the head at the par-5 sixth, leaving her bloodied and bandaged.
"I had a pit in my stomach," Woods said. "There was blood all over the place. I don't know how she was smiling."
Jennifer Wilson, 63, needed stitches and a bandage to patch up the wound. Woods stopped by to apologize and gave her a signed glove and ball.
Then he made par at the hole.
That was about par for Woods' day. He made a big improvement on his 74 from Friday but there were plenty of guys who played better. His only real highlight was a 100-foot birdie putt at No. 4.
Even with the more inviting conditions, Carnoustie still showed some of its old bite.
K.J. Choi struggled to a 73 in the final group with Garcia, going from two shots off the lead to six. The South Korean finished with a bogey at No. 18, his punishment for driving into Barry Burn.
Els also wondered what might have been if not for a tee shot he launched out of bounds at the sixth, a par-5 hole that most one of the best birdie chances on the course. He took a triple-bogey, but rallied for a 68 that left him at 210.
"If I could have that one tee shot over," Els said. "I would be a lot closer."