News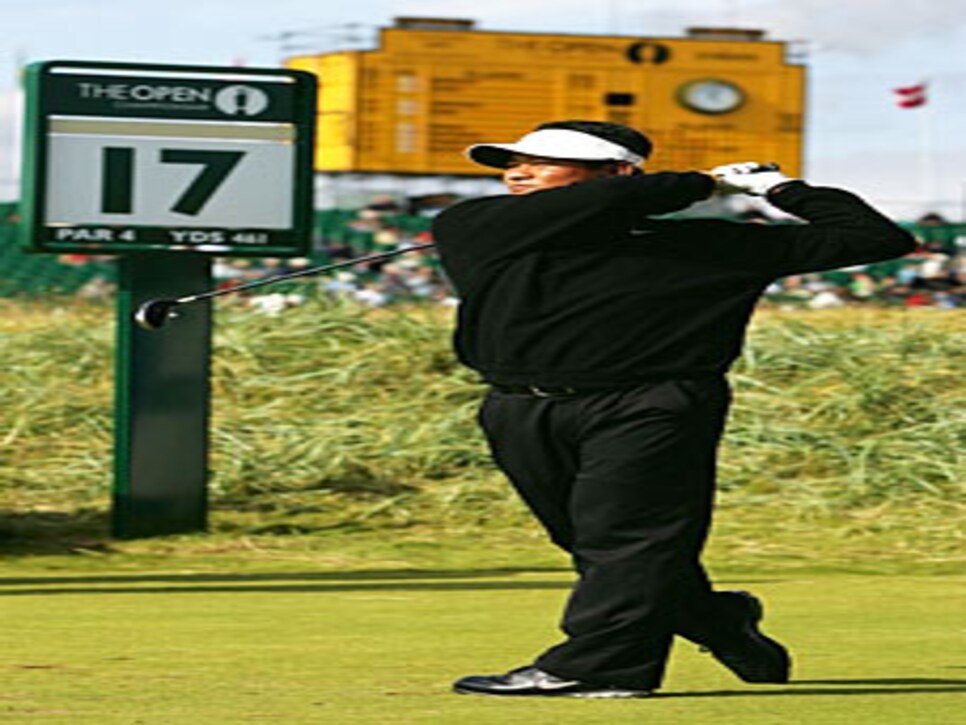 K.J. Choi has been on quite a roll.
CARNOUSTIE, Scotland -- If you were an accounting major in college, the World Golf Rankings are probably very orderly and satisfying. See? It says right here. Tiger Woods lost 418.40 points from his 2006 total, and gained 343.82. That gives him a total of 776.59, for an average of 19.41. Which is a complicated way of saying that Woods is the obvious favorite in any tournament he enters.
But does World Ranking really tell us what we want to know? Its system of rewarding players in rolling two-year cycles of play is fine as far as trailing indicators go, but in real life, who is the second-best player in the world right now, this week?
The statistics say K.J. Choi is the 12th best player in the world -- .04 points behind Retief Goosen and 0.06 ahead of Sergio Garcia. But if he wins the Open Championship this weekend for his first major, you would be hard-pressed to call any other player the second best in the world, regardless of his long-term record.
That includes World No. 2 Phil Mickelson, who all of a sudden is looking very vulnerable after consecutive major missed cuts and a final-hole meltdown at Loch Lomond. It includes No. 3 Jim Furyk, who has a major on his resume and has consistently contended at big tournaments the last two years but hasn't closed the door like Choi has this season on Sunday. And it includes No. 4 Ernie Els, who makes any list of the most talented players on tour but can't seem to find his putting stroke.
Choi beat two of the strongest regular-event fields in professional golf at the Memorial and Tiger's AT&T event at Congressional, and won at man-sized courses in the bargain. He has played two drama-free rounds at Carnoustie, and is the only man to record two rounds in the 60s. He's also the far most serene in his post-round comments, deflecting talk about the anxiety that comes with trying to win a first major.
"I don't put any pressure on myself. I always ask myself what I need to improve -- how I need to be prepared to win a major when that opportunity comes," Choi said. "It's not a matter of who I play with. It's just a matter of keeping to my routine."
If Choi does keep to that routine, and becomes the second "world" player to win a major this year, would any sane person say Choi should be ranked behind haven't-yets like Adam Scott (5th), Luke Donald (9th) or Padraig Harrington (11th)?
The stats don't lie, but they wouldn't be telling the complete story.