News
Garcia tames Carnoustie for a day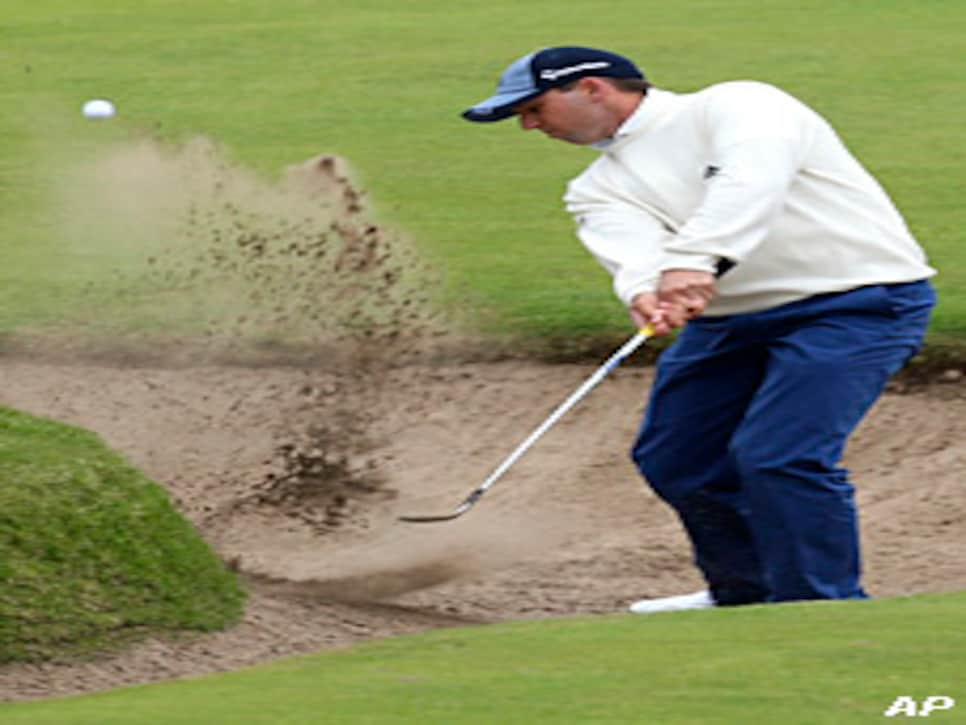 Garcia blasts from the bunker on 18 to save par.
CARNOUSTIE, Scotland (AP) - The British Open wasn't at "Car-Nasty" this time around -- especially for Sergio Garcia.
Still trying to remove that unwanted title of best player never to win a major, Garcia took advantage of charitable conditions at Carnoustie to shoot a 6-under-par 65 Thursday in the opening round.
Tiger Woods was right in the thick of things again, sinking an improbable 90-foot putt on his way to a 69 that put him solidly in contention for his third straight Open title. And 18-year-old Rory McIlroy provided a glimpse of the sport's future with a bogey-free 68.
"I'll take a 68," the teenager from Northern Ireland said, "and I'll take three more to finish."
This links along the North Sea, considered one of the toughest tests in major championship golf, was toned down after it haunted the world's best in 1999. That Open left the enduring image of players trying to hack out of waist-high rough and Jean Van de Velde standing barefooted in the Barry Burn, throwing away a three-shot lead at the 72nd hole.
After the early starters went out in bone-chilling rain with the thermometer struggling to reach 50 degrees, it turned out to be a rather lovely day by British Open standards.
The sun poked through the thick, gray clouds in the afternoon, and many players finished up in short sleeves. With the greens softened up by plenty of rain over the past few days and only light breezes rolling in off the sea, the players could attack. It helped, too, that Open officials widened the fairways and shaved back the rough.
In '99, the lowest score through 72 holes was 6 over; Friday's cut will likely be lower than that.
McIlroy was the only player to get through the round without a bogey. Garcia came close, his only slip-up was when he failed to pull off an up-and-down from a bunker at the par-3 16th. By then, the Spaniard already had surged to the top of the leaderboard with a stretch of four birdies in five holes.
Garcia has been in contention at the majors plenty of times, including last year's Open at Royal Liverpool. He played with Woods in the final group on Sunday, only to wilt.
A final-round 73 dropped him into a tie for fifth -- further proof that Garcia has all the shots to contend with Woods but still hasn't learned to finish.
Maybe this will be the one where Garcia finally breaks through.
"I got off to a good, solid start," he said. "I hit a lot of good shots and a lot of solid putts."
Woods provided another improbable shot for his majors collection, something to go with his chip-in at the 2005 Masters, and the 4-iron he holed out from the fairway at Hoylake a year ago.
At the difficult 16th, Woods' tee shot barely made the front of the green. He was only worried about avoiding a bogey when he sent the ball rolling toward the cup. It kept going and going and going, finally dropping in.
Woods threw both arms in the air, then shrugged his shoulders as he looked toward caddie Steve Williams.
"I was just trying to get it up there close," said Woods, seeking a fourth Open title overall and 13th major championship in his incessant pursuit of Jack Nicklaus' career record. "I wanted to get it up where I would have an easy second putt. Lo and behold, it falls in."
As if Woods doesn't have enough talent, the Royal & Ancient was there to help him along.
When he tugged his tee shot into deep rough left of the 10th fairway, the ball settled on a strand of television cables. Rules official Alan Holmes gave Woods relief within one club length, claiming the cables couldn't be moved. But Mark Roe, a former European tour player now working for the BBC, moved them 3 feet.
The ruling enabled Woods to drop in trampled grass. He hit a long iron to just short of the green, followed with a nifty pitch and saved par with an 8-foot putt.
"That was a weird drop," Woods said. "I didn't ask for it. The guy just said I could."
Garcia was two shots clear of Ireland's Paul McGinley, a Ryder Cup stalwart who has never done much individually but shot 67. McIlroy was among the group another shot back, joined by U.S. Open champion Angel Cabrera and the guy who won that event two years ago, Michael Campbell.
Then there's John Daly, whose 1995 British Open victory is one of the highlights of his troubled career. He briefly surged to the top of the leaderboard at 5 under by holing out a short wedge for eagle at No. 11.
That was followed by a stretch that epitomized his up-and-down life: double-bogey, par, triple-bogey, bogey, bogey, par, bogey. In the space of seven holes, he went from the top spot to nowhere to be found on the leaderboard, settling for a 74.
Campbell sank three long birdie putts, then hit a wonderful approach to 3 feet at the tough 17th hole for his final birdie. He's eager to show that his 2005 win at Pinehurst -- when he held off Woods on the final day -- wasn't a fluke.
"Setting the goal of winning a major was probably a mistake," said Campbell, who made a bold fashion statement in a hot pink shirt. "I should have said majors."
Going out in the morning, Woods looked as though he was on his way to pop a casserole in the oven. Like several of his competitors, he wore oversized gloves to keep his hands warm between shots in damp, dreary conditions.
Of course, after the searing heat of Royal St. George's in 2003 and the sun-baked fairways of Royal Liverpool last year, this seemed more like a British Open, a Scottish summer in all its glory.