News
R.W.Eaks gets first Champions Tour win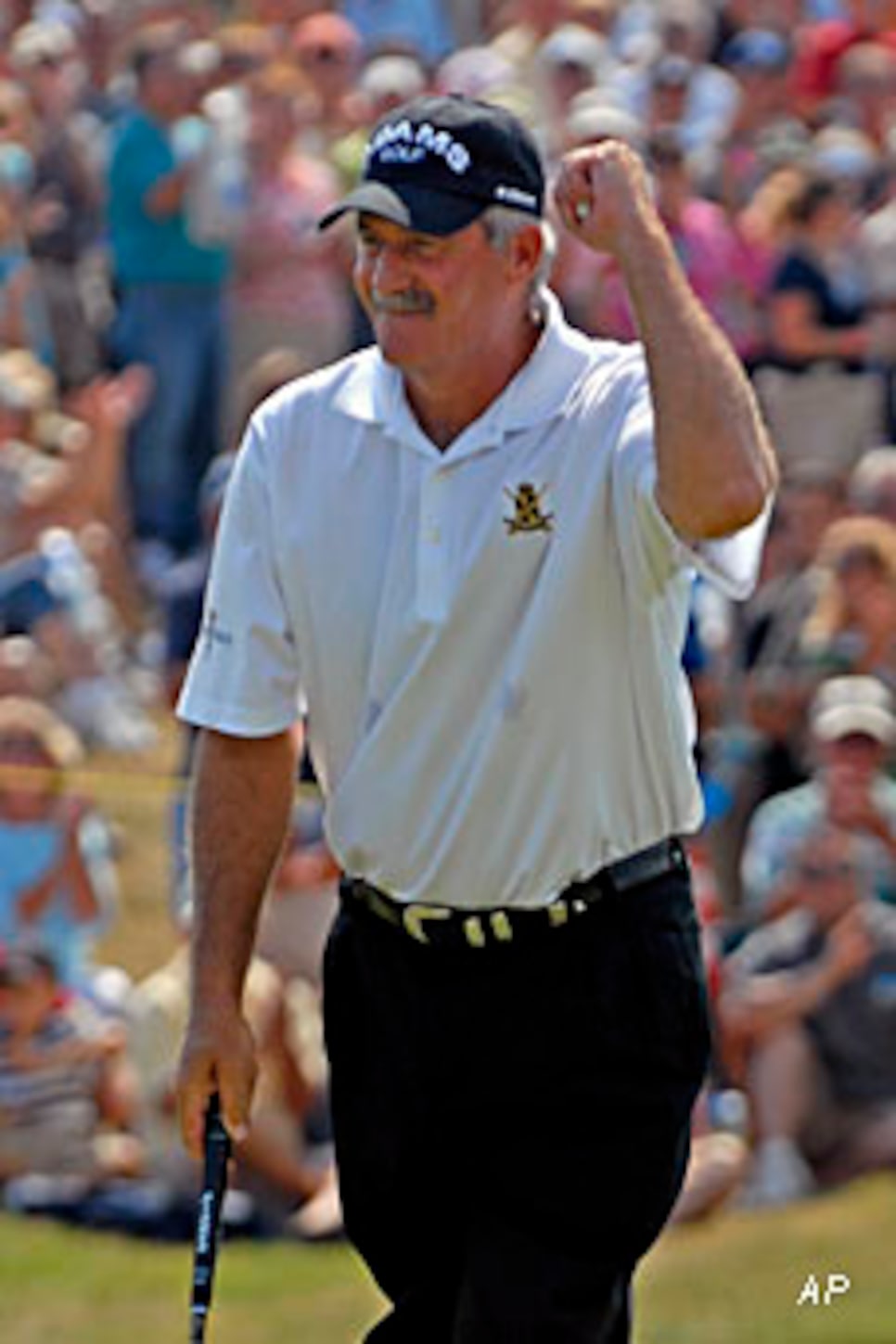 The monumental struggle is over for Eaks.
ENDICOTT, N.Y. (AP) - Maybe finishing second has its rewards after all. Just ask R.W. Eaks.
A runner-up five times the past two years on the Champions Tour, Eaks finally broke through for that elusive first victory on Sunday, closing with a 6-under 66 to win the inaugural Dick's Sporting Goods Open.
"I honestly didn't know if I could win a tournament," said Eaks, who finished at 17-under 199 over the 54 holes to beat rookie Bruce Vaughan by three shots. "I've hit some pretty nice shots in a playoff and it didn't work out. I got more confidence with every second-place finish."
The victory ended a monumental struggle for the affable, slow-talking Colorado native. He was winless in 77 PGA Tour events over a dozen years, 0-for-90 in six years on the Champions Tour, and had only three wins in 258 tournaments on the Nationwide Tour - and none in a decade.
The doubt that had crept into his mind was erased with three solid rounds over the short-and-narrow En-Joie Golf Club course.
"I don't how many seconds I had. It started to get into my craw a little bit," Eaks said at the post-tournament press conference. "I don't think it's really sunk in yet. I'm just so elated that for once I was the best player on this tour. You guys don't understand how important that was for me."
Vaughan, a Monday qualifier, would like to know that feeling.
"I've been playing on a pretty good roll here. There's other big tournaments," said Vaughan, who boosted his earnings for the year to $272,502, 39th on the money list. "I told myself if the worst I finished this year was in the top 50 on the money list, it would be pretty good.
"If I can have a few more good weeks, maybe I'll still have another chance," Vaughan said. "But I think the only way that I can get out of this category is to win. I had my chances today. I've got a lot of confidence. I know I can compete out here."
Eaks, a self-taught golfer who never finished better than seventh in a PGA Tour event, won $240,000 to push his earnings for the year past $1 million and vault to fifth in the race for the Charles Schwab Cup.
Not bad for a guy who was told after his only golf lesson to give up the game.
"Isn't that something? I can't imagine what Tiger (Woods) feels like. I never thought I'd make a million dollars in this game, ever," Eaks said. "It's kind of exciting. I wish I had all of it."
Eaks said the U.S. Senior Open a week ago proved a turning point in his breakthrough performance. He hurt a knee midway through the second round, didn't quit, and closed with an 84 to finish tied for 58th at 18-over par.
"That was one of the first times I stuck it out," Eaks said.
Vaughan (68), bidding to become the first open qualifier to win a tournament since Pete Oakley won the 2004 Senior British Open, provided the only real challenge. But he never mounted a charge over the closing holes on a mostly sunny day. The thunderstorms that were forecast never materialized.
Eaks began the day with a one-shot lead over Vaughan and a two-shot advantage over Scott Hoch, an 11-time winner on the PGA Tour. It was just the second time in his Champions Tour career that Eaks had led going into the final round. He led Bob Gilder by one stroke after 36 holes at the 2005 SAS Championship before closing with a 77 and finishing in a tie for 10th.
This time he was aggressive from the start and didn't falter, even with Hoch and Craig Stadler, who counts the 1982 Masters as one of the 13 tournaments he won on the PGA Tour, in close pursuit.
Stadler was three shots behind Eaks to begin the round. He was 2 under on the front side and a birdie at No. 10 moved him to 11 under. But a bogey at No. 14 and a double-bogey at 15 took him out of contention. He finished with a 73, tied for ninth with Jack Ferenz.
Vaughan birdied the first hole to tie for the lead, but Eaks, known for his distance off the tee, used it to open a three-shot lead at the turn.
After making birdie at the par-4 second hole, he hit his second shot at the 554-yard, par-5 third within 6 feet of the pin and made eagle to get to 14 under.
"I was tied for the lead and then I'm three back," Vaughan said. "I don't hit it as far as what I used to. I used to hit it almost as far as R.W. I was hoping he'd run out of those par-5s. I played good. I just didn't have enough firepower."
And at the par-5 eighth hole, Eaks took a 5-wood from his bag and drilled his second shot over the five greenside bunkers onto the green. The ball struck the pin for a near double-eagle but stayed out, and he two-putted from about 15 feet for birdie to reach 15 under.
Eaks played the front side at 13 under par over the three days of the tournament.