The Loop
16 things that made the 2016 Masters one of the wackiest majors ever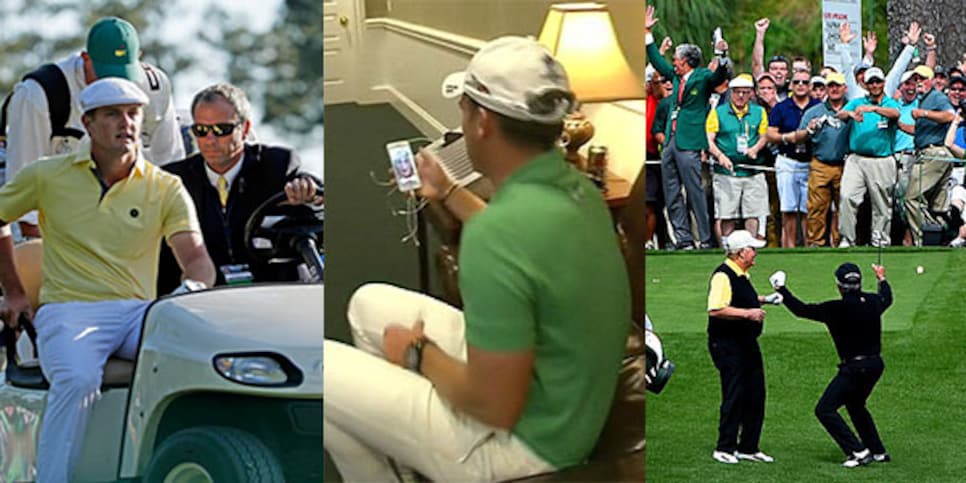 Quick, what do Lil Wayne, Vanilla Ice and a trash-talking golf legend have in common? If you guessed the 2016 Masters, then you've got a great memory. Sure, everyone will remember last year's event as the one that got away from Jordan Spieth, but there was so much more to it. Sure, it had a surprise ending, but there were unexpected twists and turns the entire week. So from the unlikely to the downright absurd, here are 16 things that made the 2016 Masters one of the wackiest majors ever.
1. There were NINE holes-in-one made during Wednesday's Par 3 contest. Yes, it's a par-3 course that averages just 118 yards per hole, but NINE? To put this in perspective, the previous record was just five.
2. Those nine holes-in-one included back-to-back aces by buddies Justin Thomas and Rickie Fowler:
Jordan Spieth, the third guy in the group, couldn't answer with an ace of his own. What a chop.
3. One of those nine holes-in-one came from 80-year-old(!) Gary Player:
Player made his ace in front of Jack Nicklaus. The following day, he outdrove Jack with his ceremonial opening tee shot -- and let him know about it. These minor victories are the things you cling to when your buddy won twice as many majors as you did.
4. Jimmy Walker also made an ace in the Par 3 Contest and shot a record eight under in the nine-hole event. Sadly, he didn't fare as well in the actual tournament. Although, that would have been really wacky, considering no one has ever won both events in the same year.
5. Jack Nicklaus got stopped by security driving down Magnolia Lane. Yes, that Jack Nicklaus. You know, the guy with 18 majors and six green jackets to his credit?
6. Henrik Stenson blared Vanilla Ice's "Ice Ice Baby" while driving down Magnolia Lane. And security just let the Swede breeze on through.
7. Henrik Stenson's daughter did her best to slow down Friday leader Jordan Spieth by taking air out of his tires. Literally.
About a year later, Alice ran under the ropes at the Valspar Championship to give her dad a hug in the middle of the round. Augusta National security needs to pay extra attention to this one. She's trouble.
8. In the actual tournament, Bryson DeChambeau, who was still an amateur at the time, got to within a shot of the leader and playing partner Jordan Spieth through 35 holes. Then he pulled his tee shot so far left on the 36th hole that he had to return to the tee to hit another one: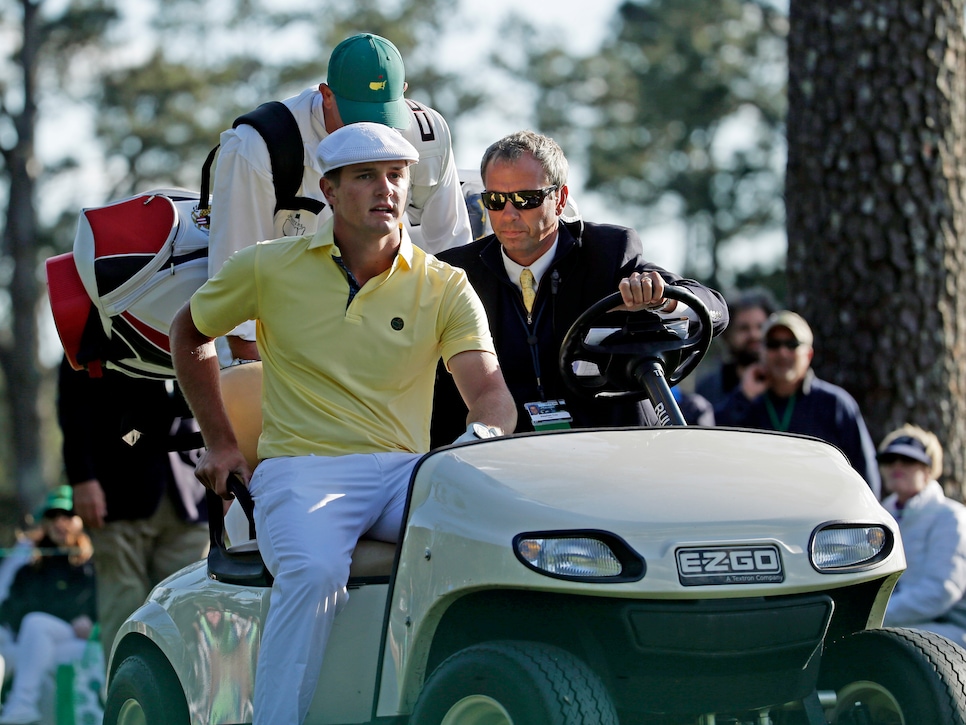 Golf's scientist labeled the ensuing triple bogey "an anomaly." He finished T-21 to take low amateur honors.
9. Tom Watson's final round at the Masters was Friday's other big story line. Watson received standing ovations all over Augusta National -- and in Lil Wayne's living room.
Who knew LW was such a fan of TW?
10. And Watson quickly returned the sentiment to Lil Wayne!
Again, who knew?! No clue if that concert actually happened, but we'd pay good money to see video of Watson bobbing his head to "Lollipop."
11. Back to the leader board, Rory McIlroy was just one shot behind Spieth heading into the weekend. But you probably don't remember that because he shot a third-round 77. Actually, that's not that wacky. McIlroy has seven rounds of 76 or higher in the past seven years. Moving on. . .
12. Fifty-eight-year-old Bernhard Langer was only two shots out of the lead heading into the final round and played in the penultimate group on Sunday. Trying to become the oldest winner in major championship history, he shot 79 to finish T-24. With the shape he keeps himself in, the German should still have a few more attempts to break that record.
13. For the first time in Masters history, three players made aces on the same hole on the same day. Shane Lowry, Davis Love III, and Louis Oosthuizen pulled off the feat in the final round to earn nice pieces of crystal.
14. But Oosthuizen's hole-in-one was extra special. The South African banked his in off of J.B. Holmes' golf ball! Here's one highlight that will never lose its wackiness, no matter how many times you see it.
And look how close Holmes' ball came to going in as well. Who knows, maybe this year we'll see the first double hole-in-one in major championship history. We've seen some pretty crazy things on that hole through the years. . .
15. Speaking of unlikely hole-outs, Lee Westwood chipped in for eagle to get within one of the lead on Sunday. For the year, Westwood had a -4.85 strokes gained: around-the-green, which would have ranked him No. 182 out of 186 on tour if he played enough rounds to qualify. The charge was short-lived as Westwood three-putted 16, but he still finished T-2.
16. And Danny Willett only won the Masters because his wife, Nicole, gave birth to the couple's first son early. The original due date was Masters Sunday, but Nicole had a C-section the week before the tournament (great timing). That's why when Willett won, he had to settle for FaceTiming with Nicole from the Augusta National clubhouse.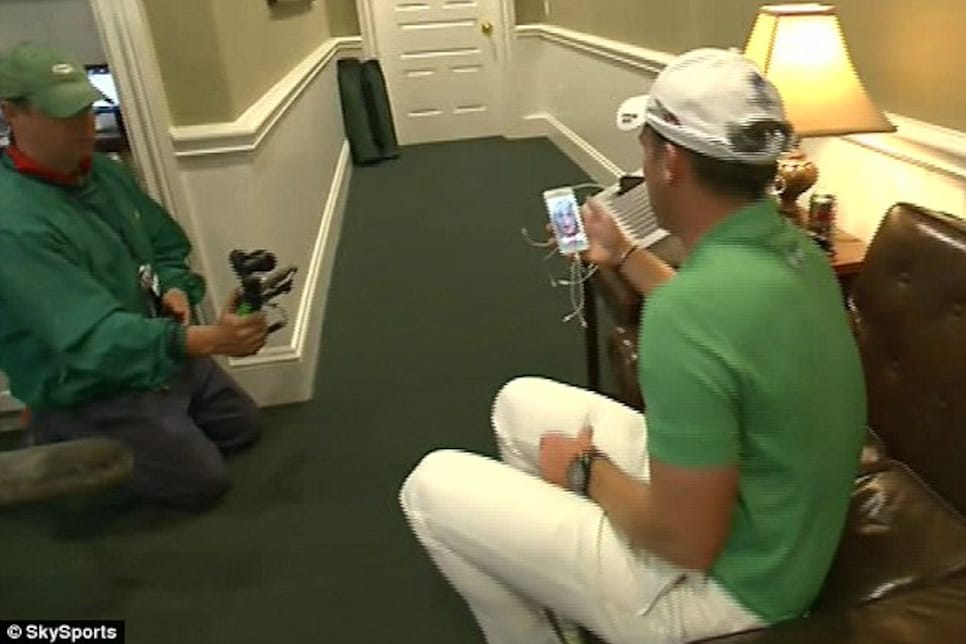 Oh yeah, we almost forgot. Jordan Spieth blew a FIVE-shot lead on the back nine on Sunday, thanks in large part to a quadruple-double 7 on the 12th hole. So make that 17 things. That was pretty wacky, too.