Decisions, Decisions
Why a handful of tour pros who made the cut at Pebble Beach might turn out to regret it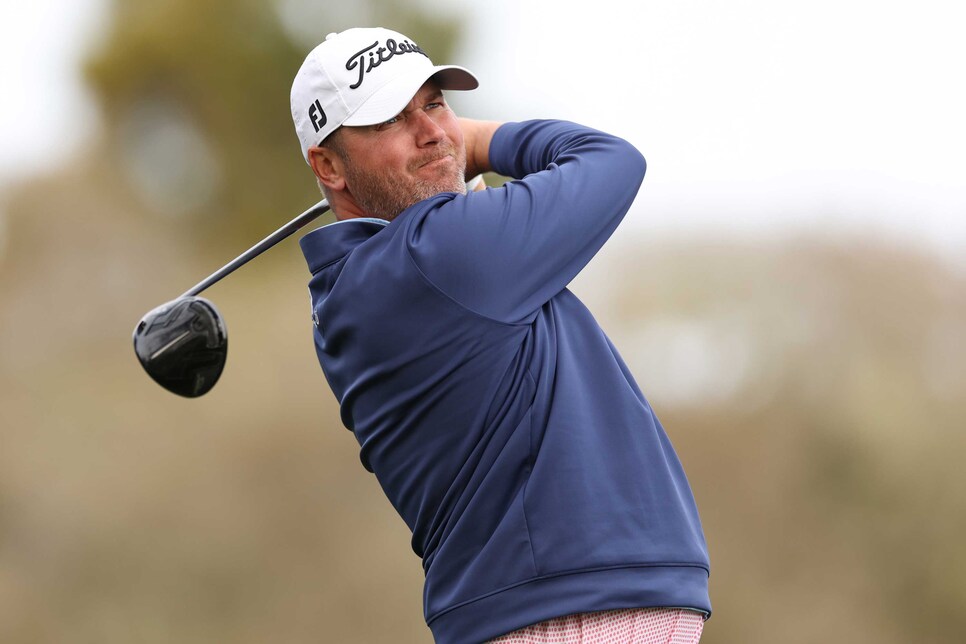 By making the cut at the AT&T Pebble Beach Pro-Am, Sean O'Hair will have to withdraw from the Monday qualifier at the WM Phoenix Open.
Ezra Shaw
You always want to make the cut in a PGA Tour event. But playing all four rounds at this week's AT&T Pebble Beach Pro-Am—where weather delays are keeping the tournament from ending as scheduled on Sunday night—actually comes with a possible downside, at least for 15 pros who had another tee time already planned for Monday.
That's because of what's happening next week. The PGA Tour is holding its first full-field "designated" event at the WM Phoenix Open, with a $20 million purse on the line and a $3.6 million first-place prize money payout for competitors at TPC Scottsdale. The field is stacked with top-ranked golfers—18 of the World's top 20 are in the field and just four players in the top 50 who are eligible for the WMPO are not competing (Will Zalatoris, Sepp Straka, Adam Scott and Mito Pereira). But there are three open spots remaining for players who aren't in the field but have signed up to play in the Monday Qualifier being held at McCormack Ranch in Scottsdale.
As Golf Digest's Dave Shedloski reported earlier this week, interest in the Monday qualifier was at record levels, with 624 golfers competing in eight pre-qualifiers and 112 players ready for Monday's 18-hole shootout. Among them are 15 players who are still playing golf at Pebble Beach. By sticking around the Monterey Peninsula on Monday, they will miss out on next week's action and the opportunity to play for the extra big bucks.
But as the saying goes, a bird in the hand is worth two in the bush. They're guaranteed a check and potential FedEx Cup points at Pebble, whereas they're going to need a really, really low round to make it out of the 133-player Monday qualifying field.
Here are the players impacted:
Byeong Hun An
Aaron Baddeley
Jonas Blixt
Eric Cole
Tano Goya
Harry Hall
Nick Hardy
Sung Kang
Sean O'Hair
Sam Stevens
Martin Trainer
Kyle Westmoreland
Trevor Werbylo
Dylan Wu
Kevin Yu
"It's unfortunate that some participants are going to miss out of the WM Phoenix Open Monday Qualifier due to the weather issues they have been experiencing at the AT&T Pebble Beach Pro-Am," said Bill Ibrahim, the COO of the Southwest Section PGA, which runs the Monday qualifier. "With the WM Phoenix Open the first designated event of the year, I assume it hurts a little more missing out on trying to qualify with the uncertainty of these designated events in the future.
"It's just bad luck for these gentlemen but as the old saying goes, 'you can't control mother nature.' Hopefully it stings a little less since those making the cut are at least making a check this week."
Interestingly, when play was suspended at Pebble on Saturday night, and a Monday finish was inevitable, nine golfers in the Pebble field withdrew, including two who were signed up for the WMPO Monday qualifiers—Will Gordon and Carson Young. Both players were longshots to make the cut, but they also decided they didn't want to put themselves in a precarious spot of feeling bad that they rallied at Pebble.
UPDATE: As it turns out, seven of the 15—Aaron Baddeley (1:20 p.m. Monday Q tee time), Sam Stevens (1:20 p.m.), Kyle Westmoreland (1:30 p.m.), Harry Hall (1:30 p.m.), Martin Trainer (1:30 p.m.), Dylan Wu (1:30 p.m.) and Sung Kang (1:40 p.m.)—actually did finish their final rounds on Sunday evening before play was suspended for darkness. So they have the chance to get the best of both worlds: being able to claim a prize at Pebble and still, potentially, get to Scottsdale before their scheduled Monday tee times.