News
A Modest Guide To Rochester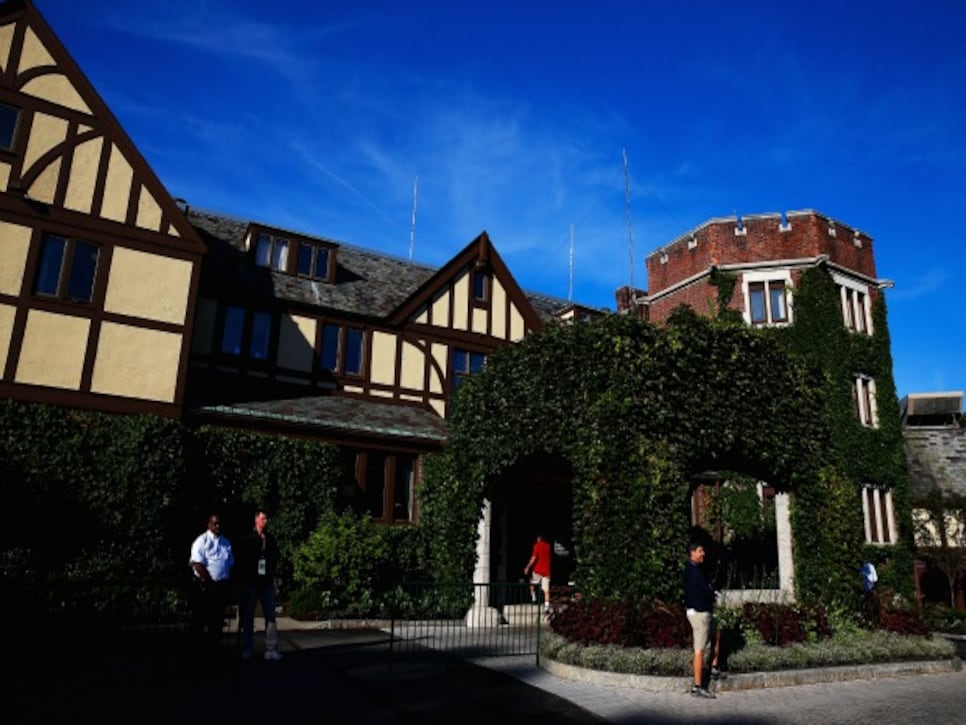 The clubhouse at Oak Hill in Rochester, NY, the hometown of golfing legend Walter Hagen.
ROCHESTER, N.Y. -- So I'm in the media tent, on the phone with my wife, when Jim (Bones) Mackay comes by. Congratulations, great going, what a pair of 3-woods on 17, and all that -- then he says, "Got the jug in my backpack."
A smile from the man. Yes, Phil Mickelson's caddie is walking around Oak Hill Country Club the day before the PGA Championship starts and he has the claret jug secreted in his backpack.
"I'll call you right back," I said to my wife as I go with Bones through a door marked "Emergency Exit Only."
Well, yes, this qualified as an emergency. Besides, when you're Bones and you're Phil's sidekick for 20 years, you pretty much have an all-access pass on all golf courses.
Outside the tent, Mackay sets the backpack down, unzips it, and . . . there's a towel. Mickelson told the press Tuesday that he wakes up every morning and looks at the jug to remind himself it wasn't all a sweet dream. He must have brought it to Oak Hill today, for a photo shoot or some ceremony, and now Bones is taking it home.
Carefully, Mackay unwraps the towel and lifts the jug into the sunlight. "Want to hold it?"
Here we are in Rochester, New York. It's the hometown of one of golf's legendary players, Walter Hagen, famous for having said, among many wise things, "I don't want to be a millionaire, I just want to live like one." Every sportswriter who ever changed a typewriter ribbon or ever cursed a public place with no Wifi goes to work every morning thinking Hagen had that one right. And here, the jug in my hands, was proof.
So I turn it in the light and read the names -- Hagen there four times, Jones, Nicklaus, Woods, Mickelson, and I say, "Wowzer."
Oh, and I called back my wife, who said, "Did you get a picture?"
Arggh. No. To quote an earlier brain-locked victim, Roberto DeVicenzo, "What a stupid I am."
An athlete's cap should have a curved bill. Baseball players loved the way Mickey Mantle carefully shaped the bill of his cap into "the Mantle roll." Now we see, littering American heads, flat-billed caps.
Hunter Mahan wears one. Hate it. Hate it on Rickie Fowler, too. And yet this week in Rochester, I forgive Hunter Mahan. Forgive his shades, forgive the chin shrubbery. I want him to win the PGA Championship. Eleven days ago, he walked away from a possible $1.08 million payday to be with his wife at the birth of their first child.
He was the 36-hole leader in the Canadian Open by two shots after rounds of 67 and 64, when he withdrew an hour before his third-round tee time to fly home to his wife, Kandi. Talking to the press here this week, he was still giddy. These words appeared every minute or so: "incredible," "unbelievable," "great" (four times), "awesome," "neat," and "overwhelming."
Mahan finished T-4 at the U.S. Open this summer, then T-9 in the British. This one would be a nice birthday present for Zoe OIivia Mahan.
Speaking of Walter Hagen and Rochester, the Ancient Twitterer, Dan Jenkins, has pointed out that Rochester is to Hagen as Atlanta is to Bobby Jones. At the turn of the 20th century, Hagen, the son of a millwright and blacksmith who built railroad cars here, came to golf as a caddie at the Country Club of Rochester. By his teenage years, he gave lessons there.
Only Jack Nicklaus and Tiger Woods, with 18 and 14, have won more major championships than Hagen's 11. Of the thousand Haig stories, some so good they might even be true, my favorite involves the Pierce-Arrow luxury automobile favored by the swells of his time.
Back then, professional golfers were considered "the help." The game belonged to lordly amateurs. Professionals, stained by their money-grubbing, were not allowed through the front door of clubhouses.
So at the 1920 British Open in Deal, England, Hagen, then 27 years old and already twice a winner of the U.S. Open, rented a Pierce-Arrow and hired a chauffeur with orders to park the flamboyant car at the clubhouse door. There Hagen changed shoes. There he disembarked for each day's work. (Not exactly the rebuff to discrimination that Lee Trevino once practiced by changing shoes in the Augusta National Golf Club parking lot -- or maybe, on second thought, it was exactly that.) Two years later, Hagen won his first British Open.
It was in 1920, by the way, that Hagen and other pros presented a grandfather clock to the Inverness Club in Toledo, Ohio, a token of their appreciation for the club allowing them entrance through the front door.
Speaking of Rochester, as we were, this PGA Championship figures to be the best news out of here in a while.
The city's corporate giants have downsized or disappeared. Eastman Kodak is a shell of what it was, down from 62,000 employees in the 1980s to 7,000 a year ago. Xerox left behind its mighty "Toner Tower" in the city's center and moved its headquarters to Connecticut. The contact-lens manufacturer, Bausch & Lomb, is making eyes at New Jersey. Those three companies once provided 60 percent of Rochester's jobs; now it's 6 percent. At least, the clothier Hickey Freeman's fourth owner in four years is promising to stay in Rochester. Population, once 332,000, is now 210,000.
But all is not melancholy here. For visitors to the PGA, the retired editor of the Democrat and Chronicle, Jim Memmott, wrote a column, "A modest guide to Rochester's virtues." He found four.
Time. Everything's within a 20-minute drive. So, lots of time. Time to "take part in a protest march against Kodak executive bonuses."
Water. Water everywhere. Genesee River (with its High Falls, from which, in 1829, "the daredevil and perhaps drunken Sam Path leapt to his death"), Lake Ontario, and Finger Lakes.
Sleep. No night-life distractions, in bed by 10:30.
Snow. Last year 78.1 inches, the average is 99.5. "Chances are," Memmott wrote, "it won't snow this week."