News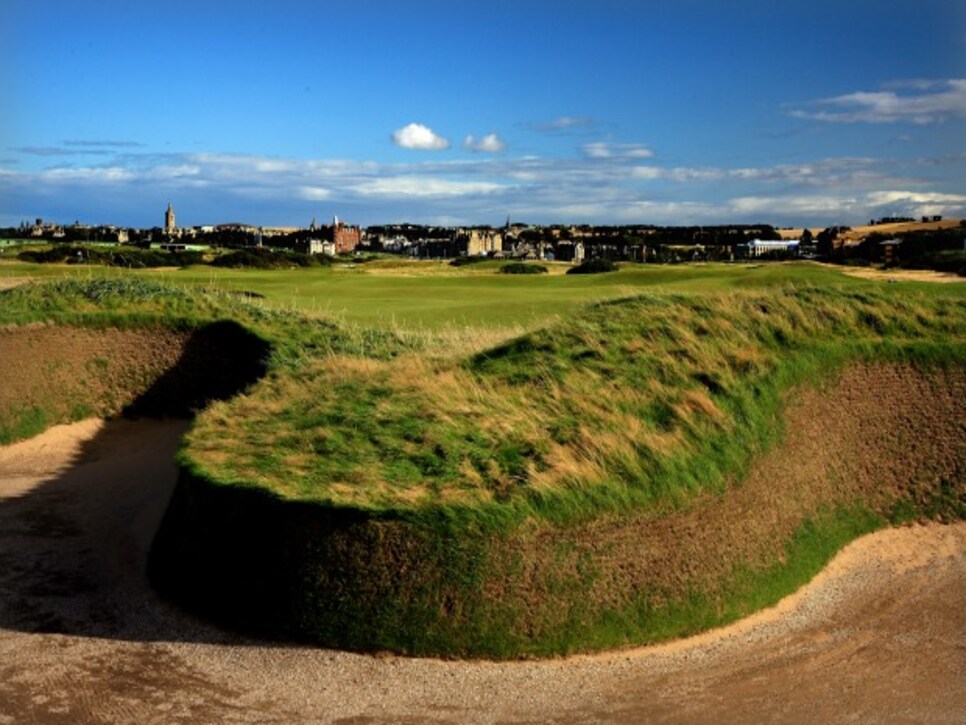 St. Andrews' "Hell Bunker" on the 14th hole is one of the many obstacles awaiting Inbee Park.
ST. ANDREWS, Scotland -- The images of St. Andrews swirl through history -- from pen-and-ink etchings, to faded black-and-white photos, into the era of grainy television transmissions, right through to today's oh-so-real high-definition color.
The names linked to the Old Course form the bloodlines of a sport with roots 600 years deep, from anonymous shepherds to Mary Queen of Scots to Old and Young Tom Morris, Bobby Jones, Jack Nicklaus and Tiger Woods.
The somber, stone buildings of the Old Grey Toon give St. Andrews a mystical aura, and the fact the Old Course begins and ends in town completes the chillingly spiritual sensation that you are, in fact, in THE cathedral of golf.
This ancient course links more than the farmland and pastures to the sea, it links golf to its past. This is where the history of the game began and it is where history is supposed to happen.
When the Ricoh Women's British Open was played on the Old Course in 2007 it was the first professional contest by women at the home of golf. When play begins Thursday, history will once again be at play. Inbee Park will be trying to do something no one -- male or female -- has ever done: Win four professional major championships in the same year.
The Bobby Jones Grand Slam in 1930 was comprised of the U.S. Open, British Open, U.S. Amateur and British Amateur, which he won at St. Andrews. And both Mickey Wright and Woods won four in a row over parts of two years, Tiger picking up the claret jug in 2000 at St Andrews during that run.
Ben Hogan won the Masters, U.S. Open and British Open in 1953 but passed on the PGA Championship. Babe Zaharias won three majors in 1950 when the LPGA had only three.
Now, there is something simultaneously exciting and confounding as we prepare to toss Inbee Park into the history of the Old Course and the game itself. But somehow, when we insert the name "Park" into a sentence with Jones, Hogan, Wright and Woods, it still seems we should be talking about Willie Sr. or Jr., or even Mungo, not Inbee.
In fact, there is nothing particularly special about Park's game that should have led the 24-year-old South Korean to major victories this year at the Kraft Nabisco Championship, Wegmans LPGA Championship and U.S. Women's Open.
And that lack of a distinctive quality -- she cannot overpower a golf course with her driver and does not knock down pins with her irons -- should be a beacon of hope and enlightenment for all who play the game, professional and recreational amateur as well.
Here is how Inbee gets it done: She keeps her ball out of trouble; she never loses her composure, at least not outwardly; and she can putt. All of those are skills that anyone can master with discipline and focus.
In the 216 holes Park as played in winning three consecutive majors she has only had one hole higher than bogey, a double on No. 18 in the first round of the LPGA Championship.
She has done that in large part because she hit 126 of 168 fairways -- 75 percent -- including a remarkable 51 of 56 in the U.S. Women's Open at Sebonack on Long Island.
Inbee has also averaged 28.08 putts for the 12 rounds of her triple.
And if you are looking for examples of how masterfully Park maintains her composure, there are two that stand out in her major run.
At the LPGA Championship on Locust Hill CC in Pittsford, N.Y., Park was leaking oil badly on the back nine Sunday, making bogey on three of the last five holes of regulation to finish tied with Catriona Matthew.
But in the sudden-death playoff, Inbee split the fairway three consecutive times before capturing the title with a birdie on the third extra hole. To regroup like that after seeming to let the championship slip away is remarkable.
And at the U.S. Women's Open, Park was once again on a slide, making three consecutive bogeys beginning on No. 11 in the third round. But she bounced back to birdie three of the final five holes and cruised to a four-stroke victory the next day.
Park has proven she can play links golf, finishing in the top 10 in the last three British Opens -- including second last year -- and T-11 at St. Andrews in 2007 as an 18-year-old rookie. Now she needs to do it under intense pressure.
If there is a player whose style of play and demeanor Park conjures up it is Annika Sorenstam. Annika wore down and frustrated opponents by not making mistakes. Inbee does the same thing. It's simply maddening.
While no one's swing this side of Mickey Wright and Louise Suggs compares to Sorenstam's in the way it reliably repeated, Park's has a metronomic rhythm to it that compensates for technical flaws. She is proof, as Lee Trevino once was, that there is more than one right way to swing a golf club so long as you can repeat it.
Boiled down to its most basic component, the one word that could be used to describe Sorenstam can also be used to sum up Park: balance. Physically and emotionally, both rarely allow themselves to be out of balance on the golf course.
And that is what will truly be tested in Park this week at St. Andrews. Can she handle the magnitude of the moment as well as Annika did in that goose-bumpy first round at the 2003 Colonial Invitational on the PGA Tour?
For the most part, Inbee has constructed three sides of this quadrilateral with little scrutiny and even less recognition. Rather than marvel at her accomplishment many are bogged down in trying to decide if it will truly be a Grand Slam to win four majors now that the LPGA has five.
What a silly and meaningless diversion, the kind mostly fueled by those who go out of their way to find reasons to diminish the accomplishments of female athletes.
Whether or not you call it a Grand Slam, if Inbee Park wins the Women's British Open this week it will be history. What other word is needed? Taking home four pro major trophies in the same year is something no one has ever done. No one.
No matter how this story ends, this is the perfect place for this chapter to be written. St. Andrews. The Old Course. The Home of Golf. This is where the story is supposed to end -- at the place where the game itself began.