The Loop
13 'things' that help tell the story of golf in 2020
Welcome, again, to our list of the Newsmakers of 2020, inanimate-object division. As our Ryan Herrington explained when inaugurating this endeavor a year ago, much of golf's history is intricately tied to non-living, non-breathing things. And the examples used then are applicable again now because, well, they're still non-living, non-breathing things. The green jacket. The Swilken Bridge. The Stimpmeter. It remains only appropriate that we give these "things" their due.
You might call this minutia, and you're not entirely wrong. But we like to think of it as highly entertaining minutia. So here are 13 things that help tell the story of golf in 2020.
In case you forgot professional golfers are richer than gods, a handful of players spent their respective tours' COVID-19 sabbatical diving into the Peloton fad. (Peloton: The exercise bike for those unaware what regular exercise bikes cost.) Intolerable as this crowd may be, some good came out of it, as Rory McIlroy, Justin Thomas, Bubba Watson and Morgan Pressel raised money for the New York City food bank during a Peloton charity race.
For all the hype of an autumn-kissed Augusta National, the Augusta looked very much like the Augusta of April, a jewel of exploding emerald at almost every turn. However, new drone technology incorporated by ESPN and CBS delivered aerial views of the venerated property that truly made it a Masters unlike any other.
Phil Mickelson is a showman in every sense of the word. He's also not one for nuance. Which is why Mickelson, who launched his own coffee line this year, took any and every opportunity to plug his new venture, regularly placing a Yeti mug with his brand's name directly into cameras. Always Be Closing, Phil.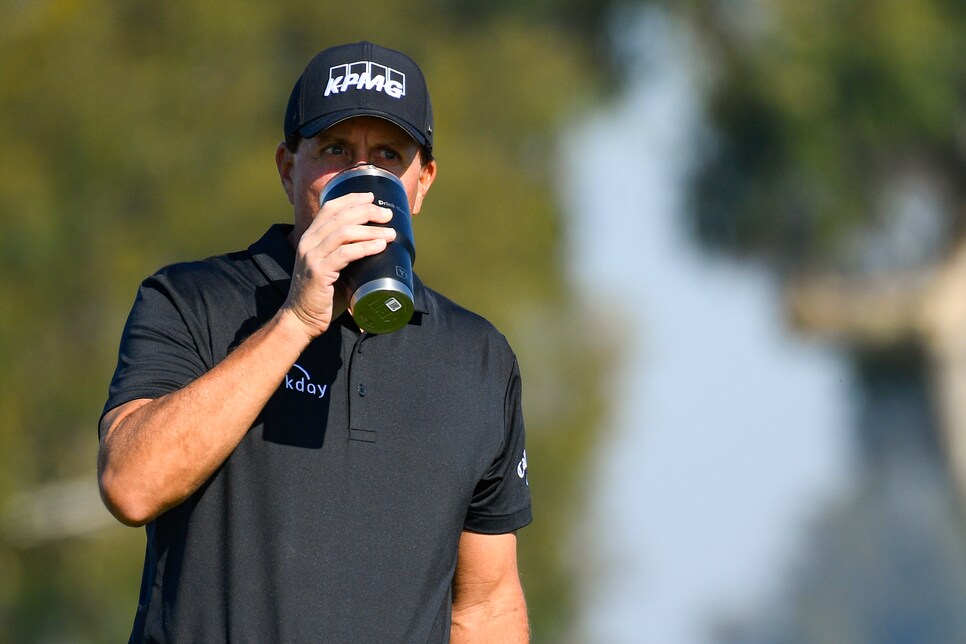 With TB12's appearance in The Match 2 at Medalist Golf Club in May, the future pro football Hall of Famer was exposed as a sandbagger, received an ungodly amount of schadenfreude during a hit-n-giggle and ripped his pants in the one nanosecond where things weren't going wrong. Yet the shot that ultimately led to that infamous splitting of slacks—a hole-out for eagle—was the first "Oh-My-Did-You-See-That?!?!!" sports moment since the world shut down in March.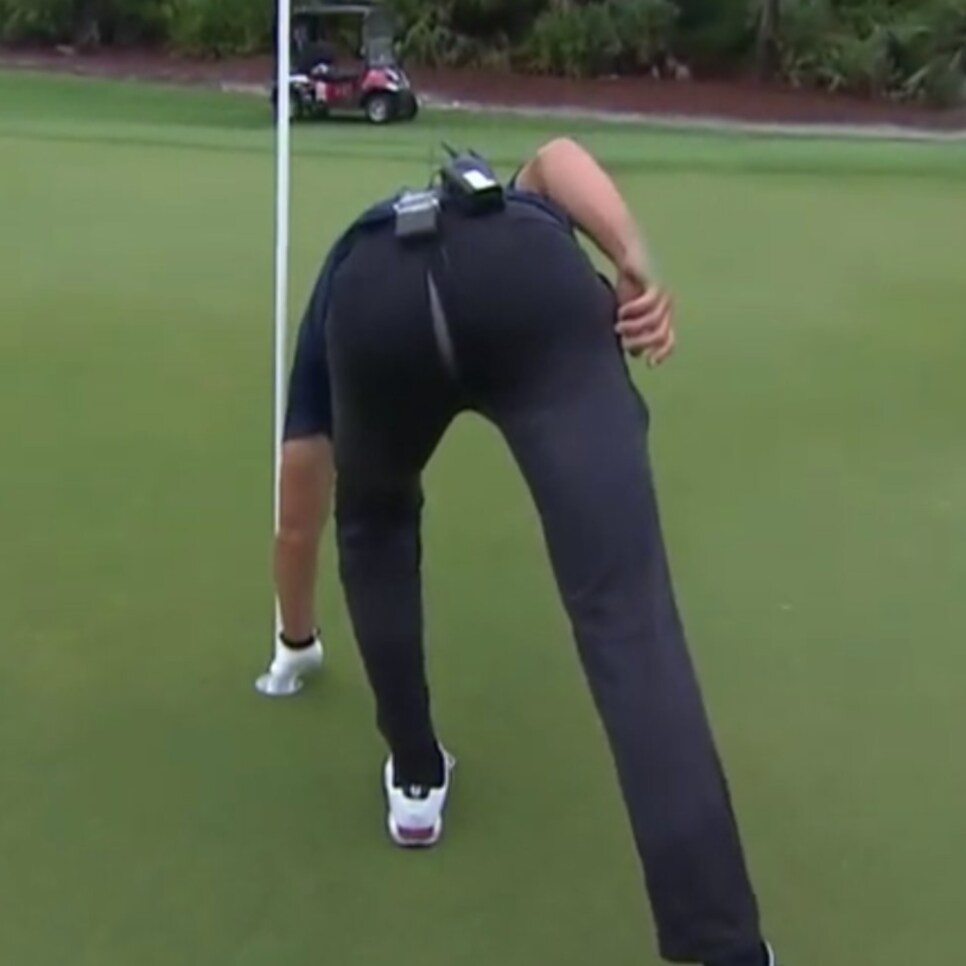 Temporary fencing behind the island 18th green on the Dinah Shore Tournament course at Mission Hills C.C. was suppose to replicate the experience of the grandstand that usually is built there for the ANA Inspiration, pre-COVID. In reality, it served as a backboard for players and played a pivotal role in the event's outcome, with eventual winner Mirim Lee using the structure to keep her second shot from finding water. It was absurd, it was controversial and it was fantastic, because sometimes there's nothing wrong with a little chaos.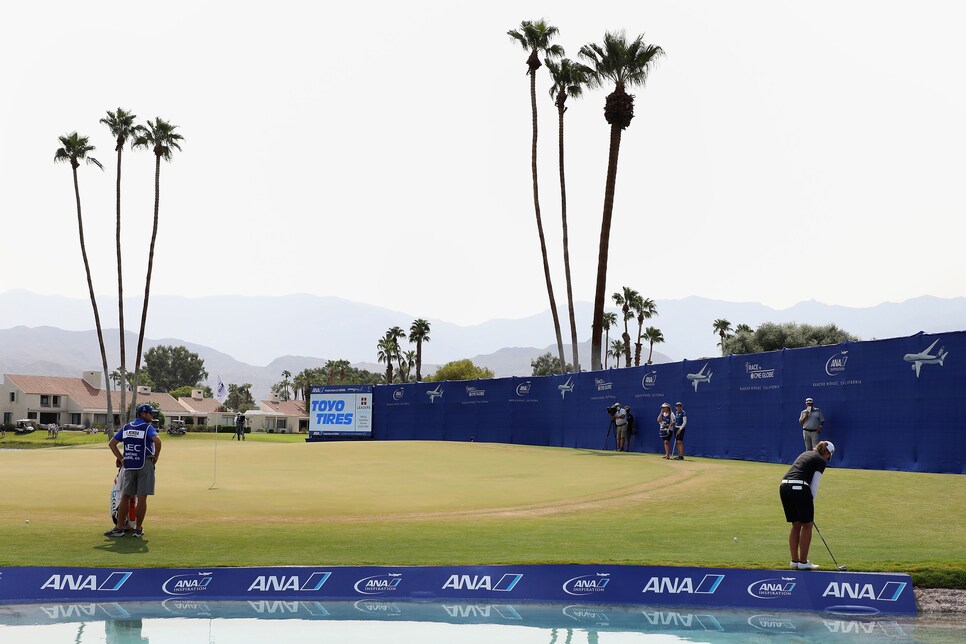 It was a small thing that really wasn't a thing but somehow became a huge thing because everyone needed a dumb distraction. Actually, that about sums up sports in general.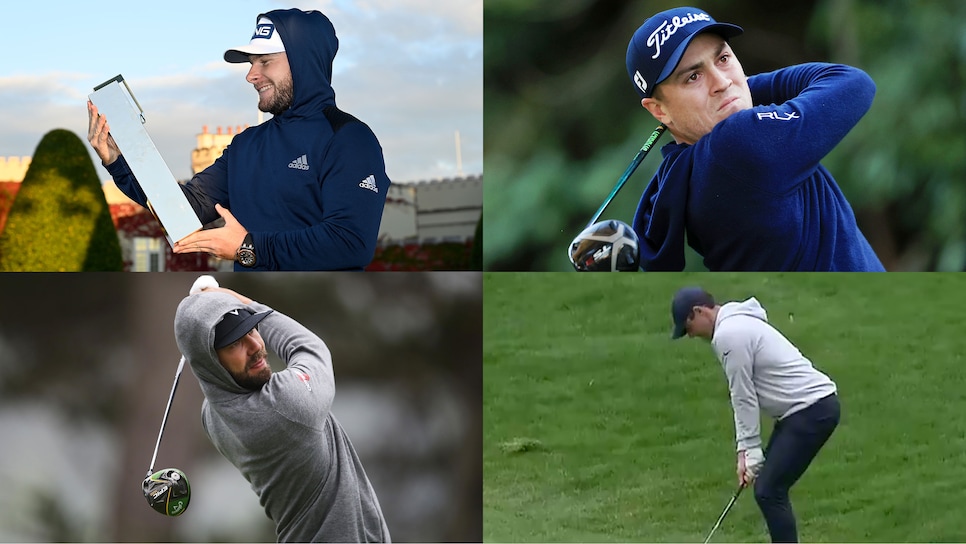 Local caddies were not used on the LPGA this season, allowing players a chance to use push carts. Or in the cases of Anne van Dam and Sophia Popov, to share one. Popov, who caddied for van Dam the previous week, was in the Marathon Classic field and allowed van Dam to split her high-tech trolly. Better yet, Popov's high finish at the Marathon conferred an invite to the Women's British Open, where the 304th-ranked Popov pulled off one of the biggest upsets in major championship history.
Tiger's stay-at-home Champions dinner photo
The center piece was a replica of the Masters trophy. There were dogs looking off camera and dogs looking at sweets and dogs in general. Tiger's Miami Vice inspired ensemble. The fact the finest table settings are out for a dinner that appears to be fajitas and sushi. SO many desserts. A glimpse of Tiger's backyard golf layout, instilling instant envy to those trapped in an apartment, or just general envy for, you know, OWNING A GOLF HOLE IN HIS BACKYARD. As for the quarantine beard ... well, we've seen worse.
Protein shakes. And fire ants. And broken drivers. And hype videos. And lost balls.
It was a busy year for Bryson.