The Loop
12-year-old bows out; Women's Am down to 4
CARMEL, IND.--A frosty putter finally ended the torrid--and historic--run of__Alexis Thompson__ at the U.S. Women's Amateur Championship. The 12-year-old from Coral Springs, Fla., will have to settle for being merely the youngest quarterfinalist in the tournament's 112 years after struggling on the greens at Crooked Stick GC Friday afternoon and watching Ha Na Jang advance to the semifinals with a 5-and-4 victory.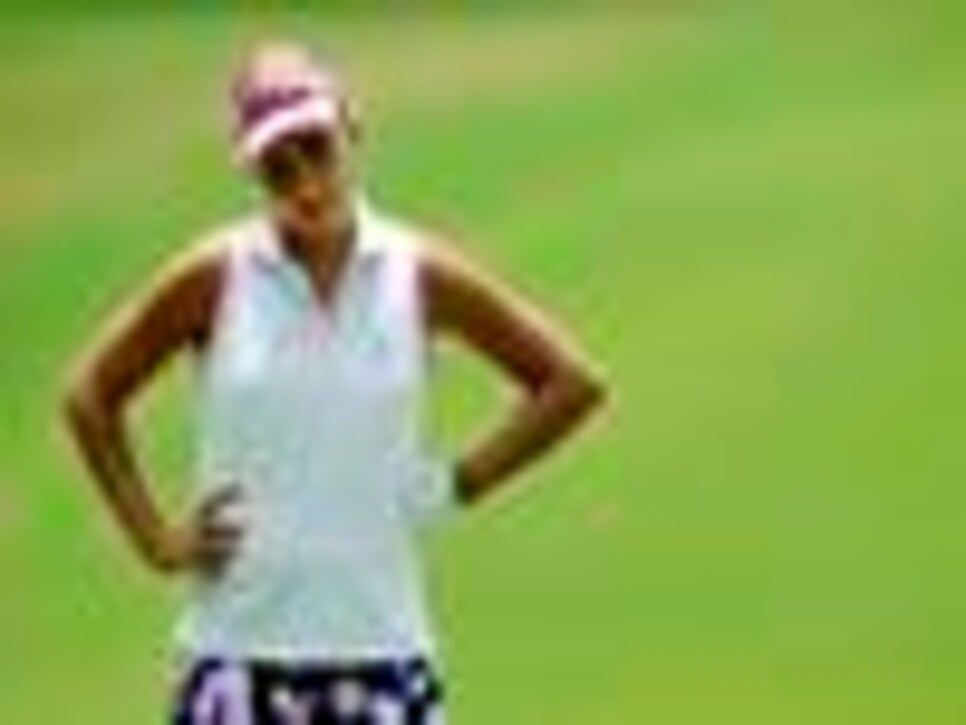 "I just couldn't get the speed control right," said Thompson, left, who had gone 33 straight holes without a bogey entering the day, only to make four bogeys and a double bogey during her quarterfinal match. "I don't know what was up with me."
Give credit to Jang, a 15-year-old from Korea who made five birdies on the day, taking a 4-up lead after the 10th hole. This despite the fact most of the hundred or so people in attendance were there to see Thompson, who first gained notoriety earlier this year by becoming the youngest to ever play in the U.S. Women's Open. "I just imagined nobody was around me," said Jang, herself a participant at Pine Needles this summer, "and I just played my own game."
Thompson's frustration with her play was evident for much of the afternoon, the preteen pounding her club into the ground from time to time and hanging head after failing to pull off shots that had come with ease for much of the week. "Once I got to [the par-4] 10th I plunked [the drive] in the water. I didn't even know that was possible on that hole," said the 12-year-old, who was finally looking like ... well a 12-year-old.
"I knew today I had to play really good to stay in the match," said Uribe, who was five under par through 14 holes with the usual match-play concessions. "The last matches I played really bad in the first nine holes. So I knew I needed to start playing good since the beginning.
"You know it was one of these days where you can win against everyone. It was amazing."
Birdies by Blumenherst on the ninth, 10th, 11th and 12th holes pushed her to an eventual 6-up lead. "Today I tried to play my own game," said Lee, who was routinely outdriven by Blumenherst by 50 yards. "She just played great. She putted great. There wasn't much I could do about it."
"I'm playing really well, and I have a lot of confidence in my game and my ability to play match play," noted Blumenherst, who prior to this year had actually struggled with the format. "It looks good."
"It felt like 50 yards," Kim joked afterward. "Like the whole way I thought it was too low, but then it went in, and I was like, thank God."
The highly superstitious Kim couldn't watch as Song hit several of her shots down the stretch, insisting that every time she saw Song's ball, it either got close to the hole or went in. Still, Kim never trailed by more than two holes the entire match.
"I think the hardest part is staying positive even when you're down," Kim said. "I'm not the type to stay positive, but like each year I've had a really good caddie, and they're ... I think that's what made the difference today and other matches."
Kim contends that despite being the person to walk off with the title a year ago, and now having won 10 straight matches in the oldest women's tournament in the world, she hasn't necessarily been considered a favorite this week to become the first repeat champion since __Kelli Kuehne__in 1995-96.
"I don't think people expected me to do as well, [go] as far as I've gotten so far," Kim said. "That's what I think."
Birdie:__ Duke coach Dan Brooks was planning to arrive Saturday morning to watch the semifinals but when he awoke Friday he decided watching the Blumenherst/Lee match was too important to miss. Fifty-five minutes before his flight, he called to reserve a seat, then faced to the Raleigh-Durham airport for his flight to Indianapolis. At the airport, he saw assistant coach Kalen Anderson get off the proceeding flight from Indy to RDU, where she gave Brooks her clubhouse badge and directions to the course. Brooks made it to Crooked Stick five minutes before the match's scheduled 1:20 p.m. tee time.