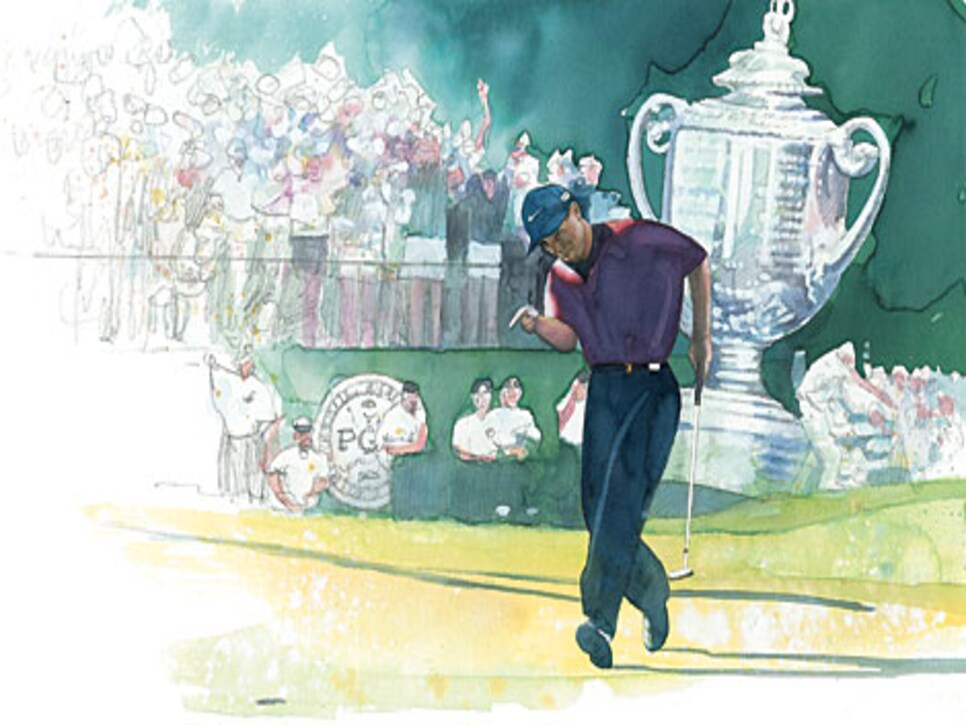 In board the U.S.S. Tiger Woods, somewhere near aba-lone corner— Just going for a dateline here that ranks with:
AUGUSTA—Jack Nicklaus, comma . . .
CARNOUSTIE—Ben Hogan, comma . . .
PHILADELPHIA—Bobby Jones, comma . . .
PLANET EARTH—Tiger Woods, the only aircraft carrier in golf . . .
Could stop right here. After the fog set in, it made you wish they'd crown Tiger the first 36-hole U.S. Open winner since Joe Lloyd in 1897. Could have. Tiger led by six at the halfway point, by 10 after 54 and then did the Secretariat thing in the final round to win by 15.
What it was, was epic. For golf's all-time moments, put it right there in the same company with Jones finishing the Slam at Merion in 1930, Hogan's Triple Crown in 1953, Palmer's comeback at Cherry Hills in 1960 and Nicklaus winning his sixth Masters in 1986. Tiger's Open blowout was even more impressive than his 12-stroke Masters victory in 1997, because it came on a tougher course. We were wondering then if he was a bomber who had a great putting week. Now we know he's the real deal.
At 24, Tiger bagged his sixth major, putting him one step ahead of Jack at the same age. Tiger's got one U.S. Open, one Masters, one PGA and three U.S. Amateurs (you count the Amateurs after a guy wins his first pro major), versus Jack's one Open, one Masters, one PGA and two Amateurs. For those who think that Jack's record of 20 majors is unbreakable, think again. Tiger's got a game like nobody else, ever. It's all up to whether he avoids injury and stays motivated.
In Jack's defense, he had to beat the likes of Palmer, Player, Trevino, Watson, Casper, Littler and Miller.
In other words, Jack had dogfights. Tiger just has dogs.
You just don't win a U.S. Open by 15 shots. Think about that for a minute. Imagine Tiger standing on the first tee Thursday and announcing to 155 pretenders, "OK, I'm giving everybody two a side. I'm making 21 birdies this week. What do you guys have in mind?"
Turns out that giving 16 pops would have been enough to hold off everybody but Miguel Angel Jimenez, who looks like the guy who says, "Your table is ready, Mr. Woods," and Ernie Els, who's won two U.S. Opens but had to settle for a tie with Jimenez for first in the consolation flight.
Tiger finished with rounds of 65-69-71-67—the low first round, the low second round, the second-best third round and the low fourth round—for a 272 total that tied the Open record, and his 12-under-par total, another record, would have been 16 under if Pebble's second hole hadn't been converted into a par 4.
By contrast, consider what happened to some of the game's so-called top players. There was an 84 by Jim Furyk, 83s by Hal Sutton and Darren Clarke, 82s by Greg Norman and Carlos Franco, 80s by Vijay Singh, Jesper Parnevik and Bernhard Langer, and 79s by Davis Love IIIand Colin Montgomerie. Monty, David Duval and Phil Mickelson are still looking for their first major. Nicklaus, playing in what could be his last U.S. Open, missed the cut at 73-82 but was still Low Immortal, and Bobby Clampett of CBS was Low Announcer at 14 over after opening with a 68.
It took some players all day to shoot an 83. John Daly did it in about 15 minutes when he made a 14 at 18 to finish his first—and only—round. It made Tiger's triple bogey at the third on Saturday look like Sarazen's double eagle.
People were saying the tournament was over after Tiger's opening 65, even before much of the field had a chance to stick a tee in the ground. Then the fog rolled in and delayed everything. Of course, it's not so bad to be trapped in the elegantly rustic area of Pebble Beach and Carmel for what first looked as if it might be a month. This is the quaint area where the banks look like ski chalets, the restaurants look like boutiques, the homes look like clubhouses, and the people all look like Poopoo and KiKi stepping out of their suede Cadillac.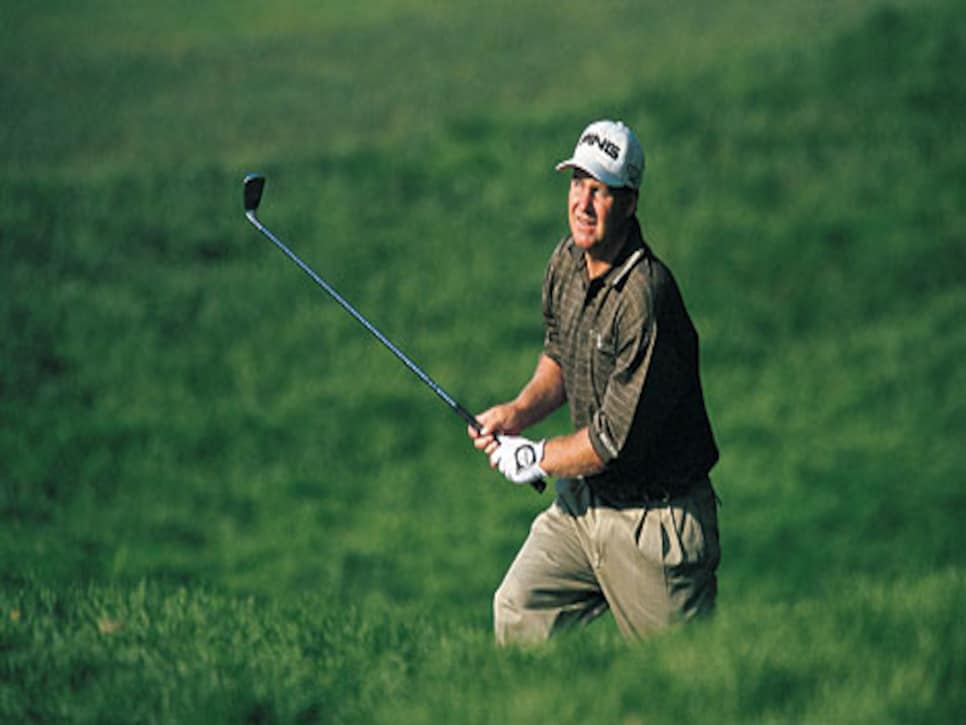 Waiting around, one thing to do was to give names to the golf holes at foggy Pebble Beach, like they have at the Augusta National. Hence:
No. 1: The Hound of the Bask-ervilles, No. 3:Jack the Ripper, No. 4:Lost on the Moors, Nos. 8, 9 and 10:Abalone Corner (time-honored), No. 13:Ceiling Zero, No. 14:Air Traffic Control, No. 18: Navy Bean Soup.
"June gloom" is what the locals call it around the neighborhood, knowing to expect the fog to roll in regularly at this time of year. So the opening round didn't end until Friday around noon, and Friday's second round didn't end until mid-morning Saturday. The part-score Open.
Shooting low scores at Pebble wasn't anything new to Tiger. In past Crosbys, as some of us still call it, he'd fired one 63 and two 64s. Still, since it occurred in a U.S. Open, the 65 could be filed away among his other super rounds on layouts that were once considered unscorchable—a 63 at Muirfield Village, a 64 at Colonial, a 62 at Torrey Pines, a 62 at Firestone, a couple of 64s at Bay Hill and a 64 at Troon.
After his two-day 69 in the second round, Tiger found himself holding an Open record for the largest halfway lead, by six strokes over the unlikely pack in pursuit. The previous record was five strokes, and it had been set by Willie Anderson at Baltusrol in 1903, which, it's safe to say, was a little ahead of the golf boom.
Tiger was eight under at this point, which itself tied another Open record, and the amazing thing was that he wasn't leading by more. Going out at dawn on Saturday to complete the last six holes of the second round, he bogeyed the two par 5s, 14 and 18, that he normally would be expected to birdie, and certainly to make no worse than 5s.
He got too greedy with a driver at the 18th when, quite unnecessarily, and far too riskily, he looked like he was trying to become the first man ever to drive the par 5 in one. Going for a big cut, he came over the top, and the ball headed straight for the rocks, waves, sea lions and abalone to his left.
He rallied for a bogey 6, and here was another defining moment for Tiger. Flirting with yet another possible disaster, he again launched a tee ball with the driver instead of hitting a steer-job long iron, but he laced this one down the fairway, then whammed a 238-yard second shot onto the green, a second shot that was actually his fourth since the USGA frowns on mulligans. In other words, he didn't let his satchel fly open—he made an overpowering bogey, as if to say, "Don't get your hopes up, gentlemen. I'm still the boss out here."
Unfortunately, that wasn't what an early-morning national TV audience heard him say back on the tee after his awkward drive soared out to sea. Tiger, angrily speaking to himself, stunned viewers by letting them know he was fluent in Elizabethan language.
Tiger went on TV a little later, before the start of his third round, to do damage control. He apologized to however many pious, thin-skinned Americans he may have offended for letting his emotions get the best of him.
Anyone but a PC busybody should have been willing to forgive him immediately. Like anybody who goes to movies these days, or watches cable, or has ever hit an annoying hook off the 18th tee of a golf course with something big at stake. One theory was that Tiger had a good excuse—he'd obviously been watching too many reruns of "The Sopranos." On the other hand, don't blame me if he's read some of my books.
When Tiger went out for his third round at 3:30 in the afternoon, having been up since 4 a.m., most observers thought his biggest challenge would be staying awake. He's long since run out of players in the game today who can put real heat on him, and those who keep thinking they're capable of it, those who presume to be marquee names today, were already so far out of this Open they should have been wearing spectator tickets.
There wasn't even a lurker near him, one of those journeyman tour regulars who give golf writers nightmares when they loiter near the lead in a major championship.
Tiger's big problem would be the course, which had suddenly become a different animal. A bright sun and tricky 30-mile wind replaced the June gloom. Tiger could anticipate some trouble and perhaps some bad breaks that so far had eluded him. Law of averages. But what other golfer in the world today, if not in all of history, could suffer a rotten-luck triple bogey, the result of a bad bounce, at one of Pebble's easiest holes, and still increase his lead?
Tiger had himself the kind of bumpy ride you normally have on a windy Pebble Beach, but it only gave him an opportunity to display his incredibly inventive skills, his composure and his determination.
He suffered the triple bogey at the third when his drive took a bad hop and found the rough, when his 7-iron approach carried just shy of the green and buried itself in Pebble's brutal rough; moreover in a spot where he would have to chop it out sideways. His first swing barely moved the ball, and his second just dribbled it. He then chipped poorly and two-putted for the 7.
But here came another defining moment. Walking back to his caddie, Steve Williams, Tiger grinned. Yeah. Triple bogey, grin.
Why did he grin? "I knew it was the result of a couple of bad breaks, that's all," he explained later.
There were other defining moments, as Tiger played three under on the other 17 holes for a 71, second only to Els' 68.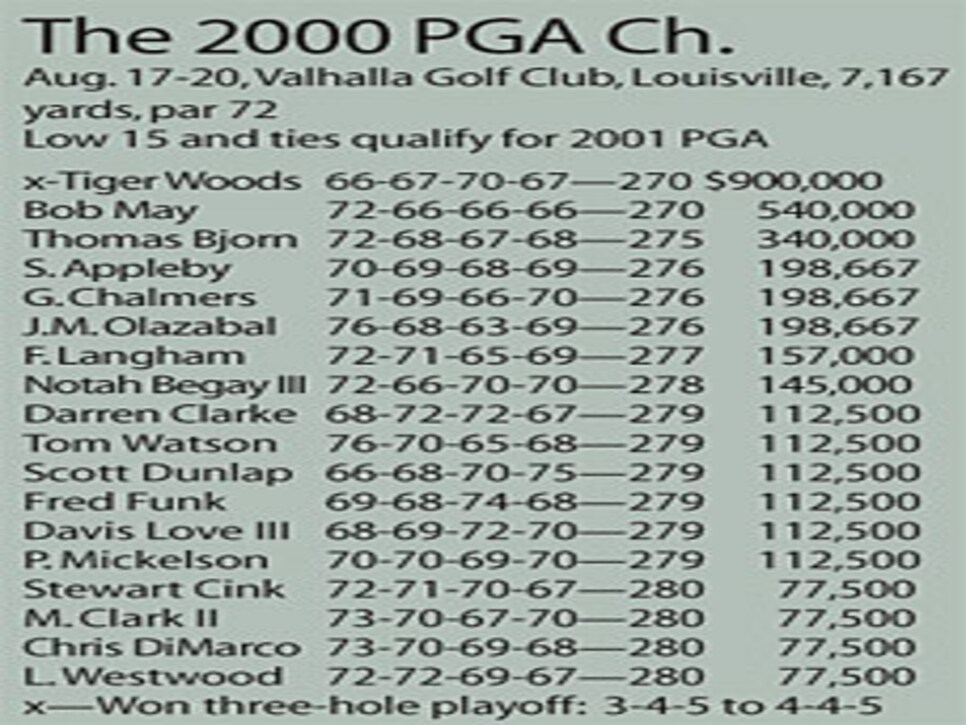 Tiger, who also outdresses everyone in his tasteful attire, did other things that nobody else can do. Only Tiger could have hit the 60-yard slash-gouge pitch he hit out of the rough at the sixth. One foot in a deep bunker, the other foot on a ledge. Pick the wedge straight up and swing it semi-backward, turning a potential disaster into a birdie.
Nor can any other mortal do what he did at the 573-yard 14th. Strap a 315-yard, no-roll drive into the heart of the fairway, then pure a 2-iron up an alley and onto the green for a two-putt birdie.
All his defining moments for the long day gave him a 10-stroke lead, another Open record.
With nothing left for Tiger to do on Sunday but dally with records, it was time to congratulate Pebble Beach for an Open in which the greatest current player in the game won it, as Nicklaus had in '72, as Tom Watson had in '82.
Tiger went out on Sunday and first played fairways and greens to make sure he didn't do anything stupid and let somebody out of the box. Before this most remarkable of performances was over, he wound up firing the 67, which enabled him to smash numerous other hallowed records. "A perfect round of golf," as Els put it.
Tiger even eclipsed the most unreachable record of all, the 13 strokes by which Old Tom Morris had won the 1862 British Open. Biggest winning margin in any major, even though Old Tom had done it at only 36 holes on a 12-hole golf course, and all in one day.
Tiger whipped his peers so badly—nobody else broke 287 against his 272, for goodness' sake—he may as well have been competing against the same seven drunks in tweed coats that Old Tom handled.
Speaking of British Opens, Tiger immediately started focusing on St. Andrews, needing only the claret jug to fill out a career Grand Slam fivesome with Nicklaus, Player, Hogan and Sarazen. But they might make him use the gutta percha.
In the end at Pebble, Tiger gave his putter the most credit, but he led the field in driving distance (299.3 yards), and greens hit in regulation (70.8 percent). The rest of the field was totally humiliated—or should have been—and in case you're wondering what Ben Hogan would have thought about it all, I can promise you this: Ben would have been in absolute awe, for he would have seen Tiger Woods hit a variety of shots that he could never have imagined.