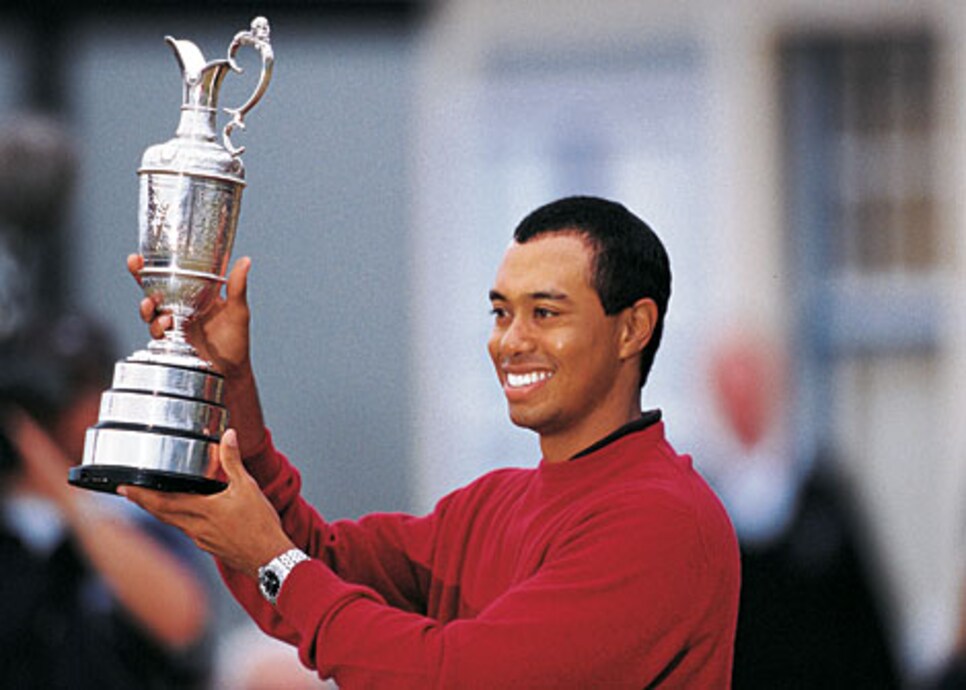 Tiger Woods provided a lot of memories from the British Open at St. Andrews—like the variety of ways in which he turned the Old Course into a plate of mince, neeps and tatties—but a classic remark of his, uttered in the heat of battle, lives on.
There was this moment in Saturday's third round when he was at the 14th hole, the 581-yard par 5, building a six-shot lead through 54 holes, going for his fifth birdie in seven holes, intent on letting everybody know they'd better stop jacking with him on the leader boards.
What he did was, he lashed a 3-wood shot with full force, a shot he hoped would reach the green in two and give him an eagle putt and surely a two-putt birdie. It was only an instant after he swung that you knew by his expression that he liked it. Knew he'd clubfaced it, stung it.
You had to imagine that Steve Williams, his caddie, had just said something to him on the order of "show me that 290-yard, 3-wood draw of yours." And that's when Tiger, knowing he'd pured it, with the ball only halfway home, knifing through the air, casually said to Steve:
"That the one you're talking about?"
Not cocky, just confident. The most self-assured player in the game. Another defining moment in the life of the game's greatest golfer. Then, of course, he goes out in Sunday's final round and more or less hits the same shot again at the 14th, one of the many controlled shots he hit to shower the premises with almost as many records as there were people, which was a record in itself. More than 230,000 attended this Open during the week, and another curious record is that five of them decided to shed their clothes, hop over the ropes and run around the golf course naked before being led away by the local constabulary—the five-streaker Open.
If you want to compare Tiger Woods with Jack Nicklaus, consider his accomplishments with those of Jack at the same age of 24: Tiger now has seven majors. Jack had five. Tiger has 21 PGA Tour victories. Jack had 12. Tiger has 27 world victories. Jack had 15. Tiger has $17 million in career prize money. Jack had $275,000. Heck, Tiger's caddie even made $700,000 last year, which would have put him in the top
60 money-winners if he'd bothered to take a divot somewhere.
You want to hear about birdies and bogeys, go somewhere else. When it seemed a lock that the guy who's surely the most famous athlete in the world today was going to win this British Open, something took place that you'd normally expect to happen around Buckingham Palace. Tiger's handlers and some officials of the RA planned for the coronation.
A mole supplied me with a peek at the schedule. Which was:
6:45—Tiger records his score. 6:57—Tiger supplies quick quotes for pool reporter. 7:00—Tiger grants two-minute interviews to ABC, BBC and Radio 5. 7:06—Prize giving. 7:12—Tiger does photo ops at prize table. 7:20 to 8:00—Tiger does mass interview in press tent. 8:10—Tiger attends champagne reception in RA Committee Tent. 8:30—Tiger grants three-minute interview to ESPN, CNN and maybe somebody else.
Not included: Tiger goes out to look for bodies that were pushed into the Swilcan Burn as he marched up the final fairway. Some, like David Duval, who was last seen taking four shots to get out of the Road Bunker, have still not been recovered.
For several days before the 2000 British Open began there was nothing but talk in the periodicals about Tiger Woods completing the career Grand Slam. Joining Jack Nicklaus, Ben Hogan, Gary Player and Gene Sarazen, the only ones who'd done it, and doing it at a younger age. As everyone on the globe was aware—everyone, perhaps, except a tourist who missed the last bus out of the Congo—Tiger had already collected a Masters, PGA, and U.S. Open in his still-brief pro life.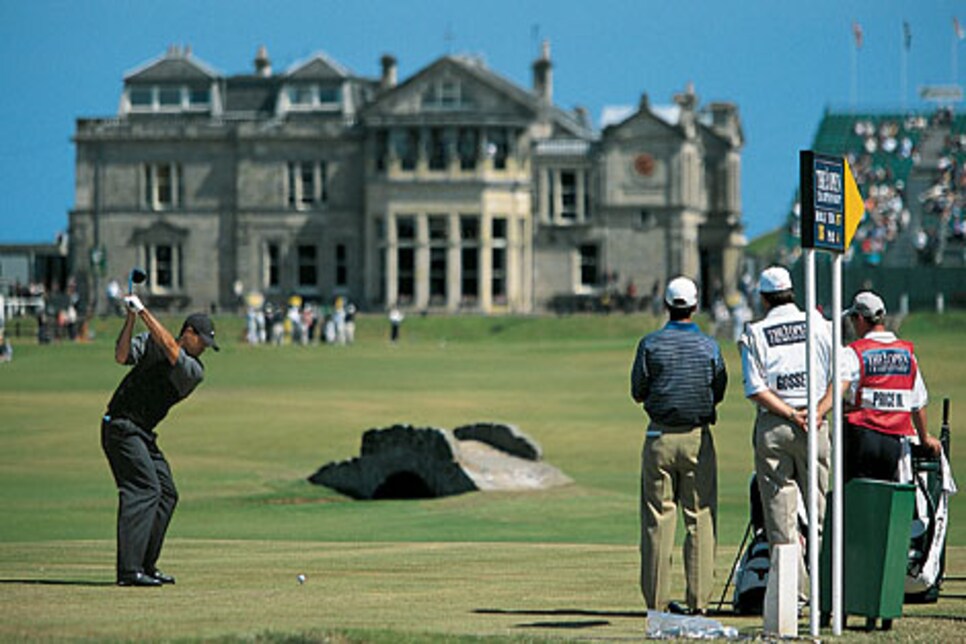 But the discussion was all wrong. Enter the D.H., your friendly neighborhood Designated Historian.
Walter Hagen, Tommy Armour and Jim Barnes did the pro slam long before any of those other immortals. Given the fact that the Western Open was inarguably a major before the Masters came along, and even continued to be regarded as a major for a few years after that by the equipment and apparel folk, who gave bonuses for winning it, the accomplishments of Hagen, Armour and Barnes must be counted, please.
When Hagen won the 1922 British Open at Sandwich, he completed the professional Slam, for he had already captured the 1914 and 1919 U.S. Opens, the 1916 Western, and the 1921 PGA. Of course, nobody thought to credit The Haig with such a feat back then. Same for Armour, who won the 1927 U.S. Open, 1929 Western, 1930 PGA and 1931 British Open. And Long Jim Barnes completed it after he won the British Open at Prestwick in 1925. He had already taken the Western Opens of 1914, 1917, and 1919 as well as the first two PGAs in 1916 and 1919, and the U. S. Open of 1921. Seven majors, yet he must be the most obscure golf immortal ever with today's audience.
Speaking of immortals, Jack Nicklaus was probably playing his last British Open at St. Andrews this July, and received standing ovations each time he strode up a fairway and walked onto a green for the 36 holes he played.
In a moving moment on Friday, he paused atop the Swilcan Bridge on the 18th to wave goodbye to what seemed like the town's entire population.
Jack did play in that four-hole pre-tournament event earlier on Wednesday for the past champions. There are 27 living past holders of the claret jug, and 22 of them showed up, including 88-year-old Sam Snead, who still has his sense of the humor. Never a big fan of courses on the olde sod, Sam glanced at the moonscape of St. Andrews and said the same thing he'd said on his last visit, when he won in '46.
"This looks like a place where there used to be a golf course," he grinned.
The Champions Challenge also saw Ian Baker-Finch, the '91 winner at Birkdale, set some kind of record when his drive from the first hole soared O.B. to the right over the huge grandstand, taking dead aim on the North Sea. It was back in the '95 Open at St. Andrews that he had hooked it out-of-bounds to the left, into the intersection of the Links Road and Granny Clark's Wynd. Thus, he became the first man ever to hit his drive out-of-bounds on both sides of the widest fairway in all of golf.
Intolerably absent from that nostalgic shindig, by the way, was Arnold Palmer. What, he had a more important endorsement meeting?
The Open started amid stupid weather. That's what people who'd been in Scotland for a few days called it. Sunny and warm again. The way it had been for days and would continue to be almost throughout the tournament. Cashmere dealers out of business. Shirtless spectators sprawled on the ground and picnicking in the grandstands. No wonder there were so many streakers.
With the hard and slick-shaved fairways and the lack of any true wind, St. Andrews was disarmed, and more than 50 guys pounced on it to break par of 72 in the first round. There were three or four par-4 holes that could be driven from the tee, and something like 14 holes in all where the second shot was no more than 100 yards.
The only reason nobody shot lower than Ernie Els' leading 66 is because it was a major, after all. Tiger's 67 was so effortless it was almost laughable. He played the first eight holes in even par when all the Notah Begays in town seemed to be shooting them in four under, but he looked unconcerned.
As he said later: "Any time I can par the first eight holes in a major, I won't complain."
Naturally not. He knew he would eventually grab some birdies, and most likely hit one of those shots no other human can hit, and, all in all, finish in the lead or near the lead on a course where par is 68 for him.
Every day was completely his, regardless of what anyone might do before he played or after he finished. In the first two rounds of any British Open, they play golf for 15 hours, from 7 a.m. till almost 10 p.m. Els didn't finish his first round until Tiger had been done for five hours and most civilized people were having dinner.
In all those 15 hours, though, there was only one shot worth remembering—the 60-degree wedge Tiger hit at the 17th, the Road Hole, the world's toughest par 4. After pulling his drive deep in the vegetation left of the fairway, Tiger launched a shot to the front of the green that he alone can hit. A slashing iron that lifted the ball out of the knee-deep brush and moved it 160 yards. It was a swing so violent, he wound up on only one leg, and stumbling.
"A shot like that," he explained, "you have to open the face wide open and hold on tight and get your right hand into it as much as your left. It's not the lie that can stop the clubhead, it's the grass that can stop the shaft."
As amazing as anything was that Tiger had laughed and done a high-five with his caddie even before he hit the shot.
Were they celebrating the discovery of a decent lie? "No, we were just telling jokes," Tiger related.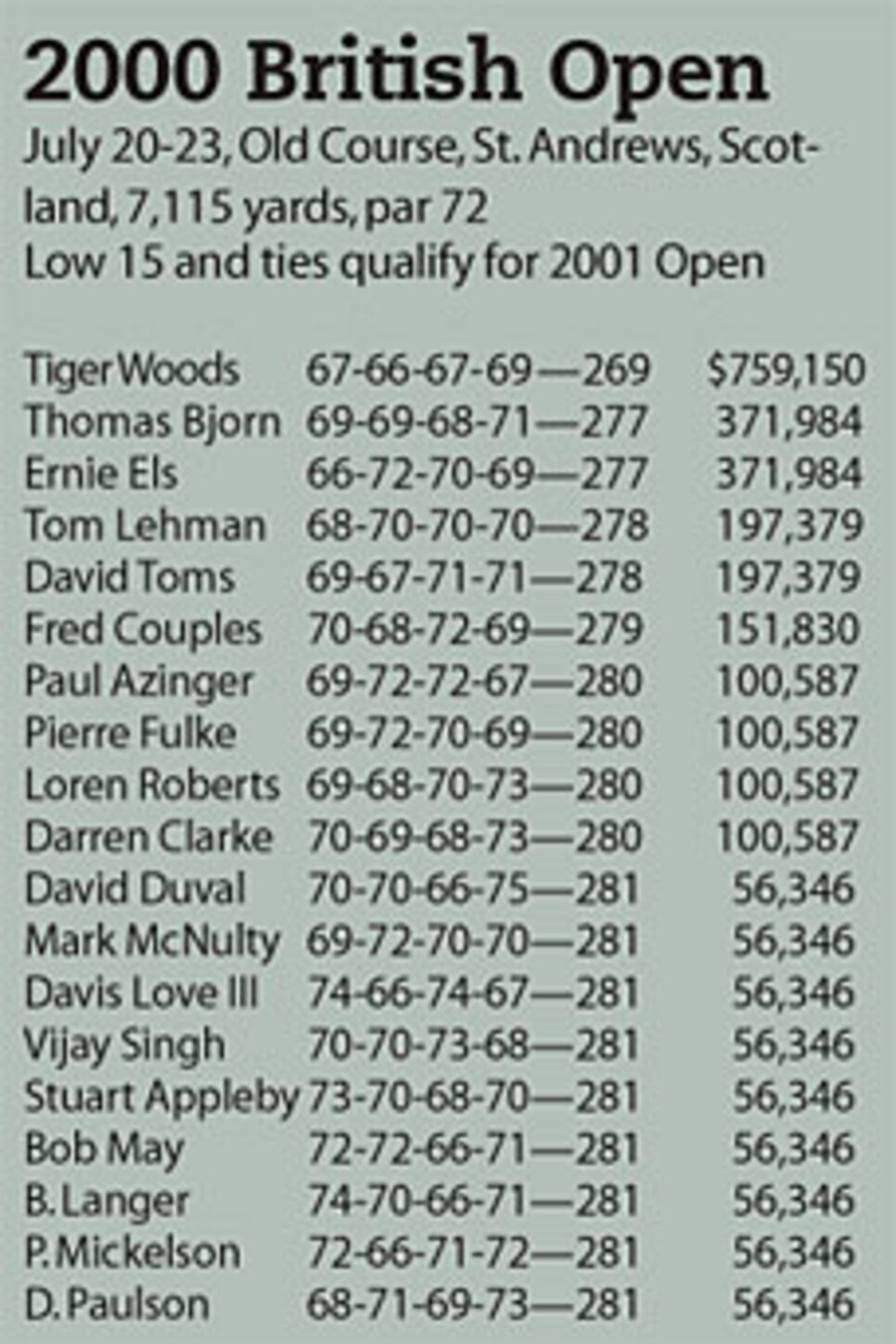 Probably laughing about the usual Designated Lurkers that would contaminate the leader board. Or the Hagen, Armour and Barnes thing.
Actually, there was another memorable shot, provided by Notah Begay in the course of making a triple at the 17th. He went into the hole seven under and leading the Open, but he almost didn't finish it. His drive put him in the same high rough that Tiger found. Begay's first wedge went only 20 feet and was still in the weeds. His second wedge then shot so far to the left and beyond the green that it wound up in a bend of the Swilcan Burn that nobody even knew existed. It was as if he was trying to reach the Frenchman's creek at Carnoustie but didn't have enough club. He then climbed down into the burn and splashed the ball out, back onto the golf course, and took three more from there. A rare thing indeed to see someone hitting out of the narrow burn, a feat that naturally earned Begay this headline in one of the tabloids the next day: "The have-a-go Navajo." Of course, he never would have climbed into the hazard if he'd known "Swilcan" is Scottish for "sewage." In any case, his tournament more or less ended there, after he, well, more or less "Van de Velded it" at the Road Hole.
After playing himself into the championship on Friday, at least for a while, Fred Couples uttered one of the best quotes of his relatively quoteless career when he said: "I'm playing as well as I've ever played, except for the years I played better."
But Tiger's 66, a score that nobody would better all week, looked even more effortless than his first-round 67. On a course where he can normally expect to have four putts for eagles, two on par 5s and two on drivable par 4s, he made only one unwise decision during his six-under round. Again, it came at the 17th. He went for the flag with a high short iron after a perfect drive, and the ball raced across the hard putting surface and down the slope and might have been expected to wind up on the tarmac or up against the old stone wall. But no. The ball came to rest on a narrow clump of grass. He then jammed a pitch into the protective bank beyond the pin, then put the 10-foot par putt right in the throat. Thus, he turned a possible tragedy into another ho-hum 4 on the card.
Tiger's third-round 67 was sort of terrifying from the standpoint of what it could have been. Like a 63. After all, he three-putted a trio of greens and failed to birdie the gimme-birdie fifth.
His pursuers shouldn't have made him mad, is what it came down to, by creeping up on him on the leader board at one point. And nothing makes Tiger turn up the volume more than suffering some slight form of disappointment, like his three-putt at the second hole, stumbling to his first bogey in a major in 64 holes, going all the way back to the 10th at Pebble Beach in the third round of the U.S. Open. Stunned at this lapse, Tiger then played the remaining 16 holes in six under, and in a strategic seven-hole stretch, from the eighth through the 14th, he ripped off a mere five birdies.
Also, you have to marvel at how he talks about details. "I'm rolling my putts really well," he said. OK, but don't everybody's putts roll?
"I mean, mine really hug the ground," he elaborated.
There were those who tried to make a run at Tiger in the last round, but they were only kidding themselves. Woods was content to play defensively for a while, then, on the way to his closing 69 and the incredible 19-under total of 269, he slammed in the birdies at 10, 12, and 14 that removed any doubt.
The whole thing actually ended in a comedy with David Duval, his main challenger during most of the day, floundering to an 8 at the Road Hole, and Ernie Els, the Big Easy, becoming this year's Official Runner-up. Three majors, three seconds—surely another record.
Tiger only dropped three shots to par all week, largely by avoiding every one of those treacherous pot bunkers that are named after obscure old Scots or their body parts and are strewn across the links. Tiger's 19-under-par total has never been matched by anyone in any major. And he won by eight strokes—only Young Tom Morris and Old Tom Morris have won an Open by more, back in the days when mince, neeps and tatties were popular.
That means also he now holds the scoring records in three majors: 18 under at the Masters (winning by a record 12 strokes), 12 under in the U.S. Open (winning by a record 15 strokes), and that slam dunk he just made in the British Open.
There's nothing anyone can do about Tiger Woods but look at his game and swoon. You can't name a player today who does any one thing better than Tiger. OK, Jose Maria Olazabal might be better out of bunkers, but it's doubtful, and Phil Mickelson might have a better flop shot, but it's doubtful. Besides that, it's nitpicking. In any other aspect of the game, he's so dominant it's falling-down funny. He gets up in the morning and outdresses everyone, then it's a clean sweep from there.