Golf Style
The Week In Style: 01.13.15
What worked -- and what didn't -- this week on tour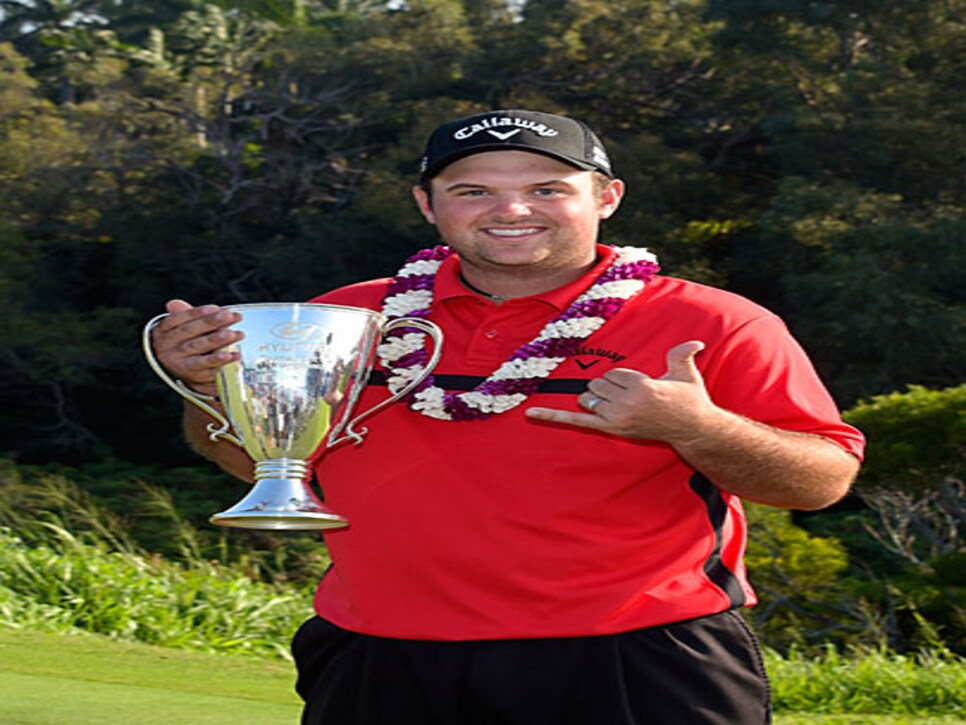 Patrick Reed
A hole-out for eagle on the 16th Monday helped Reed claim the Hyundai Tournament of Champions title at Kapalua. Final-round red has become his signature, and with four PGA Tour wins before his 25th birthday I don't imagine he'll change that anytime soon.
Callaway Apparel
Camilo Villegas
The first few kits from Villegas' new apparel sponsor, AG Green Label, looked super strong. Camilo cued up simple, stylish gear all weekend at Kapalua, with Friday's look -- basic blues with an athletic chest stripe -- being our favorite. That said, a darker shoe would've smoothed things out. His navy chino and sneaker-style adidas spikes look a little Normcore to me.AG Green Label
adidas
Hunter Mahan
Mahan picked up where he left off in 2014 in Under Armour's digital melange polo. Just like micro patterns, a trend we're feeling for 2015, these melange wear like solids but add an interesting dimension to your duds. The simple upgrade from UA's standard solid polo goes a long way.
Under Armour
Ryan Moore
Moore could be a darkhorse for best-dressed tour pro in 2015. He's been killin' it over the last few months and doesn't appear to be slowing down. The color block will continue to trend this year, and this tonal iteration Moore wore Friday softens the contrast and takes the trend to the next level.
True Linkswear
Ernie Els
The Big Easy's look at last weekend's South African Open appeared about as lifeless as his headcover. Come on, Ernie! If you swap out the khakis for a navy or gray trouser, the whole kit would feel darker, dressier and a little more appropriate for the multiple major champ.
Billy Horschel
Talk about dark and dressy. You'd be hard pressed to find a better example than Horschel's Kapalua kit. The single-color setup and super-fresh FJ shield tips feel equal parts 1920s black tie and 2015 technical tour performance.
RLX-Ralph Lauren
FootJoy
Seung-Yul Noh
Noh dialed up the right amount of detail during his first round of 2015 with this sweet Nike setup. Anytime you're going to hook up identical connections in your outfit, remember to keep things super subtle. I love how Noh's sleeve bands are the only accents that sync with his matte-gray belt and trousers.
Nike Golf
Matt Kuchar
If you're still struggling with the move to flat-front pants, consider this. On the left is Kooch on the fourth hole at Kapalua on Saturday with flat-front trousers. On the right, Kooch on the fourth hole at Kapalua on Sunday with pleated trousers. Less fabric = more style. The prosecution rests.
skechers
Sang-Moon Bae
Set against the backdrop of Kapalua's breathtaking panoramic views, Bae's fire-engine red polo and optic white trouser was one of the standout styles of the weekend. Bae also demonstrated the only right way to wear white by keeping his strap in sync with his trouser and creating a seamless transition from head-to-toe.
Original Penguin
Charley Hoffman
Hoffman has been wearing these dressier-looking, dark gray trousers for the last few months and they really give his whole look a sharper, cleaner feel. I'm also diggin' the matte-green belt. On or off the course, the goal is to keep your hat, belt or shoe from matching identically to some other piece of your get-up but to keep everything in a similar tone. Hoffman's got this move down pat.
Jimmy Walker
This was a pretty adventurous approach from Walker during Sunday's third round in Hawaii. I love the pants, but wish he went with a softer shade on top as opposed to the full on whitewash.
iliac Golf
Matthew Fitzpatrick
The 20-year-old former U.S. Amateur champ still looks like he could get lost in his own clothes, and it's probably because the super slim dude has a difficult time fitting into standard-size gear right off the rack. If you're on the slender side, it always helps to shop for styles labeled slim fit. And if you've still got this much billow in your britches, take 'em to a tailor and have them slim the leg, seat and thigh. You will look, feel and almost certainly play better.
Under Armour
Bubba Watson
This is what we hope to see more of in 2015 -- Bubba in bright and bold, high contrast, colorful looks! This feels a whole lot more connected to his personality than some of the dustier, drab looks.
Oakley
Richard Mille