The Week In Style: 09.03.14
Mr. Style's weekly look at what people are wearing on and off the golf course. Want his take on your look? Submit your style to @GolfDigestMag on Twitter using #HeyMrStyle.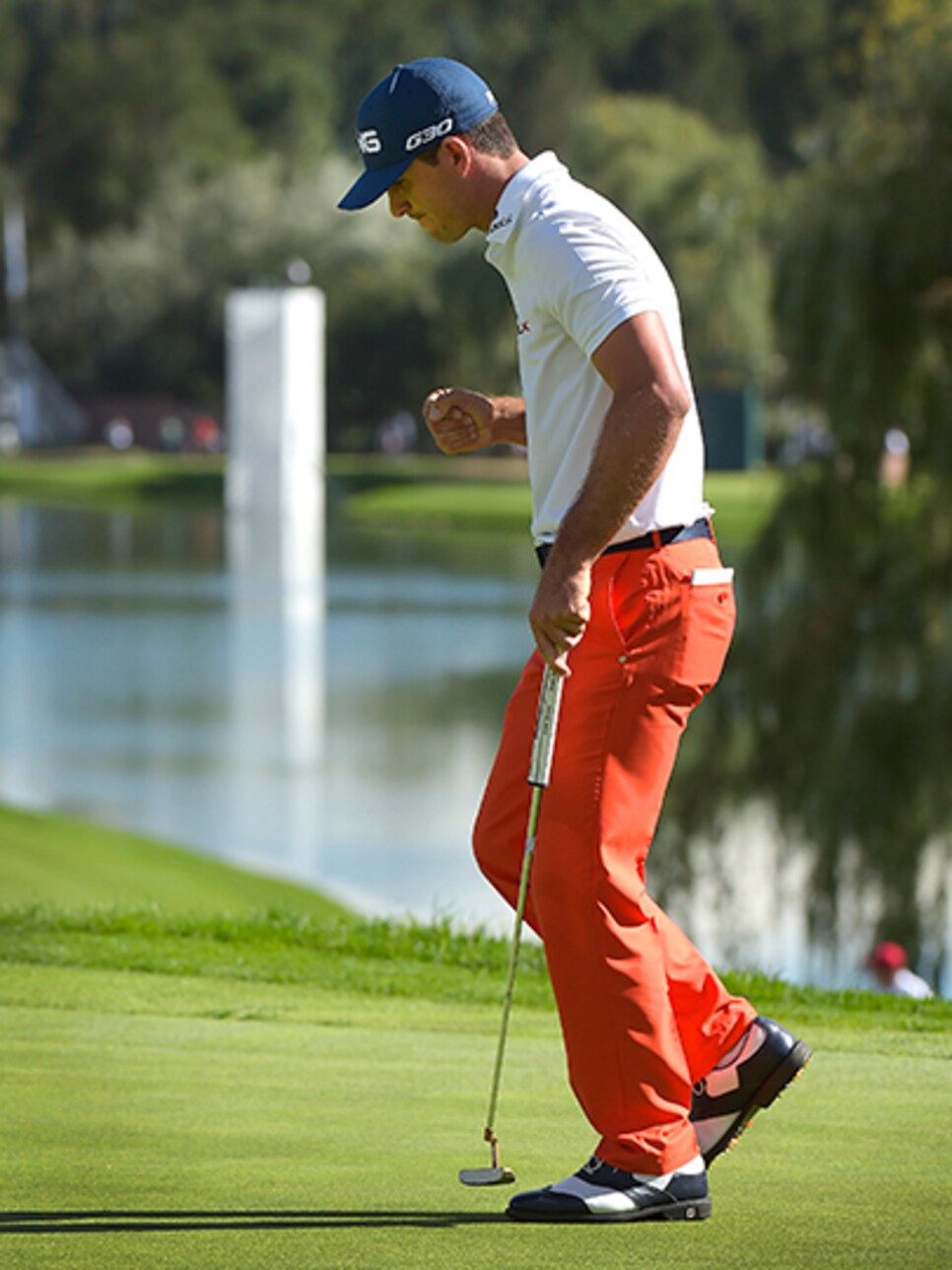 Billy Horschel
Wow, he did it! He wore the red pants. Oh, and he won too. If you're looking for someone who dresses to his personality, just do a Google image search of Horschel. It's a good lesson for everyone -- stay in your comfort zone.
RLX Ralph Lauren Golf
FootJoy
Photo By: Getty Images
Adam Scott
It's almost impossible to find an image of Scott where he doesn't look like a million bucks. This two-tone color-blocked shirt might be very quiet, but it carries a confidence and elegance about it. This fits Adam's personality very well.
Uniqlo
FootJoy
Photo By: Getty Images
Morgan Hoffmann
Hoffmann just squeaked in to the Barclays, advanced to the Deutsche Bank and then made a serious statement at the BMW. Now he's heading to Atlanta for the Tour Championship sitting 21st on the FedEx Cup points list. I believe this is called stepping up your game. As for his RLX camo shirt, well that too is a strong -- not to mention a stylish -- statement.
RLX Ralph Lauren Golf
FootJoy
Photo By: Getty Images
Rickie Fowler & Sergio Garcia
Interesting composition here. Notice how Sergio (adidas) and Rickie (Puma) are matching their belt to their shirt. Pretty effective technique that looks really good as it blends rather than contrasts.
adidas Golf
PUMA Golf
Photo By: Getty Images
Seung Yul-Noh
It's a good thing Seung wasn't paired with Morgan Hoffmann with those snazzy looking camouflage trousers. As you can see, it's tricky to pick the right shirt to make the combination work. But selecting something with those see-me-neon-yellow details is up-to-date and looks pretty cool.
Nike Golf
Photo By: Getty Images
Ryan Palmer
Wait, is that Fred Astaire or Ryan Palmer? He looks pretty smooth either way. Palmer quietly goes about making a stylish statement on an ongoing basis.
Ashworth
FootJoy
Photo By: Getty Images
Hideki Matsuyama
This is a great piece of active sportswear from Srixon. That neon trim gives it a detail to authenticate the sporty look, while the trucker hat and patches give it a racing feel.
Srixon Apparel
Photo By: Getty Images
Graham DeLaet
I think Graham's going to be one of our poster boys for style in 2015. He looks great in this Puma outfit. It's bold and conservative at the same time, and that contrast placket is right on the trend curve.
PUMA Golf
Photo By: Getty Images
Zach Johnson
Speaking of trend curves, this is a very modern look on Johnson. It fits beautifully, while color-coordinating the black belt and pants has a slimming effect. It also helps make that Oakley logo pop.
Oakley Apparel
FootJoy
Photo By: Getty Images
Graeme McDowell
We've been looking for a better image of G-Mac's purple trousers, which make a serious style statement. He's high up on the style leader board with this Kartel ensemble.
G-Mac by Kartel
Photo By: Getty Images
Martin Kaymer
Nice racing stripe, and notice how everything is perfectly aligned. Kaymer has his own distinctive style andalwayslooks great.
BOSS Green
Photo By: Getty Images
Will MacKenzie
It looks like not only MacKenzie's swing, but his clothing selection, is totally in sync (I wish I could do that).
PUMA Golf
Photo By: Getty Images
Gary Woodland
Don't you just love this shirt? I'm pleasantly surprised to see this is an Under Armour shirt, and the self collar (using the same fabric in the collar as the body of the shirt), really makes this look very fashionable. That's right, I just used fashionable and Under Armour in the same sentence.
Under Armour Men's Golf
Photo By: Getty Images
John Elway
Looks like the old guy can still bring it. Might be a bit too much weight on the back foot. Oh wait, I'm supposed to talk about how he's dressed. Pretty good, perfect fit, and he's in great shape. John Lynch standing behind him looks pretty good too.
Photo By: Getty Images
Miss Chiquita
Miss Chiquita at the Web.com Chiquita Classic . . . C'mon, let's have a little fun!
Photo By: Getty Images
Adam Hadwin
We'll be seeing a lot more of Hadwin in 2015, who earned a PGA Tour card with his play this year on the Web.com Tour, and that's a good thing. Looking pretty sharp in that neon Callaway shirt.
Callaway Apparel
Photo By: Getty Images
John Peterson
Mr. Peterson takes a page out of the Billy Horschel style guide.
Photo By: Getty Images
Jackie Flynn
There's a saying: never be funnier than your pants. That certainly applies to Jackie Flynn at the Emmy's Golf Classic. And I'm not sure there's anyone funnier than Jackie Flynn.
Photo By: Getty Images
Kathryn Newton
Here's a great example of how picking one item can make your whole outfit come to life. Case in point, these great shoes!
Photo By: Getty Images
Ron Perlman
I think Perlman might be one of the few people who can get away with wearing his shirt over his trousers. I don't think he'll be able to get away with this at Trump Westchester during the Screen Actors Guild event that he is chairing at the end of the month.
Photo By: Getty Images