The Week In Style: 07.09.14
Mr. Style's weekly look at what people are wearing on and off the golf course. Want his take on your look? Submit your style to @GolfDigestMag on Twitter using #HeyMrStyle.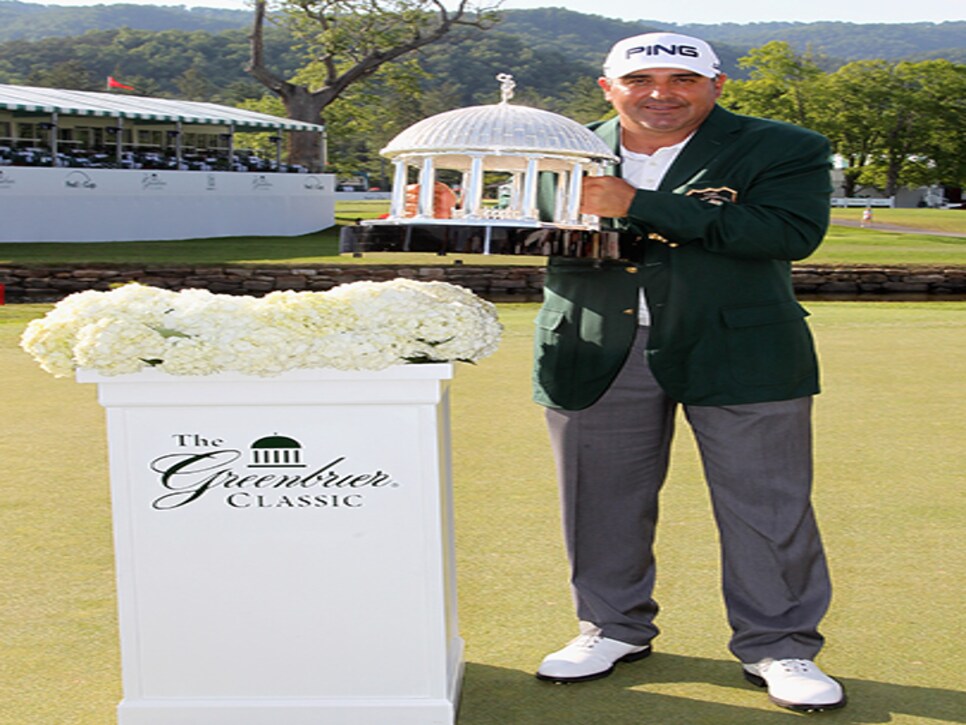 Angel Cabrera
Fantastic performance by a fantastic competitor. We know it's at the end of a long, successful day, but it would certainly be more on trend if we could get those trousers shortened a wee bit.
Roger Sloan
Here's the winning style and player from the Web.com Nova Scotia Open. Love the quiet green-on-green stripes.
Kevin Chappell
It's glad to have you back, Chap, and naturally you're right on trend with the engineered stripes. But we know you're always on trend.
Nike Golf
Adam Hadwin
This is a really cool shirt from Callaway. It's apparent the Ishikawa influence is being taken to heart by the company as we're seeing more Western players sporting the brand.
Callaway Apparel
Camilo Villegas
This is starting to turn into an old-school reunion. Here's another one of our style influencers and poster boys for J. Lindeberg, looking pretty snappy in this white rig with the collar turned up.
J. Lindeberg Golf
Kevin Na
In case you haven't noticed, week in and week out, Kevin Na always dresses with confidence and flair. And take note of those FootJoy DryJoys casual. They're becoming very visible on the PGA Tour. Players tell us it's a super comfortable shoe with a nice, level bottom for support. The level bottom is a trend that's gaining momentum.
FootJoy
Chris Kirk
Talk about being in shape. This is a great looking outfit from Travis Mathew, and the shoes look like the new Tour Elites from Kikkor.
Travis Mathew Golf
Kikkor Shoes
Brendan Steele
Dunning's found a marvelous ambassador (and mannequin) for their performance golf brand in Steele.
Dunning Golf
Luke Guthrie
We know red, white and blue was a theme this July 4th weekend, but Luke, you should keep wearing these Boss Green red trousers. It's a bold statement that you pull off very well, and the strong colors really shine.
BOSS Green
Daniel Chopra
Daniel Chopra always goes to the top of our style leader board. The Swede had a U.S. patriotic bent to his outfit this week. When in Rome . . .
Morgan Pressel
Morgan Pressel, go to the head of the class right now. These Superga shoes are so cool!
Superga
Golfballed.com
Speaking of great looks, start checking out the T-shirts that some of the golf lines are introducing. This 2013 Travis Mathew shirt design, instagrammed by the guys at Golfballed.com, is a great take on an old classic.
Travis Mathew Golf
Billy Hurley III & Michael Tate
Hurley, that was a well-played week to earn a spot in the British Open. And it earned a visit from the elegant R&A's Michael Tate, who is cutting a dashing figure in that beautiful double-breasted blazer. Well done to you both!
Kay Cockerill & Chef Ray Bear
Of course you're having lobsters in Nova Scotia, we're all jealous. They almost look as good as that belt Kay is rocking!