The Week In Style: 05.21.14
Mr. Style's weekly look at what people are wearing on and off the golf course. Want his take on your look? Submit your style to @GolfDigestMag on Twitter using #HeyMrStyle.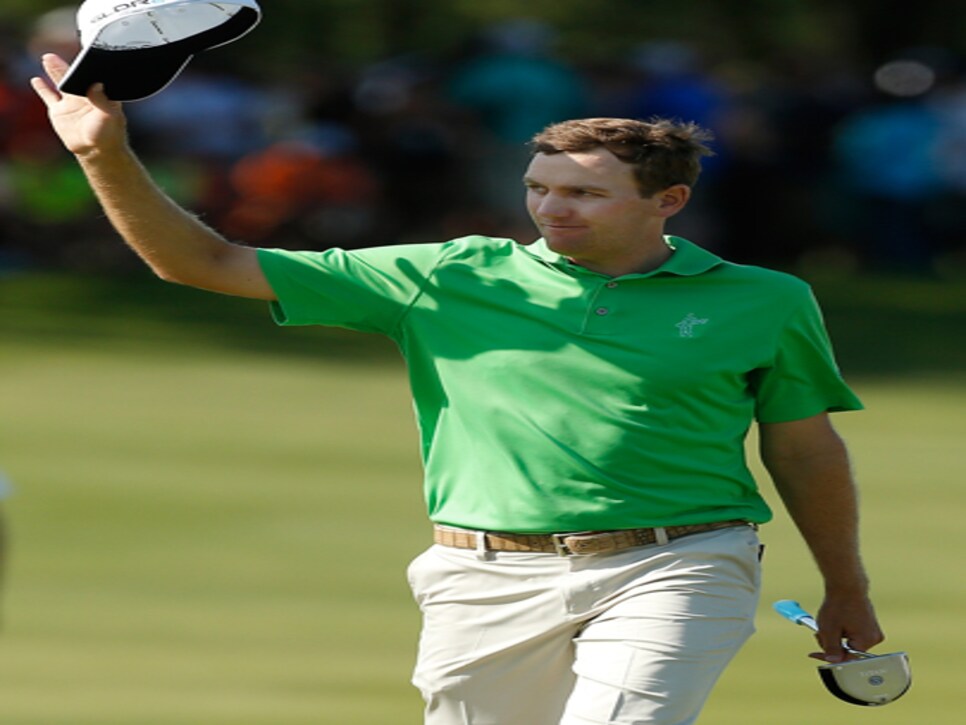 Brendon Todd
It's great to see some new, talented players winning on tour. Especially those who dress so well. We love the green Ashworth shirt, and that sure looks like a House of Fleming belt to us.
Graham DeLaet
Graham, what's the deal? Are you matching your socks to your putter grip AND wristband?
Morgan Hoffmann
Someone at Ralph Lauren was pretty smart to sign Morgan to wear RLX. Bright, clean and modern. We think the black belt with the black shirt was a good move to help balance the yellow, and we'll even excuse the contrasting orange belt because it's a nod to his Oklahoma State loyalty. And we love those FootJoy shoes.
Martin Kaymer
Take a careful look at the fit on Kaymer' BOSS trousers. They're cut trim, which helps give Martin a seriously athletic look.
Peggy Nelson
Peggy Nelson looks fantastic! And she's still got the style. Love those patterns!
Paul Casey
Seems to me that Casey's dressing a bit more like the cars he likes to drive: fast, sleek and neat, right down to that simple, elegant belt buckle.
Ryo Ishikawa
Each week we try to avoid including Ryo, and every week he raises the bar. When you talk about a total look, all you need is one photograph of Ishikawa. Even at midnight in front of the refrigerator, I bet this guy looks great.
Keegan Bradley
I think Keegan's Hilfiger shirt is an interesting one. It continues in the all-American red, white and blue theme that's becoming his signature, and the vertical engineered stripes are right on trend.
Ryuji Imada
It's great to see a familiar face making his Week in Style debut. We're happy to see Ryuji's fashion statements on tour again.
D.A. Points
The LEGO belt is back!
Kristy Swanson
Is this golf apparel or modern art? It's both! Actress Kristy Swanson just launched a line of women's golf wear, and we think it's great. If you feel comfortable wearing a dress on the course, who are we to argue with Buffy?
Reader Submission: @chadroghair
This is a classic case of kid outdressing dad. The young man is right on trend with a graphic pattern and contrasting placket, and wearing his shirt untucked should be perfectly acceptable. The bucket hat just finishes the look.
Reader Submission: @karenathek
We're giving an 'A' for effort. I like the leggings and the color matching, but there's a lot going on. Your eye is drawn to the white neckline or calves more than the outfit. A good belt would help.