The Week In Style: 02.05.14
Mr. Style's weekly look at what people are wearing on and off the golf course.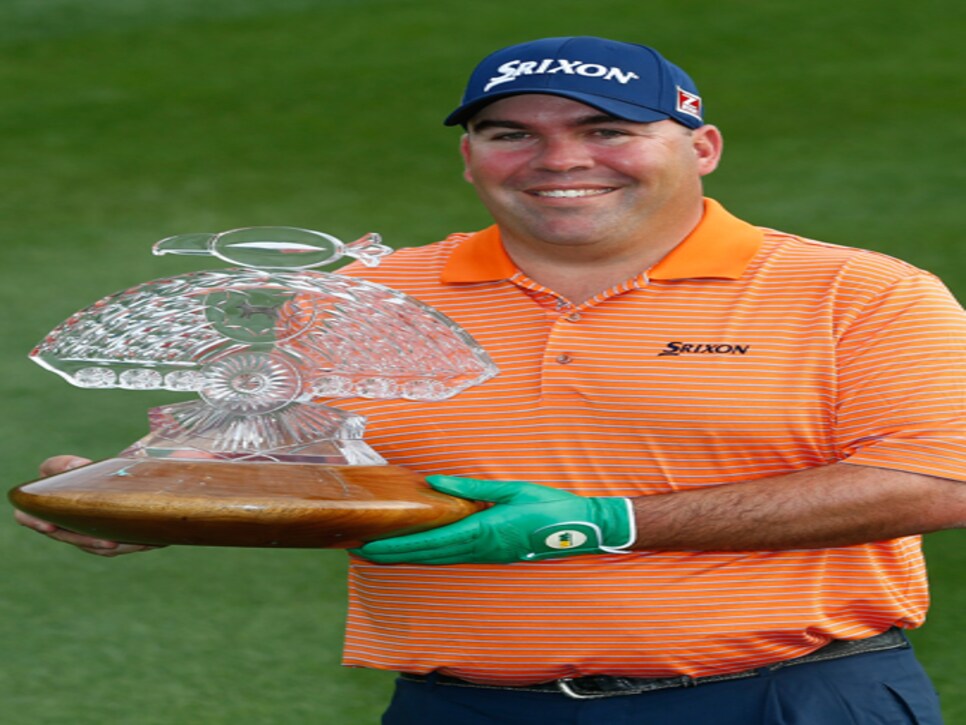 Kevin Stadler
To the big guy with style, well done! Stadler is always on my best-dressed list because it's not just what you wear, but how you wear it.
Bubba Watson
This was the best outfit that Oakley provided for Bubba this week. We think it's great that he's supporting the Saturday Green Out and breast cancer awareness at the same time. And the Richard Mille watch certainly looks great. I just think the pants are two-inches too long.
Graham DeLaet
A new season brings new deals with DeLaet now sporting Puma, and I think it's a great pair. DeLaet marches to his own drummer -- and dresses that way too.
Phil Mickelson
Everyone should take a close look at this image because it's exhibit No. 1 for why you should consider wearing flat-front trousers. Frankly, the entire outfit not only fits, but looks great. And it proves the point that sometimes simple can look elegant.
Chris Stroud
Speaking of simple, here's an example of where it doesn't work. I guess if you're a medical technician, all-white is fine, but Stroud is the 84th-ranked golfer in the world. We do love the five-pocket cut of the trousers, however.
Ryan & Tucker Moore
Tucker Moore showed his allegiance to the Seattle Seahawks early on Super Bowl Sunday, and I loved the way he's coordinated with his dad's outfit. A winning combination!
Pat Perez
We're giving high marks to Pat Perez bringing the Go Green initiative to new highs. Or would the bottom of his shoes be considered 'lows'?
Hideki Matsuyama
Looks like Matsuyama's going to be playing a lot more on the PGA Tour, and that's good news for golf fans. He certainly has lots of game and lots of style.
Ben Crane
I'm not even touching this image. We're just as shocked as Ben is, but we're giving him a hall pass for being in the spirit of the event.
Webb Simpson
Don't know whether this is conscious or coincidence, but the red iZod shirt, the red belt-buckle, the red details on the FootJoy DNAs, and the black and red grip on the putter all works wonderfully. And speaking of work, this is the new 2014 shape for Webb, and it's pretty impressive. This might one of the best images of the week. Even better? It looks like he's listening intently to Paul Tesori, who is finally back on the bag.
Brandt Snedeker
That Peter Millar pink sure is an eye-catcher! And I'm assuming it's Sneds' new favorite color.
Ricky Barnes
We end with a look we can all relate to.