The Week In Style: 01.15.14
Mr. Style's weekly look at what people are wearing on and off the golf course.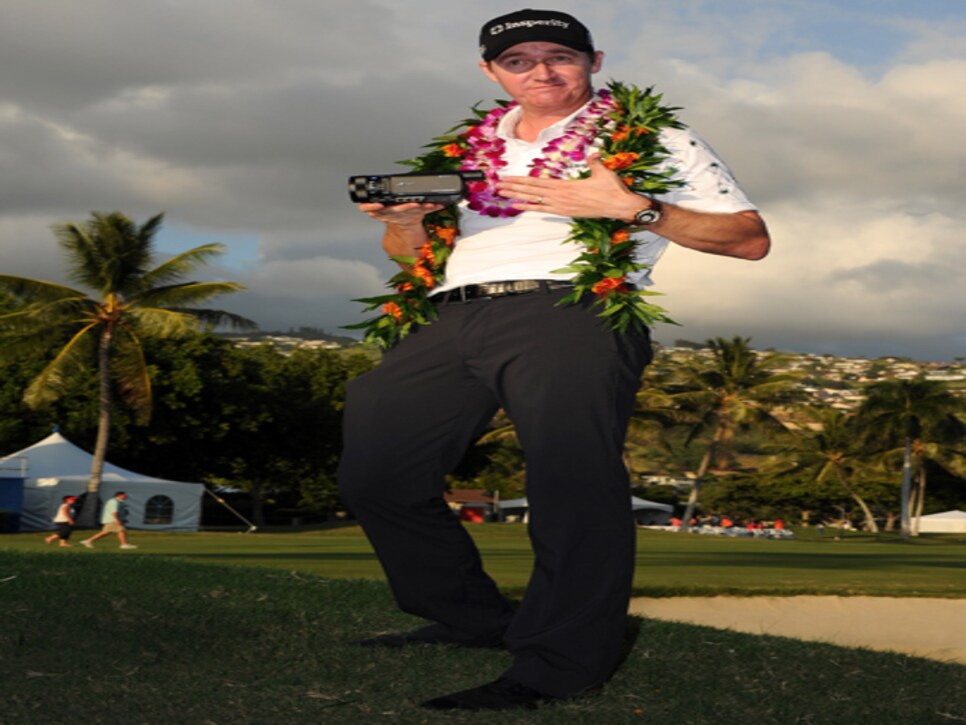 Jimmy Walker
Congrats on the win. We expect this to be a regular occurrence in 2014. And by the way, that iliac limited edition shirt is a keeper.
Ryo Ishikawa
Looks like Ryo's starting off 2014 very simple, but as expected, he's right on trend with the horizontal stripes.
Jason Dufner
Speaking of on trend. While he might not be known for what he wears, Dufner's definitely high up on the list of players who have STYLE.
Adam Scott and Benji Weatherly
Benji certainly has a different stride than Stevie. And are those the new FootJoy DNA's on Adam? I bet they are as he keeps raving about how comfortable they are.
Jordan Spieth
Take a close look at those Under Armour shoes; they're prototypes. They look pretty techy, and Jordan feels they're solid. Expect to see both him and the shoes on a weekly basis.
Zach Johnson
Still in stripes. While he may not be a surfer, Damon Green's at the very top of the list of tour caddies (people, too). If they're waiting for Zach's career to take off, FYI, it already has.
Hideto Tanihara
Check mate.
Russell Henley
Russell Henley, also on trend, as expected. And nice touch with the brown belt, complimenting the pants without worrying about it matching.
Sang-Moon Bae
I expect we'll be seeing a lot more of both Sang-Moon and Original Penguin this year. Looks like he's off to a great start.
Marc Leishman
Leishman shows a nice touch with the gray trousers and matching accent on the shirt.
Jerry Kelly
Do not change your dial, that is the noted University of Hartford ex-hockey player Jerry Kelly with a pretty stylish look. And he's getting away with the dark belt because it looks like he's in really great shape.
Yusaku Miyazato
Miyazato looks terrific with this combination. I know you're all expecting me to get upset about the white belt, but I think the stylish shirt and trousers trump that.
John Daly
You know the story by now.