The Week In Style: 11.06.13
Mr. Style's weekly look at what people are wearing on and off the golf course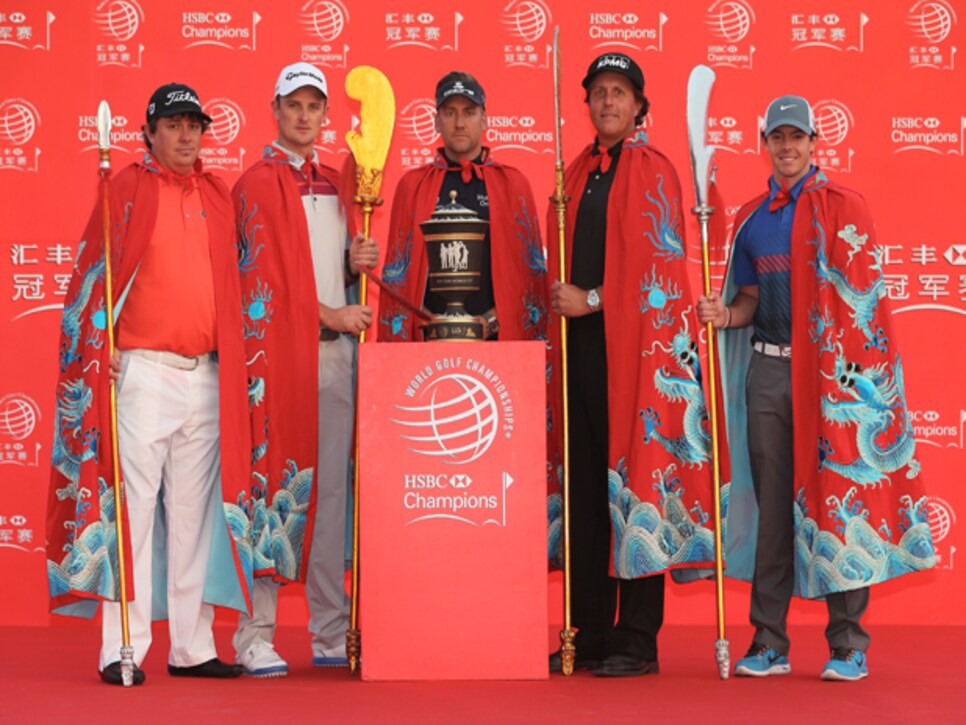 HSBC Promo Shoot
Tell me this isn't a cool photograph. Is this the new Dufnering?
Dustin Johnson
Love the white shirt with the gray trousers on our HSBC champ. If Dustin isn't going to go tonal with the same color on top and bottom, lighter top, darker bottom is the way to go. Style rule: it's always better to go lighter on top.
Fred Couples
The red power shirt works for more than just Tiger Woods. Freddy, once again, is in his Ecco BIOM shoes.
Paulina Gretzky
There might be more style and star power outside the ropes than inside these days.
Ian Poulter
Is Ian moving on to a somber color palette? We do notice the red shoelaces!
Graeme McDowell
G-Mac, go to the head of the class. Matching the tone of your belt to your trousers: brilliant!
Bernhard Langer
When you're over 50 and wear all white from head to toe, you run the risk of looking flat. Or, in Bernhard's case, like a male nurse.
Rory McIlroy
We have to give props to Nike. This is the kind of color palette that works for Rory. The light green has some energy and the combination works well. Thumbs up!
Bubba Watson
We think Bubba looks pretty great in this photo. If we had to nitpick, we'd say the flair on his trousers look a little unusual. Is a bell bottom trend coming back to the PGA Tour?
Masihiro Kawamura
It's never a good sign when the caddie is dressing better than the player.
Graham DeLaet
This works great on Graham DeLaet, but please be careful when trying this at home because it's a look that can go bad in about 10 seconds. It works on him because it fits and we love the gray accents to match his gray hat, but on a 36-inch waist, it could look like an amusement park.
Ryo Ishikawa
It takes someone like Ishikawa to make pattern on pattern work. If you'll notice, the black arm band with the little bit of black in the sweater, balanced with the black in the shoes and the golf glove (and bag) ties it all together.
Kenny Perry
Kenny Perry is looking pretty trim and athletic. Along with winning a million bucks, he looks like . . . well, you know.