The Week In Style: 2013 Tour Championship
Mr. Style's weekly look at what people are wearing on and off the golf course checks in from the PGA Tour's finale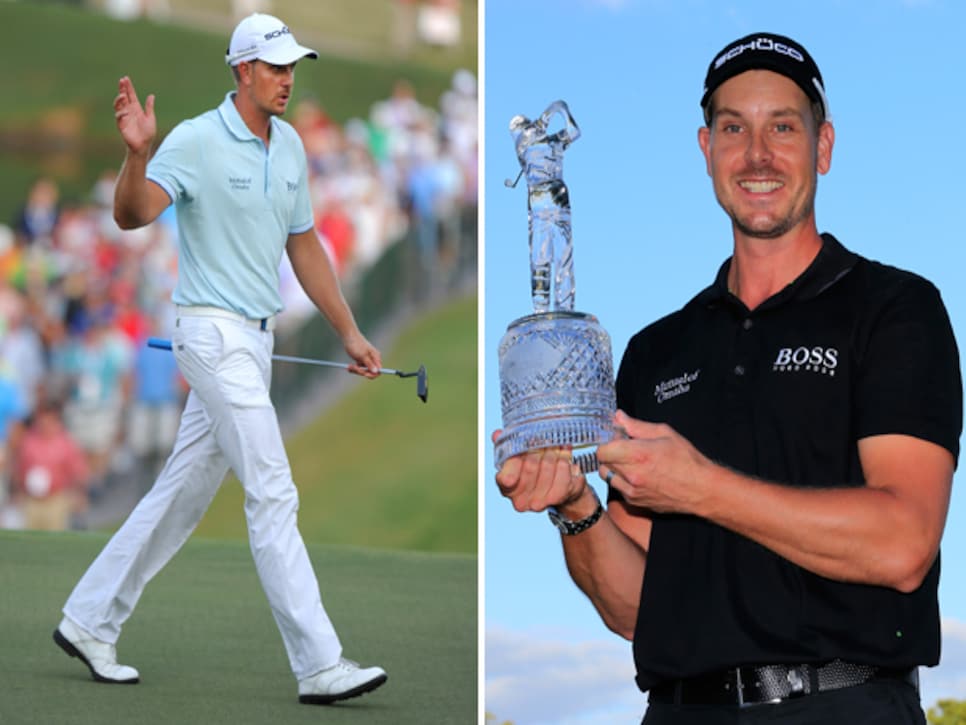 Henrik Stenson
There's a lot to learn with respect to fit and style by having a close look at the FedEx Cup champ. The shirt sleeves are trim; the arm hole high, which facilitates the swing; the trouser length perfect. And matching the belt to the color of the trousers serves to keep the look subtle but impactful.
Dustin Johnson
Dustin Johnson could have a career as a runway model. He's tall, handsome, and trim. His adidas outfit for Sunday in all blue with a vintage look to the shirt design not only fits him from a size standpoint, but also from a style standpoint. Now, if we could only get him to smile.
Luke Donald
That's correct, we're only showing images of players who wear clothes that fit perfectly. Luke Donald's RLX wardrobe is clearly a candidate for best fit on tour.
Jordan Spieth
Perhaps the most talented young man on tour, we now need to bring his style IQ up to his golfing ability. Matching your shoes to your belt and hat is perfect if you're living in 1926. I expect more!
Jim Furyk
Here's a classic example of someone who has raised his style IQ with a great selection of Dunning apparel. Nice modern shirt, excellent belt choice, and a recent 59 doesn't hurt either. Well done!
Roberto Castro
Keep your eye on Roberto Castro, because from both a talent and style standpoint, this guy gets it. The FootJoy shoes are killer, and coordinating the belt with the trousers is an excellent touch. Bravo!
Adam Scott
Love the clothes, love the fit, but where's his favorite belt? This brown one looks just a little bit out of sync.
Phil Mickelson
Phil, tie your shoelaces, but don't change anything else, because this look is perfect for you. I like selecting one color and building your entire wardrobe around it. It keeps everything simple, yet sophisticated.
Graham DeLaet
Strike up the band, DeLaet is here! His Sligo color selection: Bold. His golf game: Solid. Thank God the playoffs are over so he can shave.
Tiger Woods
Maybe Jordan Spieth has been channeling Tiger Woods. While I'm not a huge fan of matching all of your accessories, I think his TW Nike shirt represents a great, modern, technical look. And is this on plane or what?
Sergio Garcia
Ole, Sergio! It's colorful and I love the choice. Just a touch of color in those shoes and shirt ties the whole outfit together.
Billy Horschel
Speaking of colorful players in colorful wardrobes, Horschel sets the new standard!
Jason Dufner
Jason Dufner is my new style icon! His clothes fit really well and he's clearly having fun selecting cool FootJoy apparel without being afraid to wear more than a plain, solid shirt. He should become the new poster boy for FootJoy.
Peter Jacobsen
We couldn't leave you without saying something about Peter Jacobsen, although maybe we shouldn't bring up his fit. Winning the Payne Stewart Award is really special, and there's no one more worthy of the award. Congrats!