The Week In Style: 09.04.13
Mr. Style's weekly look at what people are wearing on and off the golf course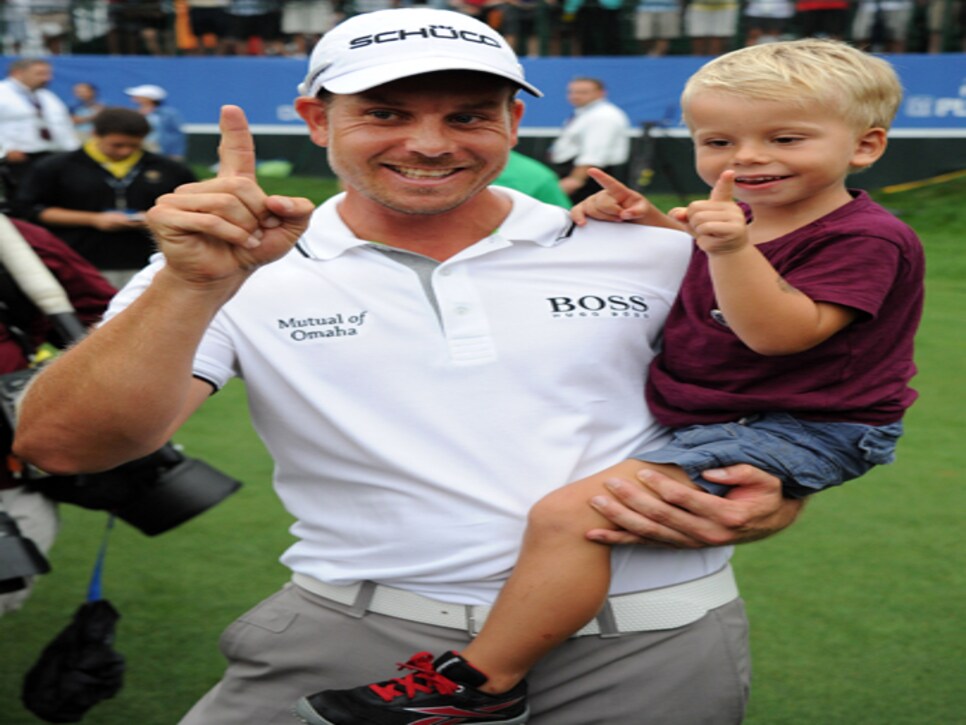 Henrik Stenson
Now this is a stylish duo. A future BOSS? You get an automatic hall pass on the white belt when you're the champion.
Tiger Woods
Tiger's shirts keep looking better and better. They've got the fit down perfectly and they're right on trend in terms of design and color. I think he looks great!
Phil Mickelson
Hey everyone, back off a bit, Tiger doesn't own red on Sundays. And I happen to think Phil looks perfectly fine. (Yes, we know he wore it on Monday.)
Sergio Garcia
We're going to see a lot more of Sergio, because his game has definitely turned the corner. And he's evolving his style as well. Looks like yellow is going to be his signature color. P.S.: I like the belt and shirt combo.
Rory McIlroy
This bold striped shirt is a much better look on Rory. Now can we please convince him that he doesn't have to match his hat, belt, and shoes?
Jason Dufner
Good guys do wear white. Is it just me, or is Duf still losing weight? He is in much better shape this year.
Graham DeLaet
Thank goodness for Graham and Sligo, we've got someone who's bringing a little zip every day to the FedEx Cup.
Ian Poulter
Very interesting to see Poulter in red, white and blue. It looks like it could be one of Team U.S.A.'s shirts. Great use of color block, and notice the seam down the front of the trousers.
Keegan Bradley
Keegan looks like he just stepped out of the 70s. But those aren't patent leather shoes -- the preppy Bradley is sporting a pair of Air Jordans. A new trend?
Chris Stroud
Are we now matching the back of our shirts to the back of our clubs?
Bubba Watson
Is it just me or does this shirt look really weird? I think it's the white collar on the black shoulders.
Richard H. Lee
I'm sorry to see that Richard Lee isn't going to be in Chicago -- this kid's got style.
Hunter Mahan
Enough already with the white belt! Just stop.