The Week In Style: 07.09.13
Mr. Style's weekly look at what people are wearing on and off the golf course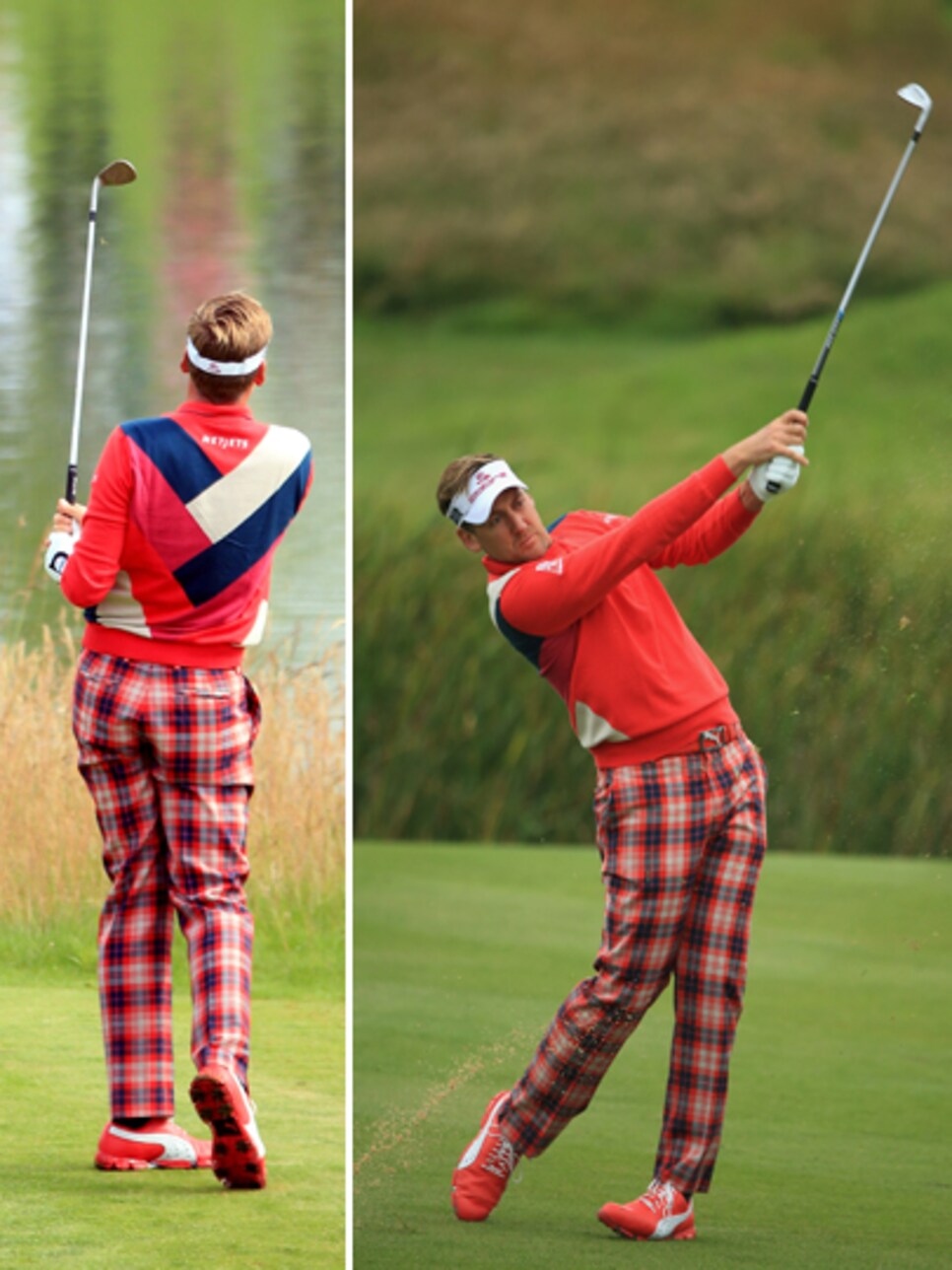 Ian Poulter
FASHION ALERT: You will be seeing more random color blocks in the future. As expected, Poulter is atop the leader board of new trends in golf apparel.
Photo By: Getty Images
Jonas Blixt
Seems like a pretty conservative outfit for Jonas. Yellow is part of the Swedish flag, and when you win the tournament you're bullet proof. Just don't get us started on the fit of that jacket. . .
Photo By: Getty Images
Graeme McDowell
Our style leader of the weekend -- and the French Open champion -- Mr. Graeme McDowell in G-Mac for Kartel shirt and trousers, and Ecco shoes. Well done!
Photo By: Getty Images
Johnson Wagner
So he didn't win the tournament, but guess what? He was high on our leader board. Great pants! Look at how he matched the belt with the pocket flap. Who doesn't like that?
Photo By: Getty Images
Phil Mickelson
Interesting. Phil's starting to look like his manager, Steve Loy. And that's a compliment!
Photo By: Getty Images
Matt Kuchar
I was starting to worry that Kuchar's kids would continue to outdress him, but clearly he's gotten the message. Now if we just talk him out of wearing those black shoes with beige trousers.
Photo By: Getty Images
Thomas Bjorn
Attention dance fans, this is not a new step, but based on the way Thomas is playing, it might not be a bad idea to put this into the pre-shot routine. P.S. Pretty smart to use that white belt with the white trousers.
Photo By: Getty Images
Martin Kaymer
Let's try to get a message to Kaymer and have him explain why he continually wears this whit belt. I get it, he's under 36-years-old, and his waist is not over 36 inches, but it just looks . . . actually, it looks pretty good.
Photo By: Getty Images
Robert-Jan Derksen & Robert Rock
Do you have to wear a striped shirt if you don't wear a hat? In fact, do you have to look like Robert Rock and use a TaylorMade driver?
Photo By: Getty Images
Tommy Gainey
I happen to think this is a great looking shirt. The pants might be a smidge too big, but we're getting way too technical here.
Photo By: Getty Images
Tom Watson
You better show me his driver's license because I'm not buying the fact this guy is 63-years-old. First of all, he's got way too much game, and he dresses too well. Now if we can only talk him out of wearing those silver-tipped belts that went out of style 10 years ago.
Photo By: Getty Images
Ross Fisher
Are those the new Oakley glasses?
Photo By: Getty Images
Nicolas Tacher
Here's another example of a little-known European Tour rookie outdressing most of the PGA Tour. They get what proper fit is all about. Even though he missed the cut at the French Open, he made the style cut.
Photo By: Getty Images
Richard Sterne
Sometimes you get a hall pass from the style department when you're on the leader board late on a Sunday. Here's a case in point, as the dark belt chops Richard in half.
Photo By: Getty Images
Gregory Bourdy
Look carefully and notice the red detail on the FootJoy shoes and on the LaCoste shirt. Subtle and very stylish.
Photo By: Getty Images
Louis Oosthuizen
I can't figure this shirt out. If anyone can, please let us know.
Photo By: Getty Images
D.H. Lee
Remember at the beginning of this story we were talking about color blocks? Here's another perfect example. So in conclusion, we really do think this is a significant trend.
Photo By: Getty Images