The Butch Harmon Connection
Six Degrees of Butch Harmon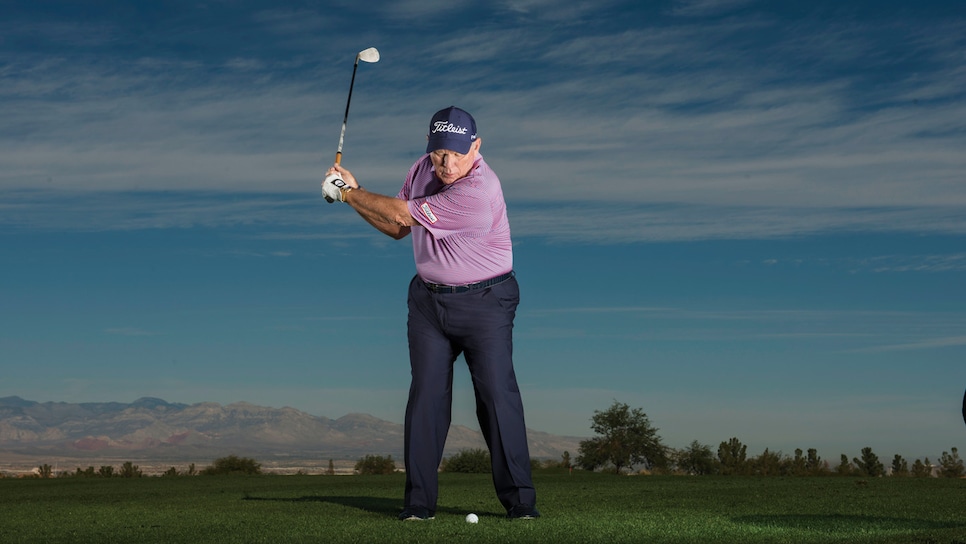 Photo By: Augusta National
Photo By: R&A Championships
Butch Harmon
Golf Digest's No. 1 teacher is as close to a universal household name as a golf instructor can get. Butch Harmon has not only been the top teacher in nine of the ten surveys we've done, he's also worked with three of the most famous players in the game over the last 30 years in Greg Norman, Tiger Woods and Phil Mickelson. Just how ubiquitous is Harmon in the game? We adapted the "Six Degrees of Kevin Bacon" parlor game to show just how far afield you can go using the 74-year-old Las Vegas teacher as the jumping off point.
Claude Harmon
Butch's father (Butch is actually Claude Harmon II, and his golf instructor son is Claude Harmon III) was one of the most respected teachers in the game for four decades. The head professional at both Winged Food at Seminole, the original Claude Harmon was also an accomplished player. He won the 1948 Masters as a club professional, where he got his green jacket from …
Photo By: Augusta National
Bobby Jones
The game's greatest amateur needs no introduction. In addition to winning the Grand Slam in 1930 (along with nine other majors), Jones founded Augusta National after his retirement at age 28. Jones also had an influential career sharing his thoughts on the golf swing in videos and books—basics he learned from his only teacher …
Photo By: Central Press
Stewart Maiden
A native of Carnoustie, Maiden came to the U.S in 1908 with the express goal to spread the game as an instructor. Maiden became the head professional at East Lake Golf Club in Atlanta, where he succeeded his brother …
James Maiden
Another Carnoustie native, James Maiden, started his teaching career on Long Island before moving to Atlanta and East Lake. In 1908, he came back to New York to become the pro at Nassau Country Club in Glen Cove. Maiden would go on to be influential in the early days of the PGA of America when it was founded in New York City at a 1916 meeting adjourned by …
Photo By: Peter
Rodman Wanamaker
Department-store magnate Rodman Wanamaker was far more than just a retailer. From his Philadephia base, Wanamaker was an early and active patron of amateur aviation, track and field and golf, bankrolling early efforts to fly across the Atlantic, the first Millrose Games and the organization and trophy for the PGA Championship—which was won in its first year by …
Jim Barnes
A barnstorming club pro from Cornwall, England, James Barnes was called "Long Jim" for his height and clubhead speed. At the 1916 PGA, Barnes beat a field of 31 other professionals at Siwanoy Country Club to earn a first-place check of $500—which is the 2017 equivalent of $11,700, or enough for almost eight hours of private instruction with Harmon.
Photo By: Bettmann
Greg Norman
Taking the "Six Degrees … " theme down another path, lets start with Greg Norman. Butch Harmon was a Houston club professional with not much more than a famous family name when he started working with Norman in 1991. By 1993, a resurgent Shark was No. 1 in the world and shooting 63 to win the British Open. Harmon's success with Norman influenced many tour players to head Harmon's way, including …
Photo By: Tony Roberts
Davis Love III
Before Tiger Woods or Adam Scott, Davis Love III was the "prototype"—a free-swinging, long-hitting prodigy who won his first event in his second year on tour. Love came to work with Harmon in 1995 and by 1997 had won the signature event of his career—the 1997 PGA Championship at Winged Foot. Earning the PGA of America's national title was significant for Love because of the relationship he had with his father …
Photo By: Jamie Squire
Davis Love, Jr.
Long considered one of the best instructors in the game, Davis Love, Jr. was fundamental to the creation of the influential Golf Digest Schools in the 1970s, and was on several of our covers before passing away too young in a 1988 plane crash. Before and during his teaching career, Love was a fine player, competing in Masters tournaments as both an amateur and professional. He was a top college player at the University of Texas, where he played for …
Photo By: R&A Championships
Harvey Penick
Harvey Penick became internationally famous in the 1990s for his Little Red Book and work with Ben Crenshaw and Tom Kite, but the Texas teacher's influenced stretched back decades before. He was the longtime coach of the University of Texas golf team, and a list of his students reads like a roster from the World Golf Hall of Fame. In addition to Crenshaw and Kite, Penick also mentored perhaps the finest female golfer of all time …
Mickey Wright
No less an authority than Ben Hogan said Mickey Wright had the best swing of all time—male or female. Wright won 13 majors among 82 victories on the LPGA Tour between 1956 and 1973, and dominated the stretch between 1958 and 1966. A pure ball-striker, Wright uneasily took the mantle of best player in the game from a woman far more comfortable with the celebrity spotlight …
Photo By: Bettmann
Babe Zaharias
Babe Zaharias was a trailblazing athlete and entertainer, setting records in track and field, basketball, bowling and golf throughout her career. Despite not picking up golf until age 25, Zaharias quickly became the best player in the world—winning her first LPGA event five years after playing her first round. She would go on to win 41 tournaments and 10 majors before a recurrence of colon cancer cost her her life in 1956, at age 45.
Photo By: Bettmann