Presidents Cup
Presidents Cup Birdies and Bogeys: Thursday, Day 1
Who were the winners and losers in South Korea on Thursday? It's time to take a closer look with another edition of birdies and bogeys.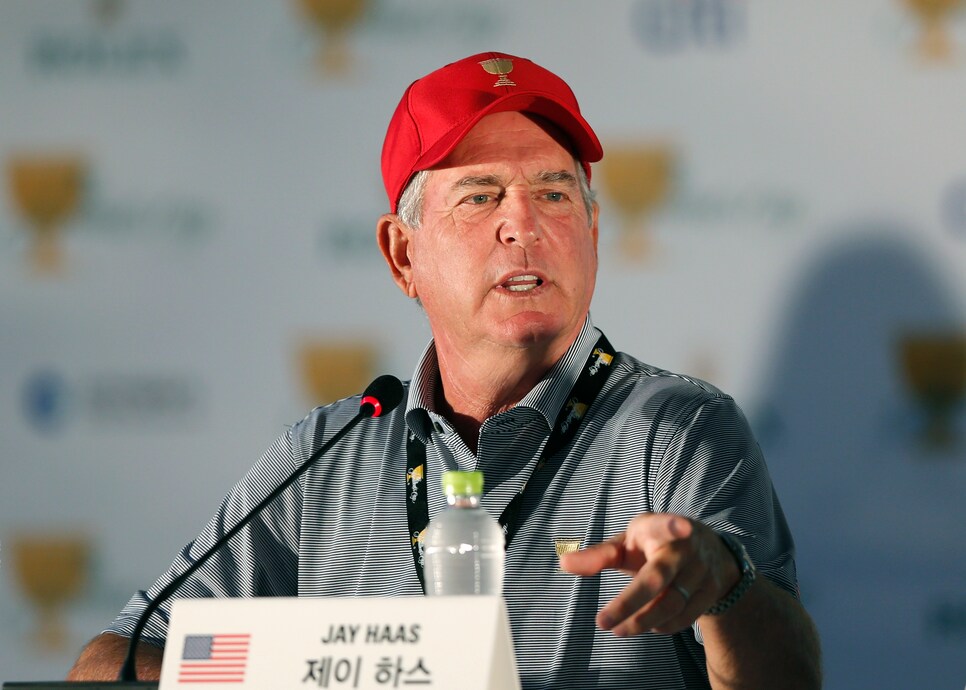 Photo By: AFP/Getty Images
Photo By: AFP/Getty Images
Birdie: Jay Haas
From breaking up the successful Ryder Cup duo of Jordan Spieth and Patrick Reed to playing both of his captain's picks on Day 1 to playing Bubba Watson and J.B. Holmes together, many questioned many of the U.S. captain's moves. But when your choices work out eighty percent of the time (The U.S. grabbed a 4-1 lead after Thursday's foursomes), no one can really say anything other than, "good job."
Photo By: AP
Bogey: Nick Price
As the leader of the underdog International Team, Price had an obvious chance to generate some excitement from the crowd and some early momentum by playing South Korean native Sang-Moon Bae. Instead, he stuck to his pre-determined teams for Day 1 and left Bae on the bench because his partner Charl Schwartzel didn't feel well. That move obviously wasn't the only thing that went against Price on Thursday when he saw his team fall into a quick 4-1 hole, but it certainly didn't help do anything to change the general sentiment that this is going to be another easy U.S. win in the event.
Photo By: AP
Birdie: Rickie Fowler and Jimmy Walker
This duo set an early tone for the Americans, disposing of Anirban Lahiri and Thongchai Jaidee in a quick 5 & 4 fashion. Walker's iron play and Fowler's short-game expertise proved to be an effective combo. "We play a lot of practice rounds together, and we know each other's game well," said Fowler after the win.
Photo By: AFP/Getty Images
Bogey: Adam Scott and Hideki Matsuyama
Matsuyama, at 23 years old, is on the precipice of becoming one of the game's elite talents. Alas, while he has a prior Presidents Cup under his belt, Matsuyama was not comfortable in the alternate shot format, looking especially out of sorts with his approach shots. This was problematic, as his partner Scott submitted the type of outing one would expect out of someone attempting a new putting method. Sans his patented long flatstick, the Aussie was a disaster on the greens.
Photo By: US PGA TOUR
Birdie: Phil Mickelson
More than a few eyebrows were raised when Mickelson, after a rough campaign, was selected to the Presidents Cup as a captain's pick. The 45-year-old validated Jay Haas' gamble, as he and Zach Johnson took down world beater Jason Day. Better yet, Mickelson's holed bunker shot on the 14th hole served as the shot of the day.
Photo By: Getty Images
Bogey: ZJ's handshake
Winning a Presidents Cup match is cool. Celebrating a big moment in said match with a formal handshake? Not so cool. That's what Zach Johnson did when Phil Mickelson went for the big slap-five. Lighten up, ZJ! It's the Presidents Cup, not a business conference.
Birdie: DJ & Jordan
When you make a specific request to play with someone and your captain obliges -- as in the case with Jordan Spieth pushing for a pairing with Dustin Johnson -- you damned well better play well. And the World No. 1 and his new match-play partner responded with a strong performance. After an easy 4-and-3 win over Danny Lee and Marc Leishman as the American anchor duo on Thursday, the two will be first out in a four-ball match against the International's only victorious team on Day 1, Louis Oosthuizen and Branden Grace.
Photo By: AP
Birdie: Jack Nicklaus Golf Club
A virtual unknown before this week, the South Korean track has been well received by players for its immaculate conditioning. It's also proved to be a great risk-reward course, which works particularly well in match play.
Photo By: AP
Bogey: The 11th Hole
Literally. Despite spacious room on the left side of the fairway, eight balls found the water on the 11th. Four of the five matches were conceded on this hole in Day 1 action.
Birdie: Fanatics
Who says the Presidents Cup lacks passion? The Australian-based fan club serenaded players on the first tee with the likes of, "Matsuyama Yama Yama Yama Chameeeeleon" and "Speaking words of wisdom, Danny Lee." Given most in America needed a cup of coffee to power through the late-night showing, the Fanatics provided a much-needed energy boost.
Photo By: Getty Images
Bogey: Jason Day
This sounds blasphemous given his late-summer performance, but Day looked lost in Round 1. His driving was erratic, displaying a few nasty hooks and unplanned cuts. And though he fared well on the green, many of Day's putts failed to find the jar. For the Internationals to have any chance going forward, they are going to need a better effort from their ace.
Photo By: Getty Images
Birdie: Louis Oosthuizen and Branden Grace
The two South Africans saved the International club from an embarrassing sweep with a 3-and-2 win. Alternate shot can be an awkward racket, yet Shrek and Grace -- great name for a TV show, by the way -- were simpatico. Expect to see the duo paired again this week.
Photo By: Getty Images
Bogey: Matt Kuchar
Kuch is a beloved figure and veteran presence, but he was a total no-show in his match, often putting partner Patrick Reed in uncompromising positions. Kuchar was particularly cold on the greens, leaving nearly all of his attempts out of the cup. Kuchar and Reed were the lone American loss on the day.
Photo By: AFP/Getty Images
Birdie: Bubba and J.B.
Captain Jay Haas opted to pair the two longest hitters in the game, and boy did they put on a show off the tee. Holmes was also impressive on the greens, sinking three birdie putts in the first four holes as the two jumped out to a quick lead they'd never relinquish. Not bad for a guy who was the 13th man on a 12-man team.
Photo By: AP