Golf World
Taking stock of 2011 by counting down the year's 25 biggest stories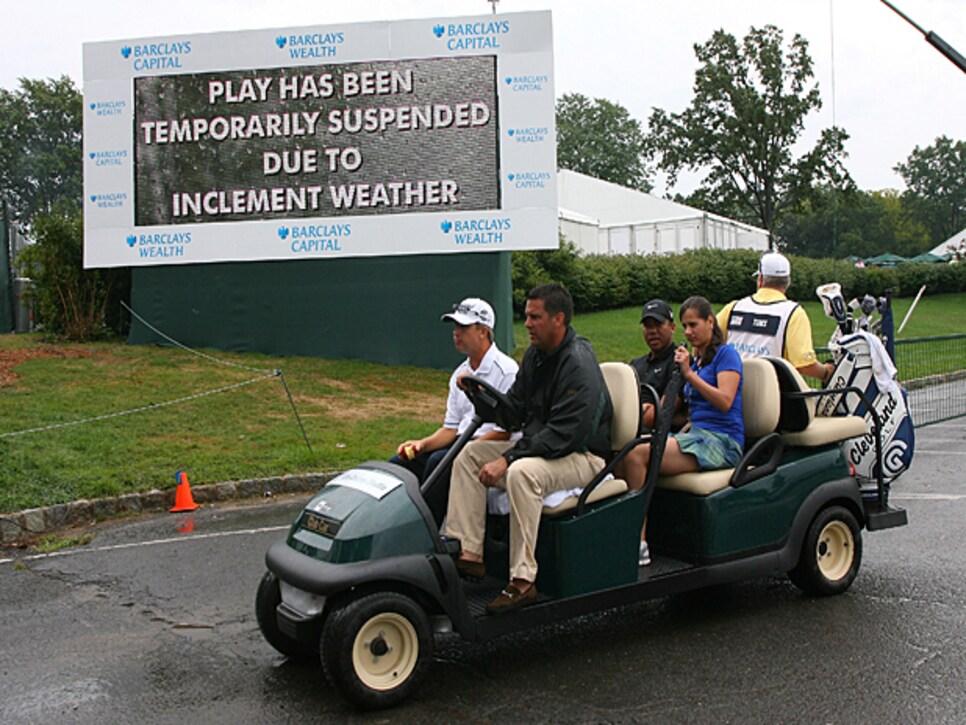 Weather Woes
One common theme of 2011 was the varied -- and often extreme -- effects of Mother Nature. Severe weather seemed to be stalking the sport, causing everything from irritating suspensions (The U.S. Women's Open, most notably) and cancelations (The Barclays being cut to 54 holes) of tournament play, to turf damaged by relentless heat and drought in the Midwest and Southwest, to the devastating flooding seen in the eastern United States.
Webb Simpson
Perhaps only Webb Simpson saw this coming. "I knew I had it in me to be a great PGA Tour player," Simpson told Golf World (Worldwide Webb, Nov. 7). One of 14 first-time winners in 2011, the 26-year-old Simpson became the tour's breakout star, even more so than PGA champion Keegan Bradley, because of the breadth of his accomplishments. In addition to winning the Wyndham and Deutsche Bank events, Simpson was second three times and finished second on the money list. He capped the year with an appearance on the U.S. Presidents Cup team.
Facial Hair
Who says golf's not growing? In 2011 it seemed as if every Tom, Dick and Lucas went hairy at some point. From the full, Grizzly Adams-grade beard Glover grew in the offseason to the Inspector Clouseau-like moustache Geoff Ogilvy turned heads with during the Presidents Cup, not a PGA Tour event went by without somebody's razor taking a holiday. Depending on one's point of view, the trend was either edgy -- or sent you over the edge.
R11 Driver
Van Gogh's Portrait of Dr. Gachet was more artistic, but as paint jobs go the white applied to Taylor Made's R11 driver was mighty lucrative. The club gained immediate visibility, and nine PGA Tour wins validated its performance. Marketing smarts with Sergio Garcia and Martin Kaymer hitting balls in the streets of Manhattan and a gigantic R11 serving as the right-field foul pole in San Diego's Petco Park added to a buzz that resulted in hundreds of thousands R11s sold at $400 a pop. Lucrative? Do the math.
Battle For Brazil
Just as the jury panel narrowed the 2016 Olympic course design contest to eight this month, this fierce political and potentially ego-deflating battle will make news again in January 2012 when the winner is announced. Between now and then, an internationally diverse group will be vying for the job, starting with big names Jack Nicklaus/Annika Sorenstam, Greg Norman/Lorena Ochoa and Gary Player. In the minimalist corner are Tom Doak, Gil Hanse and Martin Hawtree, while master politicians Peter Thomson and Robert Trent Jones Jr. round out the list of hopefuls.
Obama vs. Boehner
When President Obama and Speaker of the House John Boehner (R-Ohio) teamed up to win $2 each from Vice President Joe Biden and Ohio Gov. John Kasich at Andrews Air Force Base GC on June 18, it was the high point of cooperation between the Republicans and Democrats in '11. The White House called the on-course summit a "worthwhile encounter" and said Obama and Boehner "touched on a lot of different subjects." At year's end, however, the two parties had yet to reach agreement on a deficit-reduction plan. Golf can ease a lot of ills, but it can't work miracles.
Lexi Thompson
The last American to be LPGA Player of the Year was Beth Daniel in 1994. Thompson emerged as the newest hope to end that drought. At age 16 she became the youngest winner in tour history at the Navistar LPGA Classic in September and then petitioned successfully for an exemption to the tour's minimum-age rule of 18. Thompson goes into 2012 as the favorite to be rookie of the year, and a hope to one day be player of the year.
Golf Channel
Golf fans who expected big things from Golf Channel in 2011 -- a result of its partnership with new corporate relative NBC Sports -- weren't disappointed. Under new president Mike McCarley and veteran programming and production chief Tom Stathakes, GC unveiled ambitious new shows ("Feherty," "Morning Drive"), strengthened existing ones ("Golf Central," "Big Break") and saw record viewership levels across all tours and time segments -- despite a down year for golf's biggest personality, Tiger Woods. "Credit for that," said one GC official, "goes to our partnership with NBC, and the wave of good new stories in golf."
Solheim Cup
Europe had to win this time -- or the call to add Asia and the rest of the world to the Solheim Cup would grow louder. Winless since 2003, the home side was headed for defeat at Killeen Castle near Dublin, Ireland, until Suzann Pettersen led a comeback as she, Azahara Munoz, Caroline Hedwall and Christel Boeljon earned Europe 3½ of the last four points for a 15-13 victory. With Norway, Spain, Sweden and The Netherlands in that quartet, European golf suddenly appears to be on the ascendancy.
Mickelson/Jones
Jones, son of legendary architect Robert Trent Jones, has been called "The Open Doctor" for his work toughening courses that have hosted seven U.S. Opens, seven PGA Championships, four Ryder Cups, two Walker Cups and one Presidents Cup. This did not make him a popular figure with tour pros, especially during the PGA Championship at Atlanta Athletic Club. Mickelson was particularly vocal. "There's really no shot-making here that's required," the always-talkative Mickelson said. "I'd like to see a Gil Hanse or a Crenshaw/Coore or Kyle Phillips or guys that really know what they're doing come in and create something special here."
Game Changers
The game's lack of growth reached a tipping point in 2011, and people -- prominent people -- took action. In January the Alternative GA, with former Sun Microsystems CEO Scott McNealy leading the way, launched Project Flogton ("not golf" spelled backwards), to explore ways to make golf more accessible, more fun and younger. Two months later Golf Digest editor-in-chief Jerry Tarde, inspired by comments made by TaylorMade CEO Mark King, hosted the inaugural WIDE Open Championship, where the greens all had 15-inch cups. In July the PGA of America and USGA ran a 12-day national trial of "Tee It Forward," a program driven by former Adams Golf chief Barney Adams, and over Labor Day Weekend members at the Bear's Muirfield Village GC played in 12-hole events with cups double normal size. Nicklaus' goal was like that of the others: "Open a few eyes and minds," he said.
Presidents Cup
A 19-15 victory by the United States was not as easy as the score indicates, thanks in part to Greg Norman's International squad's quick start in Sunday singles. But order was restored by Tiger Woods, a controversial pick of Fred Couples, who sealed the victory with a resounding 4-and-3 win over Aaron Baddeley. Yet the week's real star was firm and fast Royal Melbourne, which served up strategic golf at its finest while proving a wide, shortish course can still test the world's best.
Patrick Cantlay
We expect our amateur phenoms these days to exhibit as much style as substance, which made the 19-year-old from Los Alamitos, Calif., both an oddity and a breath of fresh air. Cantlay's no-nonsense demeanor couldn't camouflage his talent. After earning college golf's top-player honors as a UCLA freshman, he posted four top-25s in PGA Tour events (his second-round 60 at the Travelers was the tour's low score in 2011). Inevitably, there were questions for the U.S. Walker Cup team member about turning pro. Patience, he insisted. Losing in August's U.S. Amateur final to Kelly Kraft showed there's still work to do. Imagine, though, how good Cantlay might be when he decides he's ready?
Keegan Bradley
There were plenty of breakout players in 2011, but in terms of a rapid rise, no one matched Keegan Bradley. The PGA Tour rookie started the season unsure of how many events he'd even get to play. He'll enter 2012 as a major champion and one of the game's bright young stars. After an unexpected first win at the HP Byron Nelson Championship, Bradley earned a spot into his first major. He then stunned the field by capturing the PGA Championship at Atlanta Athletic Club, rallying from a five-shot deficit with three holes to play. Bradley also proved that a golfer using a belly putter could win a major championship, helping to further one of the year's biggest equipment trends.
Masters' Sunday
When Tiger Woods turned in 31 on Sunday at the Masters to take a share of the lead, the outcome seemed inevitable. He was back. Woods, however, missed key putts on Nos. 12, 13 and 15 as Adam Scott, Jason Day and Charl Schwartzel sprinted past him. Ultimately, Schwartzel closed with an unprecedented four consecutive birdies to grab the green jacket by two strokes over Day and Scott (and four clear of Woods) in one of the most memorable finishes in the event's storied history.
Chubby Chandler
Andrew (Chubby) Chandler became so big in 2011 that he may have become too big. Whether it was his players winning the first three majors -- thus creating the possibility of "The Chubby Slam" -- or his ubiquitous presence in the media, this former European tour player turned high-profile agent ended the year recovering from the loss of two star clients. When Ernie Els and Rory McIlroy left the stable of International Sports Management seeking more personal representation, it was Chubby who felt slammed.
Steve Williams & the Caddie Carousel
Caddie changes occur frequently in professional golf, but 2011 was notable for several big moves and one set of loose lips. Adam Scott set the wheels in motion, perhaps, when he released the ever-reliable Tony Navarro a few weeks after the star-crossed pair of Dustin Johnson and Bobby Brown parted company and Johnson lured LaCava away from longtime partner Fred Couples. But then came the main event. Woods apparently took umbrage with Williams for accepting part-time work with Scott at the U.S. Open while Woods was sidelined with knee and Achilles injuries. He fired his longtime looper two weeks later only to come off the disabled list just in time to listen to Williams crow about Scott's victory at Firestone CC. It would turn out that Williams had more, um, colorful things to say about that win and his former boss during an annual caddie "awards" dinner in November. He later apologized for the offensive remarks. Before that, however, LaCava left the young and promising Johnson for the older and still promising Woods. Got all that?
Tim Finchem
The PGA Tour chief doesn't get the ink of his counterparts in the NBA, NFL and MLB and may well be the most underrated commissioner in sports. In his 17th year on the job, Finchem steered the tour through the worst economic crisis since the Great Depression, kept almost all sponsors, added Humana and RBC to the endangered events in Palm Springs and Hilton Head Island and oversaw a new nine-year TV deal with NBC and CBS. Not a bad record for a guy who also had his best player's career implode at the same time.
Seve's Passing
Amid the sadness about Seve Ballesteros' death from brain cancer May 7, at the much-too-young age of 54, poked through a joy kindled by memories of how he played the game. A five-time major champion who energized Europe's golf fortunes during the last quarter of the 20th century, the Spaniard was a complicated individual but an instinctive genius with a club in his hands. Golf balls don't listen, but Seve, at the peak of his powers, made you believe they did.
Darren Clarke
The burly Ulsterman arrived at Royal St. George's No. 111 in the world and a 170-to-1 shot to win the 140th British Open. At age 42 and 0 for 19 in claret-jug chases, he was nobody's favorite. However, by the time Clarke, unfazed by Sandwich's quirky layout and quirkier weather, earned a share of the second-round lead, it was apparent the mental clouds that have earned him the nickname Prince of Darkness had taken the week off, leaving him free to grab his first major in 54 tries. After Clarke beat the odds, the elements and a couple of marquee American challengers, a sustained celebration ensued.
Luke's Dandy Double
It's been done before, but not officially. That's what made Luke Donald's winning the PGA and European Tour money titles in the same year unique (Tiger Woods did it more than once but has never been a European Tour member). The feat capped a shining 2011 for the 34-year-old Brit. He has been the No. 1 player on the World Ranking since late May, one of three Euros to ascend to the top in '11. The others: Martin Kaymer (who Donald beat in the WGC-Accenture Match Play final) and Lee Westwood (who lost a playoff to Donald at the BMW PGA Championship).
Yani Tseng
Now all the LPGA has to do is keep Yani Tseng from retiring. Displaying a dominance reminiscent of Annika Sorenstam and the also-retired Lorena Ochoa, Tseng won seven LPGA events, including two majors, in 2011. She also won five events on other tours. The 22-year-old from Taiwan now has five majors and 20 of the 27 points needed to qualify for the LPGA Hall of Fame. She also has a sponsor's invitation to the Puerto Rico Open on the PGA Tour, an offer she appears prepared to turn down -- for now.
Belly Putters
Who knew shoving a stick in one's stomach could become a craze? Belly putters, once thought of as a crutch for those who couldn't putt, became de rigueur as the number of players using them (upwards of 20 at some PGA Tour events) and winning (six victories, including Keegan Bradley at the PGA Championship) surged. Such success had consumers flocking to golf shops, a European mini-tour banning the implements and, more importantly, the governing bodies discussing whether anchoring a club should remain legal.
Tiger Woods
In the annals of Tiger Woods, some years deserved the label "Stupendous," others the label "Embarrassing." So for 2011 we suggest: "Never a Dull Moment." Whatever the headline, Tiger's year was not one of great golf. Injuries didn't help. Woods got hurt -- new injuries to his left knee and Achilles tendon, suffered while hitting a shot off pine straw during the third round at Augusta National -- and his recovery cost him most of the next five months. He played nine terrible holes at the Players before withdrawing, skipped the U.S. and British Opens while recuperating, played 36 really terrible holes at the PGA Championship before missing the cut and failed to qualify for the PGA Tour Playoffs. Even when he wasn't playing, as is always the case with Woods, he never stopped making news. He fired Steve Williams, then became a controversial captain's pick for the Presidents Cup and played in the Frys.com Open -- his first Fall Finish event ever -- as a tuneup. His good play in Australia and a win in the Chevron World Challenge -- his first win of any kind in more than two years -- turned attention, thankfully, back to his on-course activities. And that's the kind of news Tiger would much rather make.
Rory McIlroy
From heartbreak to glory, from controversy to good deeds and finding love, Rory McIlroy emerged as golf's unquestioned biggest newsmaker in 2011. Starting with his performance on the course, McIlroy followed up a final-round collapse at the year's first major championship, with one of the most dominating performances the game has ever seen in its second major. To many people,
an eight-shot win at the U.S. Open
at Congressional signaled the arrival of golf's newest superstar. But there was much more. McIlroy made headlines for comments that more reflected his young age, but again showed maturity beyond his years with a goodwill trip to Haiti. McIlroy also made news for firing his agent Andrew "Chubby" Chandler and for his ongoing romantic relationship with top-ranked tennis player Caroline Wozniacki. While he promises to figure heavily in the sport going forward, it will be tough to top the past 12 months. "When I review my career in 25 years or so, I will definitely look back at 2011 as the year that changed my life and laid the foundations for the rest of my time in professional golf," he said.