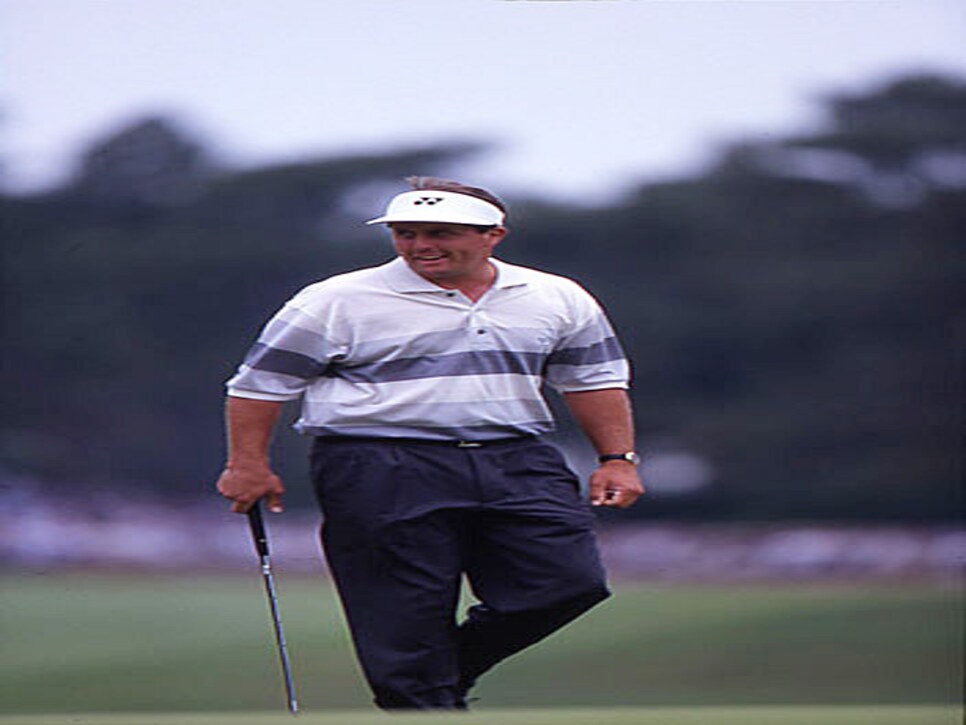 Photo By: Andrew Redington
1999 U.S. Open at Pinehurst No. 2
In the 1999 U.S. Open at Pinehurst, Mickelson entered the final round on Father's Day trailing Payne Stewart by one and unsure if he would even finish 18 holes. His wife, Amy, was home in Scottsdale, expecting the couple's first child at any minute. Mickelson carried a beeper so that he would know the moment Amy went into labor. He vowed he would leave the premises, no matter what the situation, but it never came to that.
1999 U.S. Open at Pinehurst No. 2
By the 16th hole, Mickelson had taken a one-shot lead over Stewart. However, he was unable to get up-and-down from a greenside bunker to save par. Meanwhile, Stewart drained an unlikely 25-footer for par to pull even.
1999 U.S. Open at Pinehurst No. 2
On the par-3 17th, Mickelson hit a great tee shot, but failed to convert the birdie putt from eight feet. A clutch birdie by Stewart gave him the one-shot lead he would wind up holding when he made his memorable 18-footer for par on the closing hole -- a moment that's immortalized by a statue of Stewart pumping his fist that sits behind the green.
1999 U.S. Open at Pinehurst No. 2
Mickelson came up one shot short, but received comforting words from Stewart regarding the impending birth of his first child. At the age of 29, Mickelson left Pinehurst owning the same label with which he arrived: the best player never to have won a major.
2002 U.S. Open at Bethpage Black
In the 2002 U.S. Open at Bethpage Black, Mickelson opened with rounds of 70 and 73 to find himself eight shots behind Tiger Woods. A thrilling 67 on Saturday brought him back to within five and bolstered by a boisterous New York crowd looking for an exciting finish, Mickelson kept the momentum going on Sunday.
2002 U.S. Open at Bethpage Black
Mickelson got to within two shots of Tiger on the back nine when he birdied No. 13, but a poor tee shot on No. 16 in the final round put him in deep rough. He bogeyed the hole to end any real chance of catching Woods.
2002 U.S. Open at Bethpage Black
At the stadium-like, par-3 17th, Mickelson, who was celebrating his 32nd birthday, was serenaded by the raucous crowd. Phil seemed to enjoy the support, but in a sad way, the singing was only a reminder of another year gone by without winning a major.
2002 U.S. Open at Bethpage Black
Mickelson missed a last-ditch effort for birdie on No. 18, but his chances of winning had vanished long before. The second-round hole he dug himself was too much to overcome and he wound up finishing three shots behind Woods.
2004 U.S. Open at Shinnecock Hills
After finally breaking through to win the 2004 Masters, Phil had a chance to win a second straight major back on Long Island, this time at Shinnecock Hills in 2004. Unlike at Bethpage Black two years prior, this time Mickelson started strong with rounds of 68 and 66 to tie with Shigeki Maruyama for the 36-hole lead at six-under. Thick fescue and dry greens would cause scores to go up over the weekend, however, and by Sunday, Retief Goosen had taken a two-shot lead.
2004 U.S. Open at Shinnecock Hills
Mickelson made a furious rally during the back nine of the final round, birdieing 15 and 16 to take the lead over Goosen. However, he would double-bogey the par-3 17th, which was capped by a three-putt from about five feet. Goosen would finish with a birdie and two pars to win by two.
2004 US Open at Shinnecock Hills
As was the case at Bethpage Black, Mickelson was a crowd favorite all week at Shinnecock. As hard as they pulled for their hero, though, the fans didn't get to see what they wanted.
2004 US Open at Shinnecock Hills
Mickelson shakes hands with playing partner Fred Funk after the two complete their final round at Shinnecock. A disappointed crowd still gave Mickelson a warm ovation for his efforts. And at least this time, Mickelson walked away as a major winner, having captured the Masters just two months before in thrilling fashion.
2006 U.S. Open at Winged Foot
Mickelson arrived for the 2006 U.S. Open at Winged Foot with high spirits having won the recent Masters as well as the 2005 PGA Championship, but he would wind up walking away with the most stunning and stinging loss of his career.
2006 U.S. Open at Winged Foot
In one of the wildest finishes in U.S. Open history, Mickelson arrived to the 18th tee with a one-shot lead. But after a series of bad shots started by an errant drive left, Mickelson needed this chip-in to force a playoff with Geoff Ogilvy. But it alluded him like the tournament's silver trophy has for his entire career. And when it slid by the hole, he was forced to settle for his fourth runner-up finish in the U.S. Open.
2006 U.S. Open at Winged Foot
Plenty of fans at Winged Foot had Phil fever throughout the tournament, but left shocked and deflated by the final outcome. While the 18th hole appeared like it would be a coronation for Mickelson's first U.S. Open title and third straight major, it wound up being the site of the greatest disappointment of his career.
2006 U.S. Open at Winged Foot
A crushed Mickelson crouches down before attempting his putt for double bogey on Winged Foot's closing hole. He would make the putt to finish in a share of second place, but that was of no consolation for yet another near miss at the tournament he wants to win most.
2009 U.S. Open at Bethpage Black
Mickelson flashes his signature grin and gives the thumbs-up sign to the crowd during the third round at Bethpage Black in 2009. Mickelson would end the round eight shots behind Ricky Barnes, but he would make a rally during the tournament's Monday finish.
2009 U.S. Open at Bethpage Black
The love-fest between Mickelson and the New York fans that began seven years before at the same site continued all week. The crowd was especially in favor of Phil with the recent news that his wife, Amy, had been diagnosed with breast cancer.
2009 U.S. Open at Bethpage Black
Mickelson reacts to a missed putt during Sunday's third round. He would shoot 69 to get back into contention, but it would be the flatstick that would ultimately let him down during the final stretch of holes on Monday.
2009 U.S. Open at Bethpage Black
A discouraged Mickelson reacts to an approach shot from the high rough during the final round. Similar to the Masters a couple months prior, Mickelson made a late rally to tie for the lead with an eagle on No. 13 before faltering down the stretch. With several short misses over those final five holes, Phil finished two shots behind Lucas Glover for a record fifth runner-up finish at the U.S. Open.
2013 U.S. Open at Merion
Four years before announcing he would miss the 2017 U.S. Open to attend his daughter Amanda's high school graduation, Mickelson traveled across the country the day before the opening round at Merion to attend Amanda's eight grade graduation. He returned in time to tee it up Thursday, and even held the lead through 54 holes. But he ended up needing a birdie on the 18th hole to force a playoff with Justin Rose, and he made bogey instead. Mickelson was heartbroken, but he ended up bouncing back the next month to win his first British Open at Muirfield.
Photo By: Andrew Redington