The Week In Style: 05.07.13
Mr. Style's weekly look at what people are wearing on and off the golf course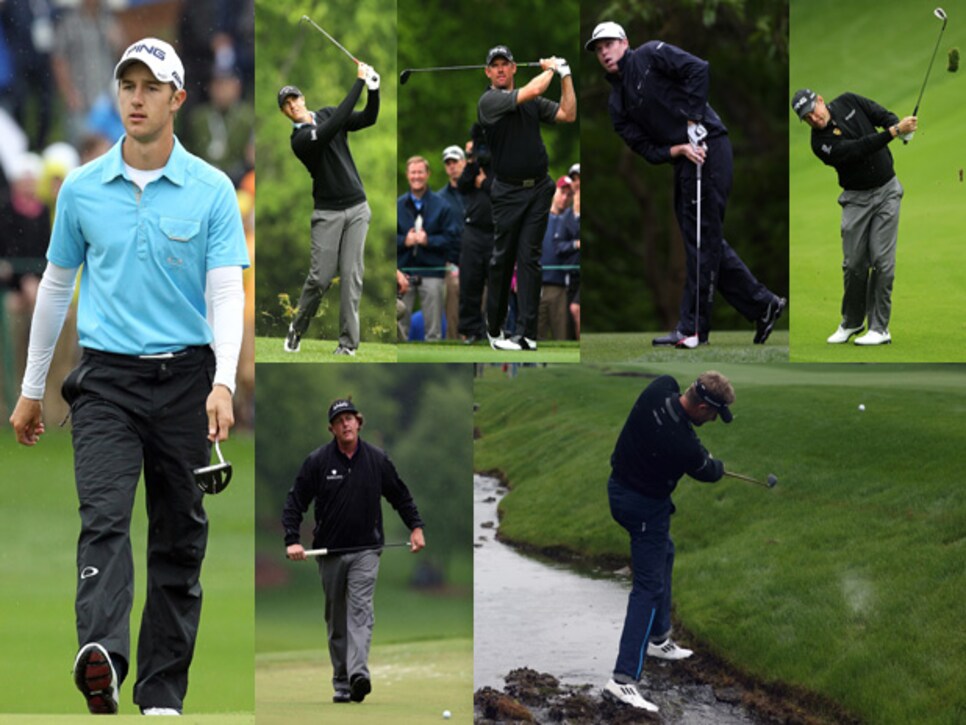 Men In (Drab) Black
ATTENTION: Why do you all wear black when you put on the rainwear? It's so blank, blank, blank. Did you guys forget that you're on TV?
Hunter Mahan
PGA Tour players take note: You can wear gray when the skies are gloomy and still look pretty sharp.
David Lynn
David Lynn looking like one of the Knights of the Round Table. We're always going to give props to people who wear lively things when the weather is iffy.
Phil Mickelson
That's a pretty good color combo on Phil.
Esteban Toledo
Ole! Congratulations to Mexico's Esteban Toledo for grabbing his first Champions Tour win on Cinco de Mayo!
Rickie Fowler
Rickie Fowler dressing like Rickie Fowler.
Ai Miyazato
OMG. Am I going to start seeing the same thing we saw with long sleeve shirts under short-sleeve shirts played out with shorts and leggings?
Sandra Gal
The leggings do work with a skirt however.
Nick Watney
You know what? I'm starting to like that flat-brimmed hat on Watney. I think it fits his personality.
Suzann Pettersen
Pettersen, as always, looking great.
Rory McIlroy
Rory right on trend with the muted olive-green drab camouflage coloration.
Momoko Ueda
Ueda is taking a page from Ryo Ishikawa. Colorful and coordinated, and very stylish.
Russell Henley
High marks for Henley picking out a lively combination.
Angel Cabrera
Hmmm, we have the same feeling about the outfit. Angel Cabrera and fashion: they don't always go together.
Michelle Wie
Why can't more LPGA players dress like this?
Ilhee Lee
Looking pretty sharp to me, don't you think? P.S. -- Love the Ben Hogan on the lower right hand corner of the shirt.
Ryan Moore
It's quiet, conservative, but we sure like those shoes. And that golf game's pretty good, too.
Zach Johnson
Aren't you taking the matching thing a bit too far? Red and white FootJoys, red and white Oakley belt, red and white Transamerica hat, red and white Oakley sunglasses. I hope the logo on that glove isn't red. Sometimes you can belabor the point, don't you think?
Sergio Garcia
It figures, Sergio going with a touch of red.
Bubba Watson
Are you breaking up a leisure suit with this outfit?